Popular Topics
Quotes With Pictures - About Adversity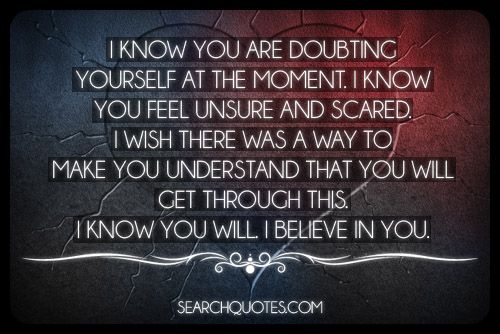 I
know you are doubting yourself at the moment. I know you feel unsure and scared. I wish there was a way to make you understand that you will get through this. I know you will. I believe in you.
Many times in our lives we easily get caught up in doubting ourselves. As I write this article I hear thoughts in my head of unsuccessful conviction that are attempting to influence me to believe that becoming a person who makes it in this world with the sole objective of helping others to find the greatness within their selves isn't a realistic dream.
Read the rest of this article »
The
worst kind of pain is when youre smiling just to stop the tears from falling.
How do you deal with the pain you suffer in life? Do you fight through it with a smile, or let it lead you into more and more emotional turmoil?
Read the rest of this article »
Adversity
If we had no winter, the spring would not be so pleasant: If we did not sometimes taste of adversity, prosperity would not be so welcome.
We all have problems in our lives. The often unstated truth about our differences in the problems we have in our lives, is the way that we respond to these problems. As people, we all live life differently, and this is what makes us, human, this is what makes the Earth round, the sky blue, and the moon glow.
Read the rest of this article »
Remember,
anyone can love you when the sun is shining. In the storms is where you learn who truly cares for you.
Remember that anyone can love you when things are going great, but it is only those who are willing to love you at your worst who are those that truly care for you. Don't let those who only want to be there for you in the good times stay around, because when times get hard, they won't be there to help support you, and in fact they will only cause you more grief by causing you to be angry at the fact that they arent around to support you.
Read the rest of this article »
Join Us on Facebook
Picture Quotes