Popular Topics
Being Thankful Picture Quotes
Quotes With Pictures - About Being Thankful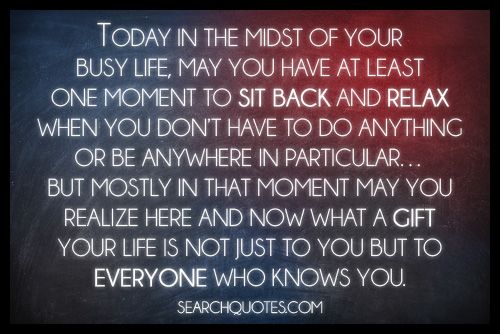 Today
in the midst of your busy life, may you have at least one moment to sit back and relax when you don't have to do anything or be anywhere in particular but mostly in that moment may you realize here and now what a gift your life is not just to you but to everyone who knows you.
We must always take time out of our day to recognize how far we have come, how blessed we are, and how we can learn from what we have been through, preferably on a day today basis. Life is such a blessed gift from God almighty, and we must learn how to be appreciative of it. The problem is, most people get caught up in their busy lives, and focus on all of the stressors that being busy entails, instead of giving focus to the things in their lives that truly matter the most.
Read the rest of this article »
I'm
thankful for the people who never left.
We should never take for granted the people that have been in our lives through thick and thin, for these are our true friends. Sometimes having friends like these alongside a firm belief in God are the only things that help to keep us pushing in periods in which all we want to do is give up. Take advantage of being able to show your true friends how much you care for them on a regular basis. Show the true friends how much you love them in times of good health and prosperity so that they will be even more willing to be there when times are harder.
Read the rest of this article »
Join Us on Facebook
Picture Quotes