Popular Topics
Quotes With Pictures - About Bible
Under
his wings you will find refuge.
In this tough life we live we have to be able to find refuge and solace in God and his plans for us. Though at times we may feel like we can do it all by ourselves, the simple truth is, we cant. There is only one way to get through our lives and being able to reach our full potential requires that we trust in God when times are good and when times are bad.
Read the rest of this article »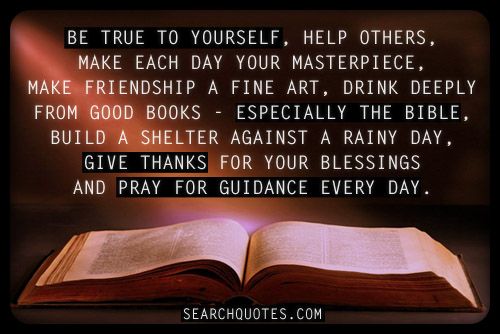 Be
true to yourself, help others, make each day your masterpiece, make friendship a fine art, drink deeply from good books - especially the Bible, build a shelter against a rainy day, give thanks for your blessings and pray for guidance every day. -John Wooden
If you are down and out, feeling lost, and without a sense of purpose, there is a book that can be the GPS to a place that you will feel at home! In every complex situation, and in every distress you have, there is a word in the bible waiting for you to read so that you can be helped through.
Read the rest of this article »
Join Us on Facebook
Picture Quotes