Popular Topics
Quotes With Pictures - About Break Up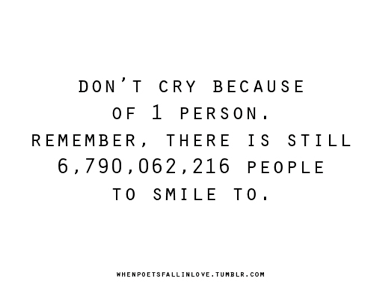 Don't
cry because of one person. Remember, there are still 6,790,062,216 people to smile to.
Never let one person bring your whole world down. Yes it is true that at times people who we thought might never let us down, end up doing so, and sometimes those who we thought will love us and be there for us forever suddenly leave our lives. While it is natural to grieve, never waste too much time dwelling on a past or person that you can't change.
Read the rest of this article »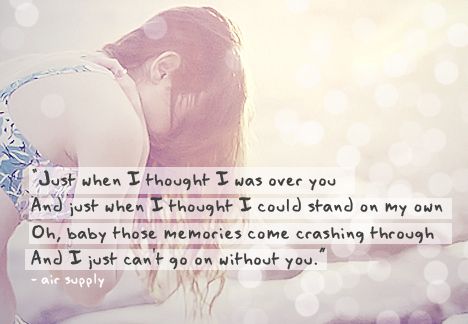 Just
when I thought I was over you and just when I thought I could stand on my own. Oh, baby those memories come crashing through, and I just cant go on without you.
Sometimes in our lives we are confronted with a huge problem, after giving a considerable length of time after breaking up, just when we think we are over someone we find ourselves feeling as though we can't make it without our ex lover. We are faced with the huge decision of trying to renew a relationship with someone who may not necessarily be willing to do the same, or not trying at all and basically just cutting our losses. When you make this decision try to remember the reasons that you decided to break up with this person.
Read the rest of this article »
Join Us on Facebook
Picture Quotes