Popular Topics
Depression Picture Quotes
Quotes With Pictures - About Depression
People
think being alone makes you lonely, But I don't think thats true. Being surrounded by wrong people is the loneliest thing in world.
Instead of wallowing in self-pity and being lonely, make the effort to engage with people in life. Many times our experiences with people in our lives that don't end so well deter us from wanting to build new bonds with new friends. Soured relationships also can greatly affect our other relationships because many times it is these soured relationships that push us away from trying to work on other relationships with other people.
Read the rest of this article »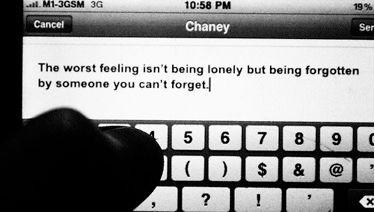 The
worst feeling isn't being lonely but being forgotten by someone you can't forget.
There are many times in our lives that we will be faced with being wronged by someone. Sometimes we will love someone more than they are able to love us, sometimes we will care about someone way more than they will ever care about us and sometimes we will be forgotten by someone who we will never be able to forget about.
Read the rest of this article »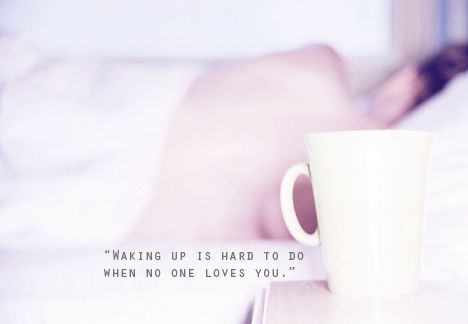 Waking
up is hard to do when no one loves you.
I'm sure we have all at some point felt as though no one in the world has our back, and that no one cares or loves us, but this should never be true, because at the end of the day, it is inevitable for us to love ourselves first, so that other people may be able to love us as well. Usually us feeling like this doesn't really hold true anyway and we just aren't thinking clearly about those people that truly love us, or if we can just find the love we should have for ourselves then we will easily blossom into beautiful flowers that everyone wants to pick, take care of, and love. In order to love ourselves we have to find ourselves first. Sometimes it may have been years since we actually treated ourselves as good as we have treated other people and we have forgotten who we are, what we like to do, where we like to go, so on and so forth. Try taking advantage of the fact that you may be alone at this time in your life, and focus on you, the rest will come!
Read the rest of this article »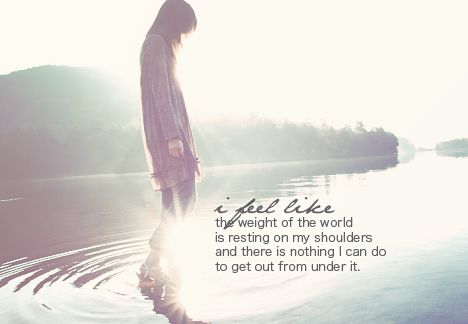 I
feel like the weight of the world is resting on my shoulders and there is nothing I can do to get out from under it.
Dealing with stress and anxiety is something that everyone will experience in their lifetime at some moment. As society advances and time passes talking about stress, and new ways to deal with stress are becoming more common. Stress in minimal amounts is normal and is even considered a positive reinforcement for ones mind, jogging it by making it use problem-solving skills. Stress in more demanding amounts isn't really considered healthy, because of its adverse physical, emotional, and spiritual effects on a person. Some effects of stress may include but are not limited to depression, high blood pressure, and even suicide.
Read the rest of this article »
Join Us on Facebook
Picture Quotes