Popular Topics
Quotes With Pictures - About Destiny
You
have the power to create your own happiness!! If you don't like something about your life, CHANGE IT! Never settle for less than all you dream of!
Real dreamers, people who have dreams that may be scary to most, and whose dreams who were probably scary to them before they accomplished them, all know this simple fact, the power to your destiny is in your hands! The decisions that you make will have great effect on where you are actually able to go in life.
Read the rest of this article »
I may not have gone where I intended to go, but I think I ended up where I needed to be.
To go where we want to go in life at all times is simply something that isn't going to happen, but just because you didn't go where you intended to go, if you work hard in everything that you do, you will eventually be where you needed to be all along. Often times our perseverance takes us to places that we never imagined that we would go, and these places are often times greater than any dream that we may have already had in our hearts.
Read the rest of this article »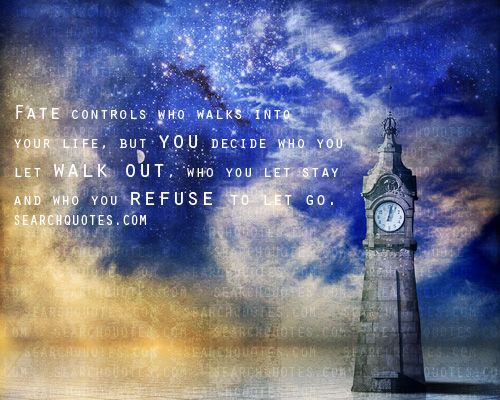 Fate
controls who walks into your life, but you decide who you let walk out, who you let stay and who you refuse to let go.
Sure, many of the meetings of the people who are in our lives are by chance, but a majority of the reason why these people who we met by fate, are still in our lives because of the fact that we want them to be in them. Though some circumstances do happen in our lives unexpectedly, we choose to guide these coincidences into future relationships by choosing who to open up to more, who to put a wall up to.
Read the rest of this article »
Join Us on Facebook
Picture Quotes