Popular Topics
Heartbreak Picture Quotes
Quotes With Pictures - About Heartbreak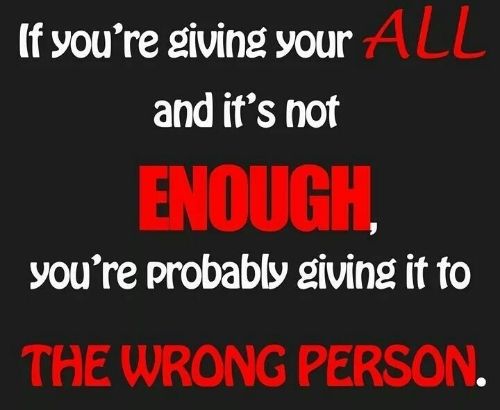 If
you're giving your all to someone and it's not enough you're probably giving it to the wrong person.
Sometimes we give our all to someone and we end up being hurt by this same person. When we experience a pain like this, it cuts very deep, and we start to question ourselves and whether we gave a good enough effort, and if we did everything right that we may have possibly been able to.
Read the rest of this article »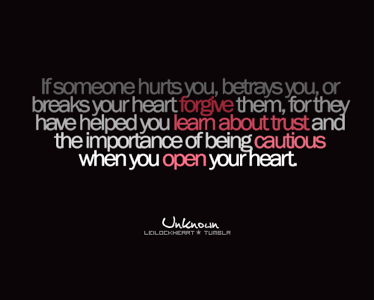 If
someone hurts you, betrays you, or breaks your heart forgive them, for they have helped you learn about trust and the importance of being cautious when you open your heart.
In life there is a lesson to be learned in all of your victories and all of your defeats. Don't let things like failed relationships bring you down or stop you from ever wanting to trust another human being again. Forgive those who have abused your trust, those who are supposed to be with you but act as if they are against you, those who have been willing to not only break your heart, but willing to betray you as well.
Read the rest of this article »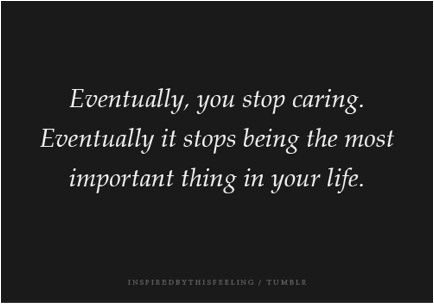 Eventually,
you stop caring. Eventually it stops being the most important thing in your life.
When we are dealing with heartbreak, whether it be the heartbreak of leaving a relationship, or the heartbreak of having to move away from our friends and family all that we can think of right then in those moments is how much it hurts, and how much you wish that the change that is taking place, did not and will not take place at all. It is important for you to realize that this time in your life will be a hard one. You will miss it, because right now it is one of the most important things in your life, but eventually the feelings will subside, and you will have memories to hold onto when you want to remember this point in your life.
Read the rest of this article »
Maybe
it's not always about trying to fix something broken. Maybe it's about starting over and creating something better.
Certain situations arise in lives in which things can not be fixed, and need to be started over. Though giving up on a life into which you put your all into may be one the hardest things to do (if it's not the hardest), it may also be the most beneficial choice. Starting a new life happens everyday to people who split up, get divorced, go bankrupt, lose jobs, lose close loved ones and many other difficult scenarios. It is recommended that before starting over to try to work out all potential solutions, but as most of us know, sometimes there is no better solution than to just start from scratch.
Read the rest of this article »
I
want to love someone whose heart has been broken, so that he knows exactly how it feels and won't break mine.
Join Us on Facebook
Picture Quotes