Popular Topics
Quotes With Pictures - About Inspiring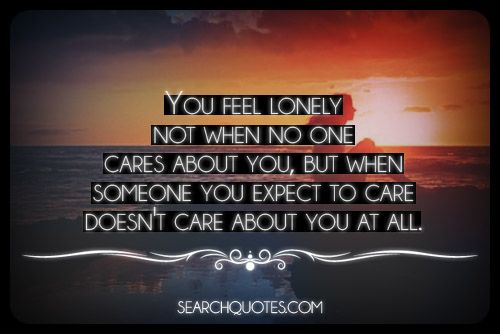 You
feel lonely not when no one cares about you, but when someone you expect to care doesn't care about you at all.
Being lonely is one of the toughest things that anybody can be. In times of loneliness it is easy to get sucked into thinking negatively, and to losing ones own passion and lust for life. Instead of letting your circumstances get the best of you, when we find ourselves in situations that force us to feel feelings of loneliness and incompleteness we must rebut our own thoughts with more positive ones.
Read the rest of this article »
Anyone
can give up, it's the easiest thing in the world to do. But to hold it together when everyone else would understand if you fell apart, that's true strength.
Some say and choose to believe that giving up is the only option to choose when the world gets too hard. Holding your faith in yourself, and in the belief that everything that is going to be just fine as long as you do everything that you can on your end is crucial to being able to hold it together in this world when things get tough. This world and this life will be full of challenges that seem to range from easy to back-breaking, but these challenges are presented to us for a reason.
Read the rest of this article »
Join Us on Facebook
Picture Quotes