Popular Topics
Quotes With Pictures - About Joy
Breathe
in joy and strength, breathe out wisdom and peace.
As we go through our everyday lives we must make great efforts and strides. We must learn to breath in joy and strength each day, and breath out the wisdom and knowledge we acquire in an effort to make this world as peaceful as possible. Though the air we breathe in may be full of negativity and unhappiness because of the things that the people around us breathe out, we must learn to find the areas in which the most joy and strength are, so that we may be able to breathe in these positive entities of life.
Read the rest of this article »
Focus
on the journey, not the destination. Joy is found not in finishing an activity but in doing it. -Greg Anderson
Real joy comes from not only achieving great things, but also by experiencing the journey to our achievements. Without any journey, without any hardship and without having to overcome adversity, a trophy means nothing.
Read the rest of this article »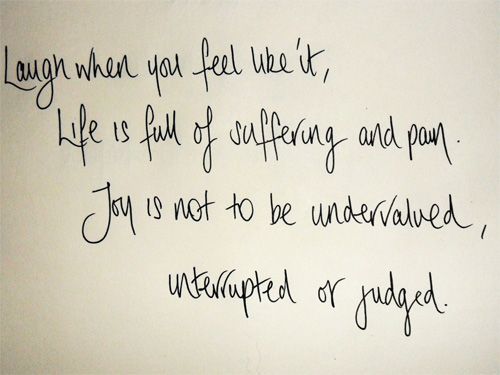 Laugh
when you feel like it. Life is full of suffering and pain. Joy is not to be undervalued, interrupted, or judged.
The joy that we have as individuals is something that no one should ever interrupt, or judge us by, and is something that we should never take for granted. Some see joy as an emotion, but having joy is actually an attitude, or a way of life in which we all should try to keep on a daily basis. Even though there will be times in our lives that we are unhappy we should still never let anything take our joy from us.
Read the rest of this article »
Cleanse
yourself with laughter and with tears. Let tears take out all the agony that is hidden inside you, and let laughter ignite your contagious joy.
Many people don't realize the great curing effects of a good laugh and a good cry. Crying is a great way to relieve emotional pain in your life. A lot of us save crying for extremely emotionally sensitive times, such as when a close loved one dies, or during a bad break up. During times like these every tear that falls down our face is an ounce of pain leaving the body. Crying is one of the greatest coping mechanisms that we have as human beings.
Read the rest of this article »
Join Us on Facebook
Picture Quotes