Popular Topics
Missing Someone Picture Quotes
Quotes With Pictures - About Missing Someone
Sometimes,
we are only given a few minutes to be with the one we love, and a thousand hours to spend thinking of them.
Have you ever had the one you love take their love away from you, so quickly, and so suddenly, that it truly caught you by surprise? Dealing with unique situations such as these isnt always easy, but we must learn to look in the good in each situation.
Read the rest of this article »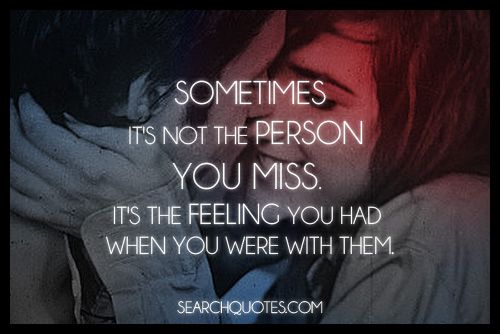 Sometimes,
it's not the person you miss. It's the feeling you had when you were with them.
Sometimes we have to get past missing the way that someone used to make us feel to be able to get over them. A lot of us fall in love with being in love, instead of actually worrying about love itself.
Read the rest of this article »
It
takes a minute to like someone, an hour to love someone, but a lifetime to forget someone.
Trying to forget someone that you had a lot of love for in the past is something that is extremely difficult to do. Though some find it an easier task than others, the memories you make in your past are memories that are made for a reason, and are memories that will more than likely be with you until something inside of your head doesnt allow for you to remember them anymore.
Read the rest of this article »
I
wish I had the courage to tell you exactly how much I miss you.
Missing someone is one of the hardest feelings that a person has to overcome. Living life regretting the mistakes one made can lead a person to self-destruction of they choose to let it. Sure things might have worked out differently if certain things were done in different ways, but to be short, life happens. We all make mistakes, and though it may seem as though you can't live without someone now, in time your heart will heal if you let it.
Read the rest of this article »
Join Us on Facebook
Picture Quotes