Popular Topics
Quotes With Pictures - About Patience
Never
give up or lose faith in something that you know God has placed in your life. Be patient and remember there is a time for everything.
Learning to be patient with our brothers and sisters is one of the keys to living a life full of peace and joy. Those who find patience find that they must learn not only how to wait, but to wait with expectation and love, knowing that even though things may be difficult in a situation in this very moment, as time passes, things will improve.
Read the rest of this article »
The
principle part of faith is patience.
When we walk by faith there will be times when we hear and see nothing, and are tempted to aggravate a situation in the best attempt to make things happen in life, we are tempted to sway from being faithful and patient, and attempt to create options for ourselves without following what is in our hearts to do. A faithful mind requires a patient will. Things will not always move fast enough for you in your life, but things may actually be moving as fast as God wants them to.
Read the rest of this article »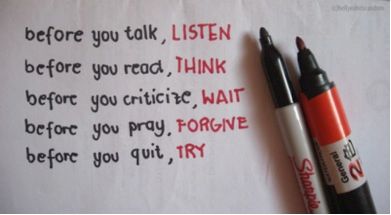 Before
you talk, listen. Before you read, think. Before you criticize, wait. Before you pray, forgive. Before you quit, try.
Before we take action sometimes we must be willing to be patient and use our brains to set up situations. Though it is a necessity to gain knowledge from other sources besides our own experience, it is always best to think about what is best for ourselves as we proceed through our daily lives in order to achieve the goals we have set forth in our lives.
Read the rest of this article »
It
is better for a girl to sleep a hundred years and be kissed and awakened by the right prince than to stay awake and be kissed a hundred times by the wrong frog.
Choosing the right person for you isn't just about the way a person looks physically, but it is about their mental and spiritual characteristics as well, if not more. People tend to jump into a relationship too fast just because a person may look a certain way, or because a person may be financially stable, and learn quickly that this person may not necessarily be the right person for them. Choosing the right person is nowhere near an easy task to accomplish but it can be done.
Read the rest of this article »
Join Us on Facebook
Picture Quotes