Popular Topics
Quotes With Pictures - About Problems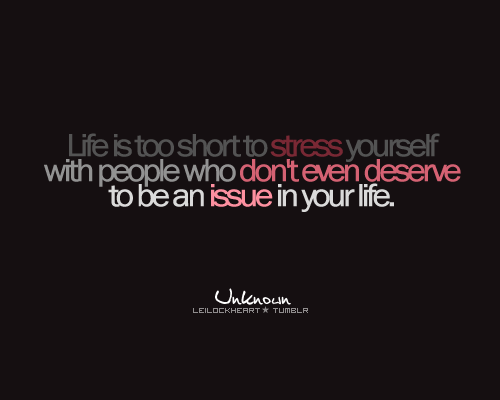 Life
is too short to stress yourself with people who don't even deserve to be an issue in your life.
Life seems to be much too short to be stressed over people who don't even deserve to be an afterthought in your mind. Many times we find ourselves being guilty of something that we more often than not realize is belittling to our own lives and progress made. Life isn't something that we should knowingly allow ourselves to waste time in, because we are never guaranteed any more time to spend in this tough world.
Read the rest of this article »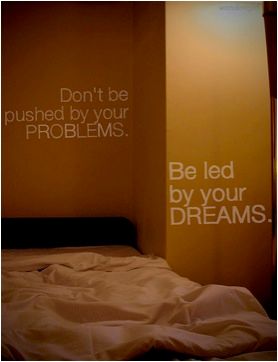 Don't
be pushed by your problems, be led by your dreams.
More often than not we are pushed and swayed by our problems, and are greatly influenced into following a path that we know would generate the least resistance, instead of keeping our eyes on the prize and going after what we dream of achieving. I am here to tell you today not to be swayed by tough times. Don't let a rough day at work influence you to quit before you know you don't have any other options.
Read the rest of this article »
1.
Happiness is a direction, not a destination.
-Unknown

2. Decide that you want it more than you are afraid of it.
-Bill Cosby

3. Love yourself.

4. Where there is love, there is life.
-Gandhi

5. The future belongs to those who believe in the beauty of their dreams.
-Eleanor Roosevelt

6. The difference between ordinary and extraordinary is that little extra.
-Jimmy Johnson

7. An eye for an eye only makes the world blind.
-Gandhi

8. Bring deeply loved by someone gives you strength, while loving someone deeply gives you courage.
-Lao Tzu

9. Happiness depends upon ourselves.
-Aristole

10. If you're doing your best, you won't have time to worry about failure.
-H. Jackson Brown Jr

11. The purpose of life is a life of purpose.
-Robert Byrne

12. We can't solve problems by using the same thinking we used to create them.
-Albert Einstein


Let this set of famous quotes be your encouragement and motivation for work today or whatever it is you may be doing in life! I truly love these inspiring quotes and want to give a very special thanks to lovelydreamms of tumblr for creating this magnificent collage of amazing quotes to live by.
Read the rest of this article »
Join Us on Facebook
Picture Quotes