Popular Topics
Quotes With Pictures - About Uplifting
I
wish I had the courage to tell you exactly how much I miss you.
Missing someone is one of the hardest feelings that a person has to overcome. Living life regretting the mistakes one made can lead a person to self-destruction of they choose to let it. Sure things might have worked out differently if certain things were done in different ways, but to be short, life happens. We all make mistakes, and though it may seem as though you can't live without someone now, in time your heart will heal if you let it.
Read the rest of this article »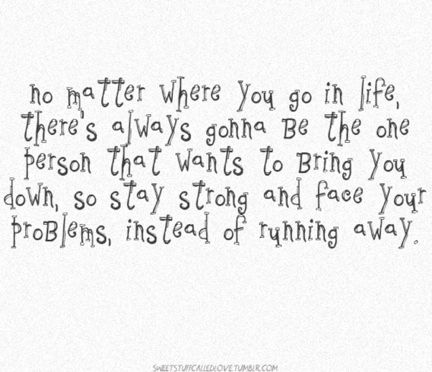 No
matter where you go in life, there's always gonna be the one person that wants to bring you down, so stay strong and face your problems, instead of running away.
At any point in our lives when we are making progress, there will always be someone who doesn't want to see us proceed and accomplish success. When we are dealing with "haters" and naysayers it is best that we don't waste any energy stressing or getting mad over there opinions, because no matter what we do somebody will always have something negative to say about it.
Read the rest of this article »
What's
meant to be will always find a way.
In life sometimes we must find the strength to solely rely on hope. We have to give situations our all and then be able to put the rest in fate and in God's hands. Sometimes no matter what we do, circumstances might not always work out in our favor or exactly how we may have wanted them to. The things that motivate us, as our dreams and goals we have or are aiming for may seem out out of reach no matter how hard we seem to try.
Read the rest of this article »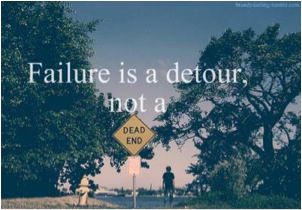 Failure
is a detour not a dead end.
Losing is a part of life that we all encounter and all must learn to cope with. Just because we fail at something at a time in which we thought we would succeed does not at all mean that we cannot obtain success. Truthfully the only way in which one will never be able to obtain success is if they never tried, or stopped trying.
Read the rest of this article »
Join Us on Facebook
Picture Quotes