Popular Topics
Valentines Day Picture Quotes
Quotes With Pictures - About Valentines Day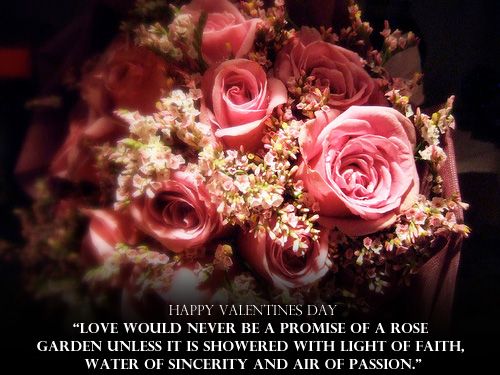 Love
would never be a promise of a rose garden unless it is showered with the light of faith, water of sincerity and air of passion.
During this Valentine's Day, take a step back, and think about what makes your relationship successful. Faith, sincerity, and passion are all integral to a healthy, blossoming relationship. Also remember that if your relationship isn't blossoming, and if it isn't growing it may be a dying relationship, but that is not something a little bit of sincerity, faith and passion won't fix.
Read the rest of this article »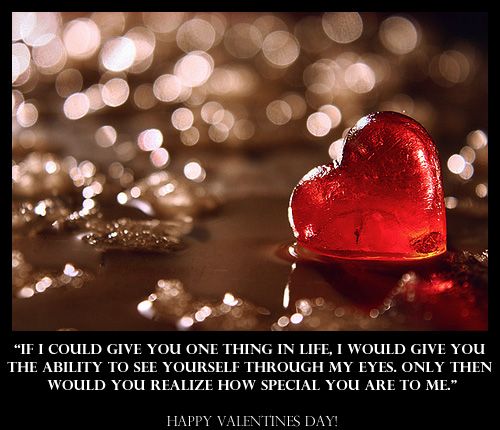 If
I could give you one thing in life, I would give you the ability to see yourself through my eyes. Only then would you realize how special you are to me.
Having a person in your life whom is truly special to you is a rare gift that not everyone in today's world has a chance to experience. It is not only important to make this person feel special on Valentine's Day, it is important that you make this special loved one feel as so, everyday! Treat everyday as it is Valentine's day, by telling your love how you feel about him/her as much as possible, and in as many innovative ways as possible. Showing your love can be indicated by not only purchasing materials things, but can also be easily shown and maybe even more appreciated by doing the small things.
Read the rest of this article »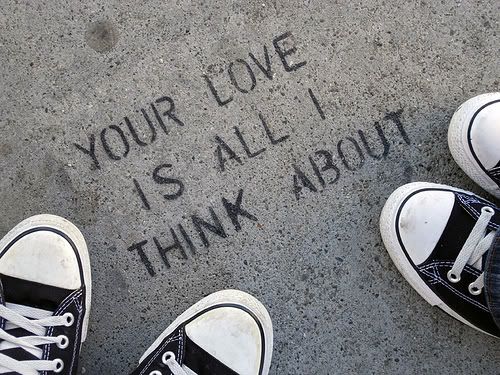 Your
love is all I think about.
Somewhere
between all our laughs, long talks, stupid little fights and all our jokes.. I fell in love.
Join Us on Facebook
Picture Quotes