Popular Topics
Quotes With Pictures - About Women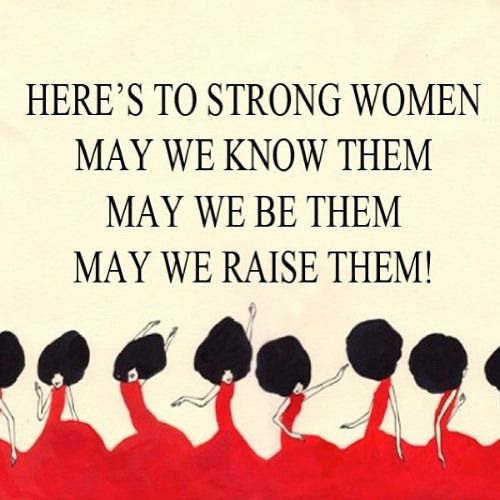 Here's
to strong women. May we know them, may we be them, may we raise them!
Women are just as important to this world as men are because women can do anything that men can do. It isn't always a man who saves the day, and it isnt always men who are the hero, there are great women among us everywhere.
Read the rest of this article »
It
is better for a girl to sleep a hundred years and be kissed and awakened by the right prince than to stay awake and be kissed a hundred times by the wrong frog.
Choosing the right person for you isn't just about the way a person looks physically, but it is about their mental and spiritual characteristics as well, if not more. People tend to jump into a relationship too fast just because a person may look a certain way, or because a person may be financially stable, and learn quickly that this person may not necessarily be the right person for them. Choosing the right person is nowhere near an easy task to accomplish but it can be done.
Read the rest of this article »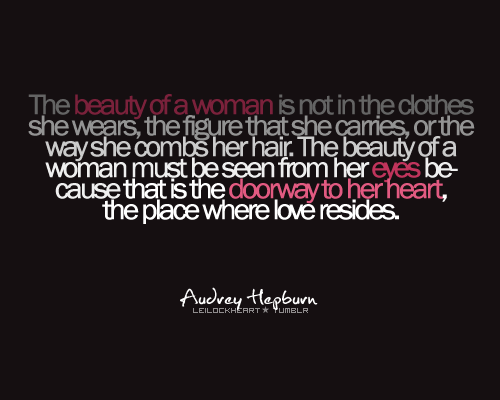 The
beauty of a woman is not in the clothes she wears, the figure that she carries, or the way she combs her hair. The beauty of a woman must be seen from her eyes because that is the doorway to her heart, the place where love resides.
In our world today we are lead to believe from society's influence that a woman's beauty is usually characterized by how she may appear on the exterior. Women are taught from a young age by the media and culture period that make-up and hair must be done nicely, clothes must be sexy, and bodies must be flawless in order to be considered to be beautiful. We all get caught up in these false qualifications of beauty, and fail to realize that the true qualification of a woman's beauty or anyone's beauty for that matter relies on the person they are at their heart's level.
Read the rest of this article »
An
English professor wrote the words: "A woman without her man is nothing" on the chalkboard and asked his students to punctuate it correctly.

All of the males wrote: "A woman, without her man, is nothing."

All of the females wrote: "A woman: without her, man is nothing."

Punctuation is powerful

All of the males wrote: "A woman, without her man, is nothing."

All of the females wrote: "A woman: without her, man is nothing."

Punctuation is powerful" style="width:130px; height:20px;">
Join Us on Facebook
Picture Quotes