Popular Topics
1.
Happiness is a direction, not a destination.
-Unknown

2. Decide that you want it more than you are afraid of it.
-Bill Cosby

3. Love yourself.

4. Where there is love, there is life.
-Gandhi

5. The future belongs to those who believe in the beauty of their dreams.
-Eleanor Roosevelt

6. The difference between ordinary and extraordinary is that little extra.
-Jimmy Johnson

7. An eye for an eye only makes the world blind.
-Gandhi

8. Bring deeply loved by someone gives you strength, while loving someone deeply gives you courage.
-Lao Tzu

9. Happiness depends upon ourselves.
-Aristole

10. If you're doing your best, you won't have time to worry about failure.
-H. Jackson Brown Jr

11. The purpose of life is a life of purpose.
-Robert Byrne

12. We can't solve problems by using the same thinking we used to create them.
-Albert Einstein


Let this set of famous quotes be your encouragement and motivation for work today or whatever it is you may be doing in life! I truly love these inspiring quotes and want to give a very special thanks to lovelydreamms of tumblr for creating this magnificent collage of amazing quotes to live by.
Related Quotes with Pictures about Life
Even
the prettiest flower will die one day. It's nature's way of teaching us.... that nothing lasts forever.
Although this statement is subjective to whoever is reading it, an important thing that we must all remember is that this life will not last forever and at any given moment this life can be taken away from us. With that being said we must live our lives everyday as if it may be our last. We must take risks, love, make as many great memories as possible, laugh, be joyous, and be accomplished.
Read the rest of this article »
Life quotes with pictures
Life Lesson quotes with pictures
Plant
your own garden and decorate your own soul instead of waiting for someone to bring you flowers.
Standing around and waiting for someone to create and build a dream for us to inherit the profits and rewards of is ludicrous, yet a lot of people think that it just might workout this way. As this quote says, we must develop ourselves personally. Many of times some of us find ourselves looking towards other people to tell us what to be, and how to be ourselves.
Read the rest of this article »
Life Lesson quotes with pictures
Personal Growth quotes with pictures
Positive Thinking quotes with pictures
Self Development quotes with pictures
Money
never made a man happy yet, nor will it. The more a man has the more he wants. Instead of filling a vacuum it makes one.
Believe it or not money is not an inherently bad thing. Just as love isnt really a complicated thing until people get involved with it, so is money. The desire for material things is understandable, and is actually good for us. The worshipping of material things like money, on the other hand, is where the problems arise. When we put our desires for money over everything in our lives we start to live a perverse way of life, whether we choose to believe it or not, and those who do this eventually realize that having all the money in the world can not bring them true happiness.
Read the rest of this article »
Money quotes with pictures
Life Lesson quotes with pictures
If
you want something you've never had, you've got to do something you've never done.
If you are one of many of us in the world, and havent found or ever been in what you may consider true love, do not worry because you are not alone. Sometimes when we are searching for a love that we have never had we have to try new things in order to find it. Though a lot of people may be against them, internet dating sites, usually sites for serious interests have been statistically shown to produce high amounts of relationships and even marriages. Dont worry as many of us all know Internet dating sites arent the only available meeting place for singles.
Read the rest of this article »
Love quotes with pictures
Relationship quotes with pictures
Life quotes with pictures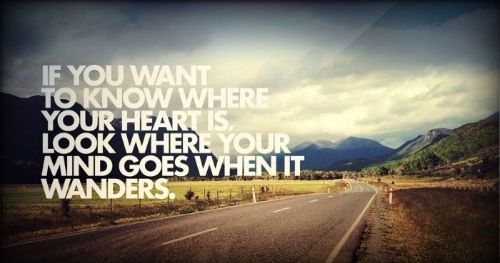 If
you want to know where your heart is, look where your mind wanders.
In order for us to truly know where our heart is, we need to sometimes look to what we often think about in our daydreams, and what we dream about at night. Sometimes in order for us to find our passion we must look into the thing that our mind always has us thinking about. If you notice that your mind wanders about one specific thing constantly it may be because at your hearts level you know that this thing is something you should be putting your heart into.
Read the rest of this article »
Life Lesson quotes with pictures
Letting Go quotes with pictures
Personal Growth quotes with pictures
Join Us on Facebook
Latest Picture Quotes