Popular Topics
All
you need is love.
One of the biggest truths to living a satisfied life full of happiness is that when we have love, we pretty much have everything that we need. Sure, a person's possessions of material things are a plus to life, but the most important thing that we will have throughout our lives is the love that we share with the people we are closest to in our lives, and hopefully the love that is returned back from these same people.

There are many people in the world who have loads of material resources, such as clothing, money, cars, and houses, but even a man with a supreme material wealth has nothing if he has no one that loves him for who he really is on the inside. It is great to have dreams, material wealth, and friends who like you, but if you don't have anyone that loves you, or anyone that you love yourself, you may need to do some serious re-evaluating of your life in order to find real happiness.
Related Quotes with Pictures about Love
Message
to my ex: we are both beautiful & great people who just happened to bring out the ugly in one another at times.
Sometimes in our lives we are confronted with a huge problem, after giving a considerable length of time after breaking up, just when we think we are over someone we find ourselves feeling as though we cant make it without our ex lover. We are faced with the huge decision of trying to renew a relationship with someone who may not necessarily be willing to do the same, or not trying at all and basically just cutting our losses.
Read the rest of this article »
Relationship quotes with pictures
Love quotes with pictures
Ex Girlfriend quotes with pictures
Ex Boyfriend quotes with pictures
It's
hard when you miss someone so much, and you can't do anything about it. Because having that space between the two of you, is the only way to make things right.
Missing someone, especially someone that we love dearly but cant be with like we would like to, is a difficult part of life that we all have to deal with. Whether in the event of a loved ones death, or a bad break up, it is hard being without someone who was once there for us, and who we never thought in a million years wouldnt be there. Times like this we just have to be strong, and rely on the memories we shared with this person to help us grieve and to comfort us.
Read the rest of this article »
Relationship quotes with pictures
Missing Someone quotes with pictures
Love quotes with pictures
If
you want something you've never had, you've got to do something you've never done.
If you are one of many of us in the world, and havent found or ever been in what you may consider true love, do not worry because you are not alone. Sometimes when we are searching for a love that we have never had we have to try new things in order to find it. Though a lot of people may be against them, internet dating sites, usually sites for serious interests have been statistically shown to produce high amounts of relationships and even marriages. Dont worry as many of us all know Internet dating sites arent the only available meeting place for singles.
Read the rest of this article »
Love quotes with pictures
Relationship quotes with pictures
Life quotes with pictures
I
could conquer the world with just one hand... as long as you were holding the other.
In order for a relationship to be excessively great it is important to find someone that gives you the confidence and support to succeed in life. If you are in a relationship that holds your hand and feel as if they are pulling you backwards instead of making you feel as though you may be able to conquer the world, then you may need to re-examine the relationship that you are in.
Read the rest of this article »
Relationship quotes with pictures
Love quotes with pictures
Cute quotes with pictures
Heart Touching quotes with pictures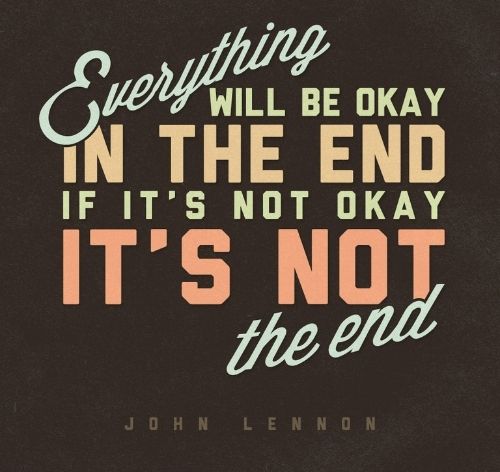 Everything
will be okay in the end, if it's not okay, it's not the end.
Sometimes when it seems as if everything that could possibly go wrong is going wrong, we feel that we will be stuck in this negative, downtrodden rut forever. Sure the sun stops shining sometimes, and we may get a huge thunderstorm or two, but eventually the sun will come out to shine again. It is all a matter of us staying as positive as possible in order to make it to see the sunshine.
Read the rest of this article »
Positive Thinking quotes with pictures
Personal Growth quotes with pictures
Life Lesson quotes with pictures
Uplifting quotes with pictures
Self Development quotes with pictures
Inspirational quotes with pictures
Love Yourself quotes with pictures
Join Us on Facebook
Latest Picture Quotes