Popular Topics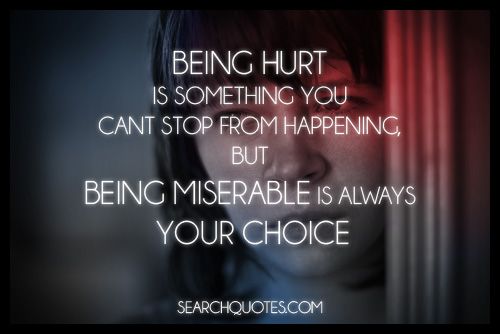 Being
hurt is something you can't stop from happening, but being miserable is always your choice.
There will be many trials and many situations that will hurt you in life, but you have to remember that though they do have the power to hurt you once, you staying miserable is only a result of you deciding to stay miserable. There will be many forms of adversity that you will have to face in your life, and sometimes life will try to lend you its biggest knockout blows.

We should all be so confident in ourselves that we never let anger take us over to the point where it makes us miserable. If you allow for yourself to be miserable and if you allow for yourself to keep a negative attitude, you will only cause your heart more destruction than it really needs. Choose to love, be positive, and to forgive, doing so is the only way to escape a prison of misery and anger and un-forgiveness.
Related Quotes with Pictures about Sad
They
say you don't know what you have until it's gone. But the truth is, you knew exactly what you had; you just thought you'd never lose it.
Its true that sometimes we really don't know what we have until we lose it, but it is also true that we never may know the things in life that we have lacked in until they arrives. In order to live your best life sometimes you are faced with having to let go of things in your life that you never thought that you would have to let go of. The things in life that make us happy are things in life that we must take proper care of, but are things that sometimes die for reasons that have nothing to do with our own lives.
Read the rest of this article »
Personal Growth quotes with pictures
Wisdom quotes with pictures
Life quotes with pictures
Happiness quotes with pictures
Sadness quotes with pictures
Self Development quotes with pictures
People
think being alone makes you lonely, But I don't think thats true. Being surrounded by wrong people is the loneliest thing in world.
Instead of wallowing in self-pity and being lonely, make the effort to engage with people in life. Many times our experiences with people in our lives that don't end so well deter us from wanting to build new bonds with new friends. Soured relationships also can greatly affect our other relationships because many times it is these soured relationships that push us away from trying to work on other relationships with other people.
Read the rest of this article »
Uplifting quotes with pictures
Loneliness quotes with pictures
Sadness quotes with pictures
Depression quotes with pictures
I'd
rather be the pain that you remember, rather than the love that you forget.
Refusing to be in a place with someone that you don't necessarily want to be with them in life can lead to hurting someone worse later on by doing the things that one is actually interested in doing, and being with the people that one is actually interested in being with. Remember that being the pain that someone remembers may not always work out best for you, and sometimes it is better for a couple to go their separate ways while they are still able to if they know in their hearts their isnt to be much of a future involved.
Read the rest of this article »
Love quotes with pictures
Pain quotes with pictures
Memories quotes with pictures
Emotions quotes with pictures
Sad quotes with pictures
Depressing quotes with pictures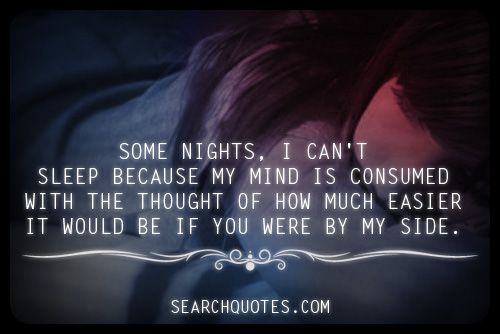 Some
nights, I can't sleep because my mind is consumed with the thought of how much easier it would be if you were by my side.
We all have gone through life missing someone that we love dearly. For some, the person that they love dearly will still be by their side one day if they continue to hope, and for others, the person that we love dearly will never be in our lives again.
Read the rest of this article »
Love quotes with pictures
Sadness quotes with pictures
Sad
thing is you can still love someone, and be wrong for them.
Just because you love someone doesn't mean you are necessarily the right person that they should be in love with. Real love asks a lot from us. It says that we, as people who are nowhere close to being perfect, make and maintain as perfect of a relationship as possible with the ones we love.
Read the rest of this article »
Love quotes with pictures
Sad quotes with pictures
Join Us on Facebook
Latest Picture Quotes