Popular Topics
Better To Be With No One Than To Be With The Wrong One

By J. Johnson, picture courtesy of SearchQuotes

July 7, 2012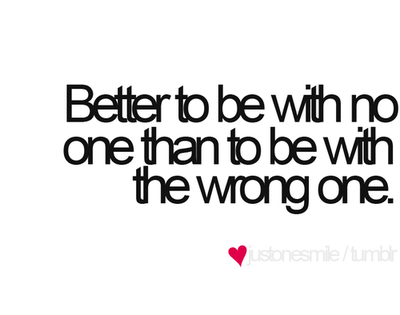 Better
to be with no one than to be with the wrong one.
Choosing a mate is one of the hardest decisions we come to face in our lifetime. When thinking about giving our heart away to someone there is a lot that we have to consider. Is this person really for you? Do you think that this person will be an addition to your life, or will they just bring you down? What kind of signs have they shown you already that might be a peek into the future?

When we choose to let ourselves fall for someone we must allow for love to happen in most instances, but we must also be mindful of who we are giving our hearts to! Most often, even when you may have already developed feelings for someone, it is much better to choose to be with no one, instead of choosing to be with the wrong one! Don't love because it is a convenient time for you to, and because you know it will appease others, love because you desire to, and because you are truly in love!
Related Quotes with Pictures about Relationships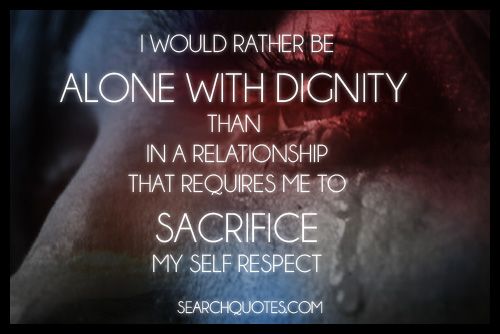 I
would rather be alone with dignity than in a relationship that requires me to sacrifice my self respect.
Sometimes we have to be willing to let go of the relationships that do us much more harm than good. Too many times we work so hard in life to only be discouraged and told by others that we should be grateful for even having them in our own lives. I would much rather be alone than deal with someone who makes me not want to feel loved.
Read the rest of this article »
Relationships quotes with pictures
Dignity quotes with pictures
Self Respect quotes with pictures
If
you leave someone for another person, don't be surprised if that person leaves you for someone else.
Some people just like to have their cake and they like to eat it too. Never make someone a priority that is only choosing to make you an option. You are better than that! You are a unique soul, a temple of righteousness, and a miracle of the almighty. Your life on Earth is limited and it is because of this that you shouldn't waste your time by giving it to others who have no desire to return it in an equal manner.
Read the rest of this article »
Relationships quotes with pictures
Karma quotes with pictures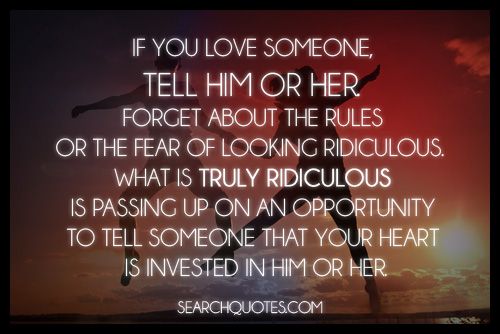 If
you love someone, tell him or her. Forget about the rules or the fear of looking ridiculous. What is truly ridiculous is passing up on an opportunity to tell someone that your heart is invested in him or her.
Life is full of opportunity, if we don't seize the ones that we know our hearts want us to, then what exactly are we doing? We have to let our pride and ego in many instances in life, especially when it relates to showing our feelings to someone that we care about. We never really know what a person may say when we tell them that we love them, but we can't let that hold us back.
Read the rest of this article »
Love quotes with pictures
Relationships quotes with pictures
Valentines Day quotes with pictures
Don't
be reckless with other people's hearts, and don't put up with people that are reckless with yours.
We have to learn to leave alone the people who will bring nothing more to our lives than torment. Sometimes we go through life, and we meet people that we establish connections with before or after we know that they probably aren't the best people for us to connect with, and continue to live our lives with them trying to turn them into who we want them to be.
Read the rest of this article »
Love quotes with pictures
Relationships quotes with pictures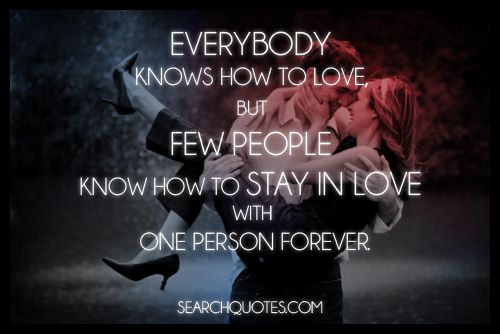 Everybody
knows how to love, but few people know how to stay in love with one person forever.
Loving one person forever is a goal that we all aim to do, or at least it should be. Love is something that is given with the intent to never be broken or destroyed. Just because you know how to start a love, doesn't mean that you know how to stay with a person you love forever. When we love someone we have to be willing to love them forever. Love isn't something that endures for a while, love endures forever.
Read the rest of this article »
Love quotes with pictures
Relationships quotes with pictures
Join Us on Facebook
Latest Picture Quotes