Popular Topics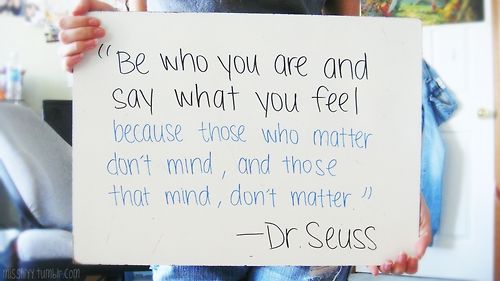 Be
who you are and say what you feel because those who matter don't mind, and those that mind, don't matter.
Being who you are at heart, and letting people know how you really feel about things, are two of the most substantial values a person can possess in their lifetime. In society we are judged immensely by our peers, which makes it very difficult for many people to do what their heart tells them to do, and to say what their heart tells them to say, because of the fear that people will judge them and discourage them. In order to possess these strong qualities usually requires a lot of heart supplemented with a lifetime of personal development.

Being who you are at your hearts level, requires a person to know who they really are. Some of us know what we love and what we are passionate about at an early age, but not all of us are so lucky. It is important to take a significant amount of time to develop and hone in on who you really are. After which when the time is right, make sure you let the world know who you are as a person, and the people in your life that matter will encourage and love you for the person whom you are, not who they want you to be.
Related Quotes with Pictures about Confidence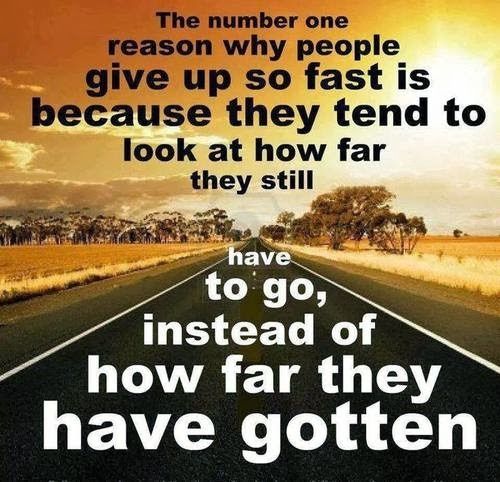 The
number one reason why people give up so fast is because they tend to look at how far they still have to go, instead of how far they have gotten.
Hardly anyone will remember those who chose to stay defeated in their lives. One thing to note about losers and winners is that the most notable difference between the two lies in their thinking.
Read the rest of this article »
Life Lesson quotes with pictures
Confidence quotes with pictures
Positive Thinking quotes with pictures
Self Empowerment quotes with pictures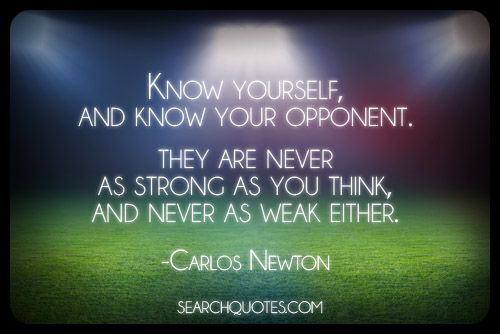 Know
yourself, and know your opponent. They are never as strong as you think, and never as weak either. -Carlos Newton
There is a huge difference between being cocky and being confident. When we face off with competition in life we have to be aware of the fact that not everybody that looks weak actually is, and not everyone who looks strong is actually stronger than us.
Read the rest of this article »
Personal Growth quotes with pictures
Wisdom quotes with pictures
Confidence quotes with pictures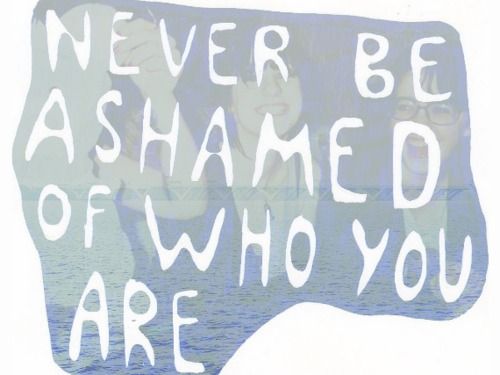 Never
be ashamed of who you are.
Living life ashamed of who you are is a very difficult life to live. Instead of being ashamed of where you have been and what you have been through, be grateful. You are blessed to still have life, you were blessed with the gift of waking up this morning, and you have a chance to make your life better. Not everyone was given this tremendous gift of life this day, and the next minute in our life isn't promised, just as the next day isn't promised to as well.
Read the rest of this article »
Encouragement quotes with pictures
Confidence quotes with pictures
Self-esteem quotes with pictures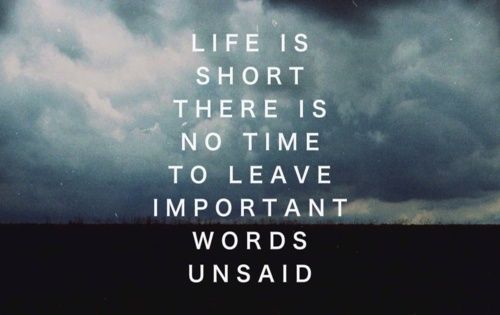 Life
is short there is no time to leave important words unsaid.
The life we lead is way too short to leave the important words and feelings that we feel for another unsaid. Though all of us are different in our ability to vocalize the way that we feel about each other, we must all come to realize that at some point every one has an expiration date.
Read the rest of this article »
Life quotes with pictures
Courage quotes with pictures
Confidence quotes with pictures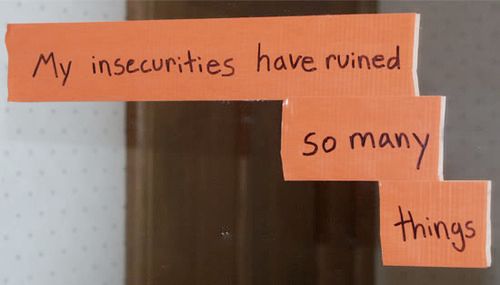 My
insecurities have ruined so many things.
Being insecure is a big plague on a person's life because of a variety of reasons. Insecurity is bred by low self-confidence, a condition that causes a person to not be all that they are capable of. To gain this confidence one must be willing to be courageous enough to explore whom they really are at their heart's level and to be even more courageous by exhibiting to the world that they are with no question or hesitation.
Read the rest of this article »
Advice quotes with pictures
Insecurity quotes with pictures
Confidence quotes with pictures
Courage quotes with pictures
Join Us on Facebook
Latest Picture Quotes