Popular Topics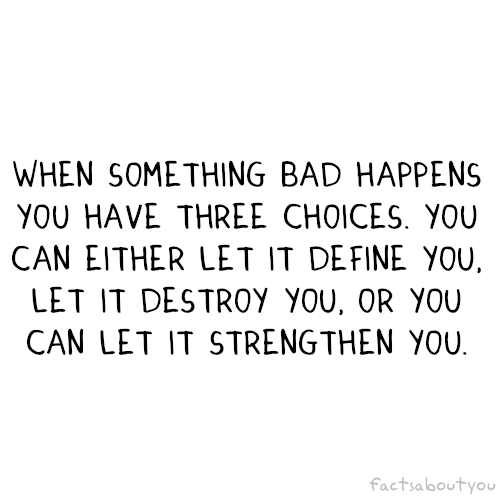 When
something bad happens you have three choices. You can either let it define you, let it destroy you, or you can let it strengthen you.
Whenever we have trials and tribulations in our life we can let those things become us, kill us or overcome them and be strengthened for our future forever. A lot of times we are confronted with problems and are easily discouraged. Some of us have the nature of seeing obstacles in our way and electing to let those obstacles stop us from progressing, and settling in the position we are in. Whenever we start to feel this way we must stop and analyze our thinking immediately, and seek encouragement.

Encouragement can come from a variety of sources including but not limited to our faith in God, family and friends, realizing the achievement of our dreams and goals. Encouragement may be sparked by the people we hang around, exposure to the arts, and careful attention to the goals we have set forth in our lives. So whenever you come across challenges in life, let your motivation for overcoming them be whatever encourages in life. Remember to be encouraged and surely you will be strengthened.
Related Quotes with Pictures about Life
Being
single is a good feeling, no drama or heartaches. On the other hand, it gets lonely and you miss that feeling of being taken.
When a person has to overcompensate and act happy when they are put in positions that aren't really practical for being fulfilled it is highly likely that they are putting on a front. Finding the right person to be in a relationship with is a very hard thing to do, and so is being single. Single people who brag about being single may not all cry themselves to sleep every night, but it is very possible that many people who are single say so to make other people feel as miserable as they do for being in a relationship.
Read the rest of this article »
Being Single quotes with pictures
Life quotes with pictures
Relationship quotes with pictures
Personal Growth quotes with pictures
Never
let success get to your head and never let failure get to your heart.
If we are ever going to achieve success like we wish to, we have to be willing to put in the hard work to do so. Nothing in this world that is truly worth keeping and holding on to has every come easy to anybody, no matter what talents or skills that they were already blessed with.
Read the rest of this article »
Success quotes with pictures
Failure quotes with pictures
Personal Growth quotes with pictures
Positive Thinking quotes with pictures
Encouraging quotes with pictures
Life quotes with pictures
Laugh
until your body aches, cry until you start to shake, live like the world is yours to take and love as though your heart won't break.
Living a positive life isn't the easiest thing to do, especially in the beginning, but once your mind is trained to think and view life positively, life becomes so much more clear than before. There is great value in being able to see the value in every aspect of life, including the bad times. The times where it is normal for us to feel the least encouraged are the times that we can learn the most about ourselves and how we allow our weaknesses to cloud our judgment and resolve.
Read the rest of this article »
Positive Thinking quotes with pictures
Happiness quotes with pictures
Personal Growth quotes with pictures
Life quotes with pictures
Overcoming quotes with pictures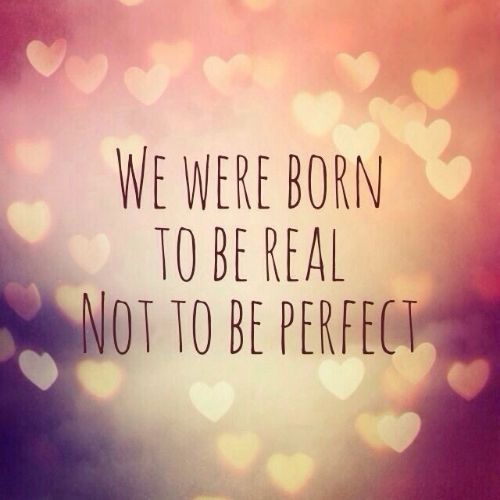 We
were born to be real not to be perfect.
Great people from all over all know that it takes being the real you to be great, not being perfect. If you ever want to achieve a sense of fulfillment in your life you have to be willing to admit that you can never be perfect. Many people mistakenly choose to try and follow some sort of magical train to perfection that will never exist, because being perfect means that you are willing to be judged by someone's standards other than your own in some shape or form.
Read the rest of this article »
Life quotes with pictures
Personal Growth quotes with pictures
Self Development quotes with pictures
Inspirational quotes with pictures
Motivational quotes with pictures
Live
as if you were to die tomorrow. Learn as if you were to live forever.
Stop delaying and procrastinating with making the moves that you desire to make in your life. Tomorrow is never promised. Just because it may seem that things may be easier to put off than to deal with presently, doesn't mean that you should. Live each day with a vigorous passion. A passion that doesn't fizzle away and dissipate when you hit a roadblock.
Read the rest of this article »
Inspirational quotes with pictures
Positive Thinking quotes with pictures
Motivational quotes with pictures
Life quotes with pictures
Personal Growth quotes with pictures
Join Us on Facebook
Latest Picture Quotes