Popular Topics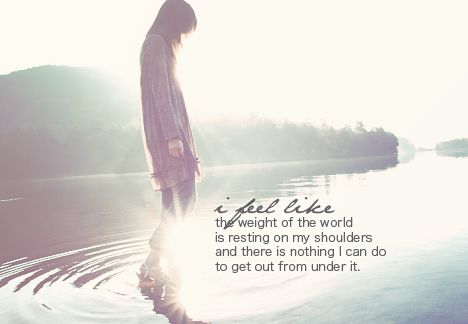 I
feel like the weight of the world is resting on my shoulders and there is nothing I can do to get out from under it.
Dealing with stress and anxiety is something that everyone will experience in their lifetime at some moment. As society advances and time passes talking about stress, and new ways to deal with stress are becoming more common. Stress in minimal amounts is normal and is even considered a positive reinforcement for ones mind, jogging it by making it use problem-solving skills. Stress in more demanding amounts isn't really considered healthy, because of its adverse physical, emotional, and spiritual effects on a person. Some effects of stress may include but are not limited to depression, high blood pressure, and even suicide.

Too much stress can be combated in a variety of ways. Stress amounts may be limited with a good amount of preparation. Stress may also be eased with the use of calming techniques, such as going for a walk, listening to music, working out, and praying. It is important not to stress or worry about things that are out of your control, and to focus your problem solving skills and efforts on fixing things that you can work out on your own, and with the support of our loved ones our stresses will ease tremendously.
Related Quotes with Pictures about Sadness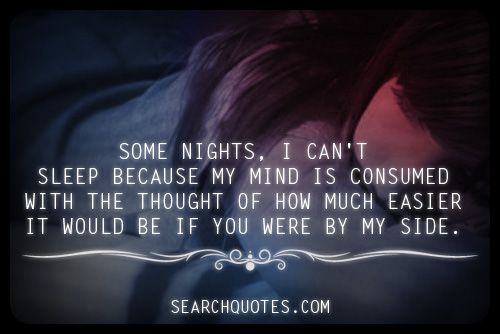 Some
nights, I can't sleep because my mind is consumed with the thought of how much easier it would be if you were by my side.
We all have gone through life missing someone that we love dearly. For some, the person that they love dearly will still be by their side one day if they continue to hope, and for others, the person that we love dearly will never be in our lives again.
Read the rest of this article »
Love quotes with pictures
Sadness quotes with pictures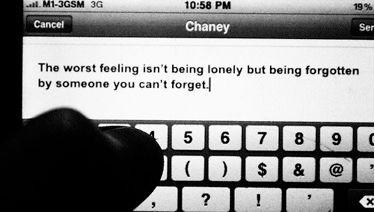 The
worst feeling isn't being lonely but being forgotten by someone you can't forget.
There are many times in our lives that we will be faced with being wronged by someone. Sometimes we will love someone more than they are able to love us, sometimes we will care about someone way more than they will ever care about us and sometimes we will be forgotten by someone who we will never be able to forget about.
Read the rest of this article »
Loneliness quotes with pictures
Depression quotes with pictures
Sadness quotes with pictures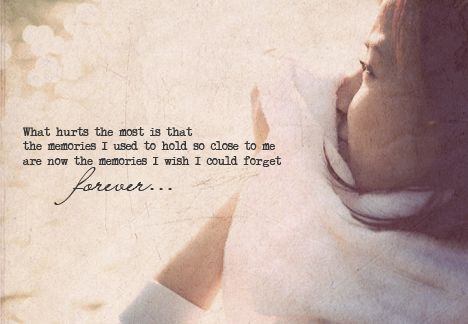 What
hurts the most is that the memories I used to hold so close to me are now the memories I wish I could forget forever.
When you lose someone you love, either by choice or just by circumstance, it is inevitably very difficult on a person emotionally, physically, and spiritually. The grief from a break up, or the death of a close loved one is obviously a very trying time for a person, and can be some of the hardest days of a person's life. There are a few things to remember when going through situations such as these.
Read the rest of this article »
Love quotes with pictures
Sadness quotes with pictures
Memory quotes with pictures
Sometimes,
I just want to disappear and see if anyone would miss me.
Sadness quotes with pictures
Don't
let the sadness of your past and the fear of your future ruin the happiness of your present.
Happiness quotes with pictures
Sadness quotes with pictures
Join Us on Facebook
Latest Picture Quotes