Popular Topics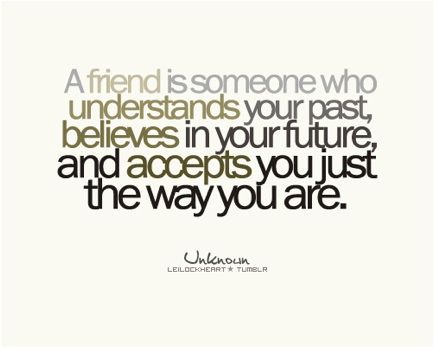 A
friend is someone who understands your past, believes in your future and accepts you just the way you are.
True friends are very hard to come by, but when you recognize someone as being a true friend then you should do you best to hold on to them. Just because someone has been in your life for a long amount of time does not necessarily mean that they are a true friend. Someone who is accepting of your past and that believes in your future will create a positive presence in your life. A true friend will never try to change you because they will love the real you, unless they notice that you aren't acting as yourself.

A true friend will never be envious of your accomplishments, and will never try to copy your style, which is also an indication of envy. A true friend will be there for you through thick and thin, even when they know that you are wrong, they will stick with you until you are able to make things right. A true friend will push you towards greatness, and not pull you away from it. Most of all a true friend will love you unconditionally, with no strings attached. Who are your true friends?
Related Quotes with Pictures about Friendship
Keep
the picture they never change, the people in them do.
As we grow older, some of us may notice that people that we thought would be in our lives forever arent there anymore, and as different newcomers enter into our lives the people that we once knew dont seem to be around. When we progress in life some people will progress with us and help us grow by helping to encourage and inspire us, while others head in other directions with no correlation of the direction that we are heading into.
Read the rest of this article »
Relationship quotes with pictures
Friendship quotes with pictures
Life quotes with pictures
A
friend is one who believes in you when you have ceased to believe in yourself.
This picture quote holds very true, and should also make you examine the people you have surrounding you. When times get hard and the going seems to get tougher to the point to where you want to give up, do the people around you influence you to give up, or do they influence you to keep going. This also should make us examine how good of a friend we are to those around us.
Read the rest of this article »
Friendship quotes with pictures
Friends
come and go but family is forever.
Family quotes with pictures
Friendship quotes with pictures
A
real friend is someone who walks in when the rest of the world walks out.
Friendship quotes with pictures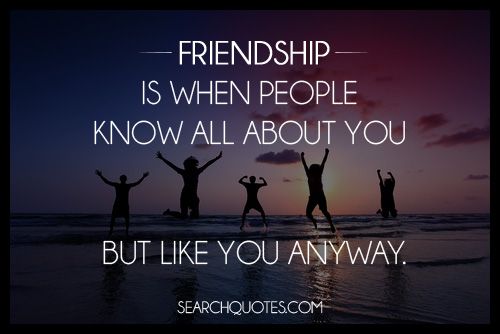 Friendship
is when people know all about you but they like you anyway.
Friendship quotes with pictures
Join Us on Facebook
Latest Picture Quotes