Popular Topics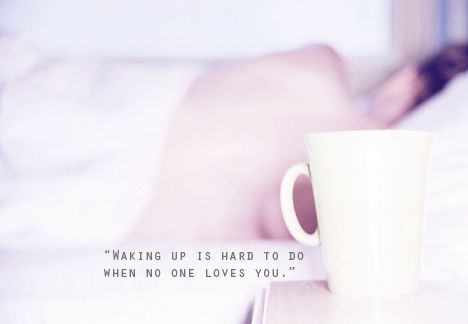 Waking
up is hard to do when no one loves you.
I'm sure we have all at some point felt as though no one in the world has our back, and that no one cares or loves us, but this should never be true, because at the end of the day, it is inevitable for us to love ourselves first, so that other people may be able to love us as well. Usually us feeling like this doesn't really hold true anyway and we just aren't thinking clearly about those people that truly love us, or if we can just find the love we should have for ourselves then we will easily blossom into beautiful flowers that everyone wants to pick, take care of, and love. In order to love ourselves we have to find ourselves first. Sometimes it may have been years since we actually treated ourselves as good as we have treated other people and we have forgotten who we are, what we like to do, where we like to go, so on and so forth. Try taking advantage of the fact that you may be alone at this time in your life, and focus on you, the rest will come!
Related Quotes with Pictures about Loneliness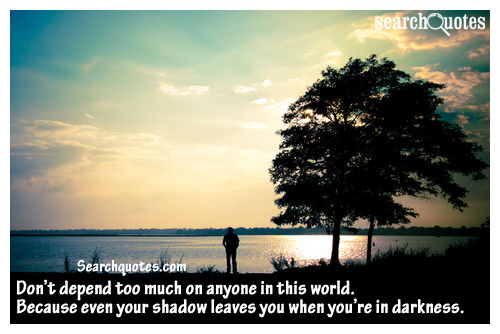 Don't
depend too much on anyone in this world. Because even your shadow leaves you when you're in darkness.
If we think about it, relying on people around us is in the same, opening up ourselves to the risk of being disappointed by them as well. No matter how any of may try to be, no one is perfect, and no one will ever be. In this world there will be moments where we may feel like we are alone, but we truly never are, because God is always with us.
Read the rest of this article »
God quotes with pictures
Inspirational quotes with pictures
Strength quotes with pictures
Motivational quotes with pictures
Loneliness quotes with pictures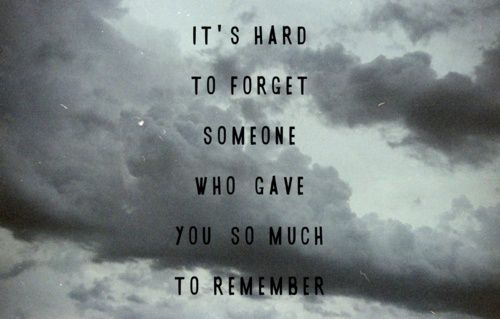 It's
hard to forget someone who gave you so much to remember.
Trying to forget someone who gave you so much to remember is almost impossible, and will hurt you in more ways than it can help you. In life one crucial bit that we must remember is that the memories that we make with people in different places and in different times, are the memories that help to make us who we are on the inside.
Read the rest of this article »
Memories quotes with pictures
Loneliness quotes with pictures
Moving On quotes with pictures
Letting Go quotes with pictures
Dear
Heart, Fall in love when you're ready, not when you're lonely.
Falling in love when you are ready and not when you are lonely is an important part to starting a relationship filled with love off, as healthily as possible. A key concept to starting a relationship is making sure that each individual is prepared enough mentally, emotionally, spiritually, and physically.
Read the rest of this article »
Love quotes with pictures
Loneliness quotes with pictures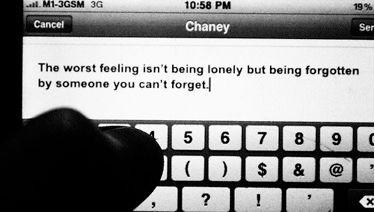 The
worst feeling isn't being lonely but being forgotten by someone you can't forget.
There are many times in our lives that we will be faced with being wronged by someone. Sometimes we will love someone more than they are able to love us, sometimes we will care about someone way more than they will ever care about us and sometimes we will be forgotten by someone who we will never be able to forget about.
Read the rest of this article »
Loneliness quotes with pictures
Depression quotes with pictures
Sadness quotes with pictures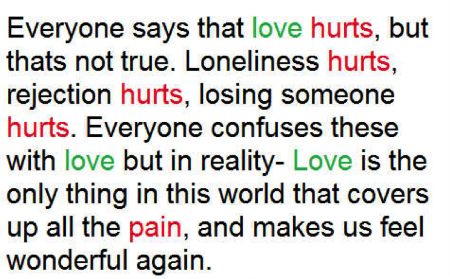 Everyone
says that love hurts, but that's not true. Loneliness hurts, rejection hurts. Everyone confuses these with love but in reality- Love is the only thing in this world that covers up all the pain and makes us feel wonderful again.
Love, one of the most wonderful feelings and emotions a person can express or let consume them. Many confuse love with other emotions because of what happens between them and the people that they have loved in the past. Sure, not every relationship is a relationship that will last forever, and true enough, some relationships may lead to a person becoming lonely, and feeling rejected, but we all should step into love knowing that it is quite risky giving our hearts out to people who will then have the ability to break them.
Read the rest of this article »
Love quotes with pictures
Inspirational quotes with pictures
Loneliness quotes with pictures
Encouraging quotes with pictures
Join Us on Facebook
Latest Picture Quotes