Popular Topics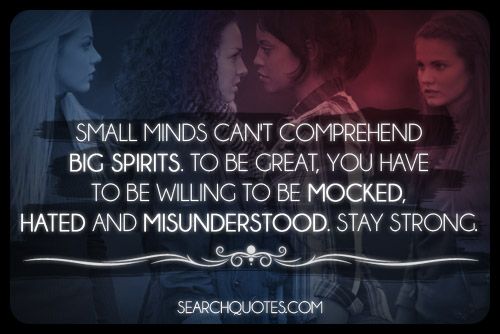 Small
minds can't comprehend big spirits. To be great, you have to be willing to be mocked, hated and misunderstood. Stay strong.
When Jesus gave one of his first sermons, there were many who mocked, there were many who laughed at him, there were some who didn't like what he had to say, and there were some who just simply didn't understand what he had to say. At the end of his sermon, there were also a few people who believed in what he said so much that they left everything behind and followed him as his disciple.

If you have a solid concrete message or vision that you want to dispense to the world, you have to realize that life is a numbers game. There will always be those who laugh at you, there will always be those that mock you, there will always be those who misunderstand you, and there will be those who will like what you have to say, and who will hold what you have to say close to their hearts, as long as what you say and do is heartfelt.
Related Quotes with Pictures about strength
You
are beautiful, you are strong, you are worth it.
What is beautiful? Is beautiful, a perfect button nose? Is beautiful pretty brown eyes centered on a perfectly symmetrical face? Different time periods around the world suggest that people have always had different ideas of what a persons beauty on the outside consisted of. We must realize that everyones definition of beauty on the outside is going to be different, and if we live our lives trying to make ourselves beautiful on the outside we will quickly forget to develop our person on the inside.
Read the rest of this article »
Beauty quotes with pictures
Strength quotes with pictures
Positive Thinking quotes with pictures
Uplifting quotes with pictures
Self Empowerment quotes with pictures
Breathe
in joy and strength, breathe out wisdom and peace.
As we go through our everyday lives we must make great efforts and strides. We must learn to breath in joy and strength each day, and breath out the wisdom and knowledge we acquire in an effort to make this world as peaceful as possible. Though the air we breathe in may be full of negativity and unhappiness because of the things that the people around us breathe out, we must learn to find the areas in which the most joy and strength are, so that we may be able to breathe in these positive entities of life.
Meaning, we must surround ourselves with positivity, and put ourselves in situations that cause us to grow or gain strength. Doing this will make it very easy to inspire the world with the wisdom that we have gained from our experiences, and will also make it easy to show the world how to acquire the peace within that we acquired from working hard at becoming stronger, and remaining positive and full of joy.
Read the rest of this article »
Strength quotes with pictures
Positive Thinking quotes with pictures
I
am strong because Ive been weak. I am fearless because Ive been afraid. I am wise because Ive been foolish.
The only reason that you are where you are today is because of your development over time. It is important not to live in the past but we must also be aware that our experiences are part of who we are, and have helped to mold us, shape us, and grow us.
Read the rest of this article »
Inspirational quotes with pictures
Strength quotes with pictures
Motivational quotes with pictures
Being
strong does not mean avoiding the truth, it means accepting it, learning about it, and dealing with it head on.
Avoiding who you are on the inside is like trying to avoid your shadow. You may think that you are doing a fine job at it, until you are in a heavily lit area, and there is no way to escape it.
Read the rest of this article »
Strength quotes with pictures
Character quotes with pictures
Personal Growth quotes with pictures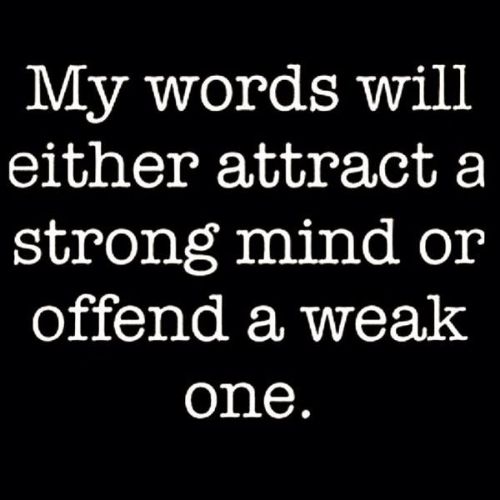 My
words will either attract a strong mind or offend a weak one.
When you are a person of strong morale and strong belief you may find yourself out of the good graces of people who arent as strong mentally more often than you will find these people in agreement with you.
Read the rest of this article »
Strength quotes with pictures
Character quotes with pictures
Morale quotes with pictures
Relationship quotes with pictures
Join Us on Facebook
Latest Picture Quotes