Popular Topics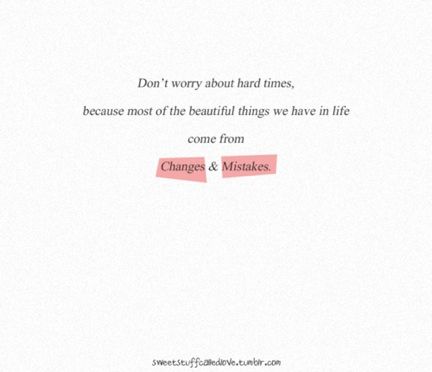 Don't
worry about hard times, because most of the beautiful things we have in life come from changes and mistakes.
Change and mistakes are two aspects of life that help us to become better people. Change is the transition from something old into something new, and is necessary for growth in a person's life. Think about if we never aged or matured. Could you imagine being the same size that you were as a five year old and only having the same amount of knowledge that you did at that age? We have to maintain new changes in our lives on a regular basis in order to grow and reach our potential.

Mistakes are another part of life that are vital to our success. Without making mistakes we won't realize what choices to make later on in life, and if we don't learn from our mistakes we will easily commit the same ones later in life, over and over again until we learn from them.

Don't resist change, and don't be afraid to make a mistake. Though they may seem difficult without them you will not be able to grow, and the success you are able to achieve will come much harder and much farther away than if you would just face change, and face and learn from your mistakes!
Related Quotes with Pictures about Life
In
life we have to give to receive, Give love to get love, share joy to feel joy. Be good to someone and feel good about ourselves.
Ever noticed how it is great to receive a great gift from someone, but it is seemingly much better to be able to go and give someone the desires of their heart? Just as it is better for the soul to give physical presents, it is also better for the soul to help inspire others along with being inspired ourselves. We should all make an effort to try to inspire another person daily. Inspiring another person may not always seem like it is something that we are able to fit in our busy agendas or daily plans, but is something that can be easily done.
Read the rest of this article »
Life Lesson quotes with pictures
Positive Thinking quotes with pictures
Personal Growth quotes with pictures
Happiness quotes with pictures
Inspirational quotes with pictures
Sometimes
struggles are exactly what we need in our life. If we were to go through our life without any obstacles, we would be crippled. We would not be as strong as what we could have been. Give every opportunity a chance, leave no room for regrets.
Struggle quotes with pictures
Overcoming quotes with pictures
Life Lesson quotes with pictures
Growth quotes with pictures
Self Development quotes with pictures
Real
love is knowing someone's weaknesses and not taking advantage of them. Knowing their flaws & accepting who they are.
Real love is about finding the person that will stick with you through the thick storms and the thin victories. Real love doesn't just take sacrifice, it is based on sacrifice. Real love is founded on the notion that sometimes you may have to give part of yourself to someone else in order for them to be able to make it through, with the understanding that this person will do the same thing for you in your toughest times.
Read the rest of this article »
Love quotes with pictures
Relationship quotes with pictures
Life Lesson quotes with pictures
Do
what you love and love what you do.
If you don't care about what you really do when times get hard you have to have enough passion for your field to even want to carry on. When you pursue what you really love to do is much easier to stick with it, than it would be to continue in something that you don't really have a deep love for.
Read the rest of this article »
Life Lesson quotes with pictures
Self Development quotes with pictures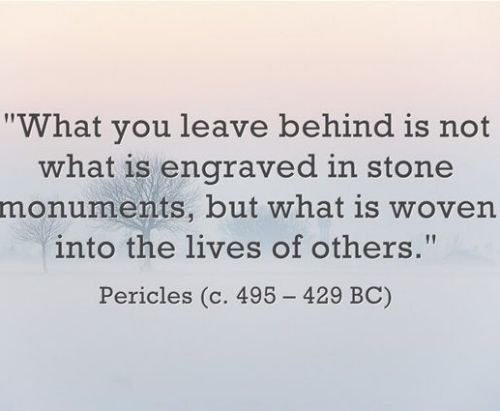 What
you leave behind is not what is engraved in stone monuments, but what is woven into the lives of others.
What kind of mark do you want to leave by the time you are gone? Is it one that will truly stand the test of time, or one that will be easily forgotten?
Read the rest of this article »
Life quotes with pictures
Motivational quotes with pictures
Encouragement quotes with pictures
Join Us on Facebook
Latest Picture Quotes