Popular Topics
If They Don't Appreciate You They Don't Deserve You

By J. Johnson, picture courtesy of leilockheart

May 11, 2012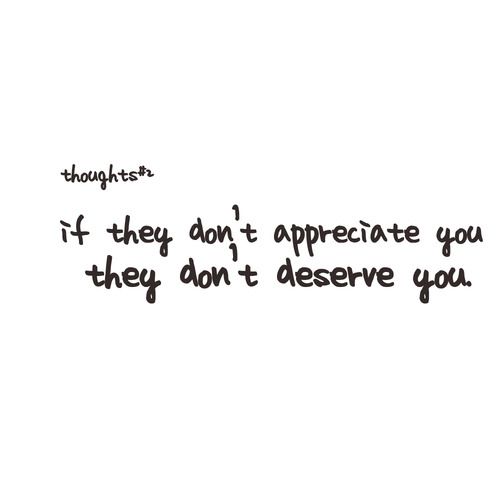 If
they don't appreciate you they don't deserve you.
If any person that you give your time, effort, and energy to doesn't act like they appreciate you, they don't deserve for you to give your time, effort and energy to them. Don't be bothered with those who wont receive from you. As in the parable of the sower, there are just some people who will never allow for him or her to receive any thing from anyone else. Some soil or people will never be able to let go and humble their selves enough to receive anything from any person, including you.

Don't get discouraged, because there are many others who need help as well. Sometimes we may be able to effectively inspire a whole nation of people that we aren't close to, but not be able to touch who needs it the most and is closest to us. This is just how life works in some instances. We have to choose to let go of the things in life that are slowing our progression and the progression of the people who we are missing out on blessing.
Related Quotes with Pictures about Advice
Ignore
the risk, and take the fall, if it's meant to be, it's worth it all.
Everyone comes to points in their lives where they are faced with making the decision of taking a risk. For some this risk may be switching jobs, or starting a business. For others this risk may be entering a new relationship or even getting married.
Read the rest of this article »
Inspirational quotes with pictures
Motivational quotes with pictures
Encouragement quotes with pictures
Positive Thinking quotes with pictures
Self Empowerment quotes with pictures
Personal Growth quotes with pictures
Advice quotes with pictures
In
life, you'll meet 2 kinds of people. The ones who build you up and the ones who tear you down. In the end, you'll thank them both.
There are many people in life that will choose to tell you what exactly your life is about and why you need to do what they are doing to get ahead. There are some people with really great wisdom, who are willing to give you valuable advice, and we should always be sure to at least take a listen to the advice of someone with more success than us so that in turn we may be even more successful.
Read the rest of this article »
Life quotes with pictures
Personal Growth quotes with pictures
Advice quotes with pictures
Haters quotes with pictures
Fake People quotes with pictures
People
don't always need advice. Sometimes all they need is a hand to hold, ear to listen & a heart to understand.
Instead of walking in pride, and telling someone about what YOU know, and what YOU went through that may be similar to what they are going through, walk in love, peace, and understanding by just giving your ear to listen, a body to hug, and a shoulder to cry on.
Read the rest of this article »
Advice quotes with pictures
Caring quotes with pictures
Uplifting quotes with pictures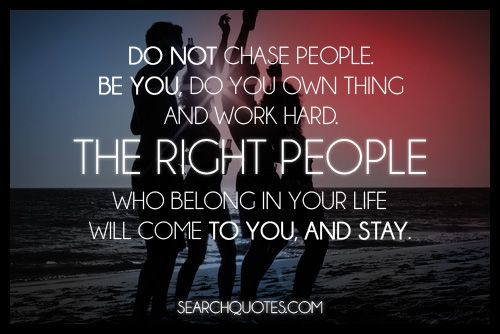 Do
not chase people. Be you, do your own thing and work hard. The right people who belong in your life will come to you, and stay.
Chasing people around in life will be of no benefit to you in the long run. This is mostly because you can't make people be who you want them to be, people will always do what they truly want to do, deep down inside. What you can do is make extraordinary effort each day to be you, and to do what is in your heart, and work hard at it.
Read the rest of this article »
Friendship quotes with pictures
Advice quotes with pictures
Self Love quotes with pictures
Hard Work quotes with pictures
Life quotes with pictures
You
cannot change other people, only your own expectations.
Trying to change another person is a very difficult task to accomplish and though it may be something that we desire, it should be something that we are willing to allow people to do on their own. It is hard enough to change our own lives, so trying to change someone else's life is something that we may never be able to do.
Read the rest of this article »
Advice quotes with pictures
Change quotes with pictures
Join Us on Facebook
Latest Picture Quotes