Popular Topics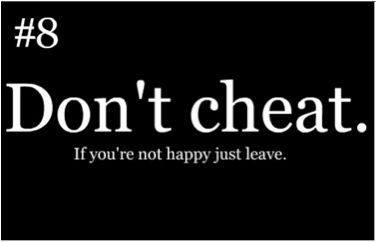 Don't
cheat. If you're not happy just leave.
Sometimes in relationships we feel that we owe the other person too much loyalty to just leave, and commit act of disloyalty such as cheating in order to try to fulfill ourselves in parts of our life in which we aren't getting fulfillment. Whatever the "excuse" is, whether we are unhappy, or if a relationship is leaving you unsatisfied, there is never any good reason to commit any acts of disloyalty, especially cheating.

First of all, the truth is no matter what we are going to be attracted to others that we are not in a relationship with, these desires are an instinctual portion of the human psyche, plain and simple, it is inevitable. The main point to remember is that the best way to show your lover that you aren't happy is not to cheat, but is instead to communicate to your love directly how you feel and why you feel the way you do. Be honest with your partner and if things can not be worked out, go your separate ways, instead of inflicting more emotion pain on them by being dishonest and unfaithful.
Related Quotes with Pictures about Relationship
Love
knows no reasons, love knows no lies, love defies all reasons. Love has no eyes but love is not blind. Love sees but doesn't mind.
Love is such a powerful force that if it isn't suspended or stopped early in a relationship, its subsequent effects will be inevitable. We aren't always able to choose when we love, and who we love, a lot of times, life, and love, happen. Love is a binding agent between two souls and two hearts, connecting them in at least some ways, forever.
Read the rest of this article »
Love quotes with pictures
Relationship quotes with pictures
Life Lesson quotes with pictures
Wisdom quotes with pictures
The
minute I heard my first love story, I started looking for you, not knowing how blind that was. Lovers don't finally meet somewhere. They're in each other all along.
From the time we are young and learn about love, we develop our own perception of what love will be like when we are older. Many people learn how love is by hearing love stories, and watching couples in their lives growing up, especially their parents, or guardians. As society has changed so much, it is sort of uncommon for two people two have the exact same views of what they want their love to be when they obtain it, and many search for their idea of what love is for a very long time.
Read the rest of this article »
Love quotes with pictures
Relationship quotes with pictures
Life quotes with pictures
Maybe
one day, I'll be what you need. But don't wait too long.. Because the day you want me, may be the day I've finally given up.
Waiting too long to love somebody the way in which they deserved to be loved can sometimes cause dire consequences in the long run. Different people in life want different things, and some desire a loving relationship when they feel as though they have potentially met the right partner to engage in a loving relationship with.
Read the rest of this article »
Love quotes with pictures
Relationship quotes with pictures
Life Lesson quotes with pictures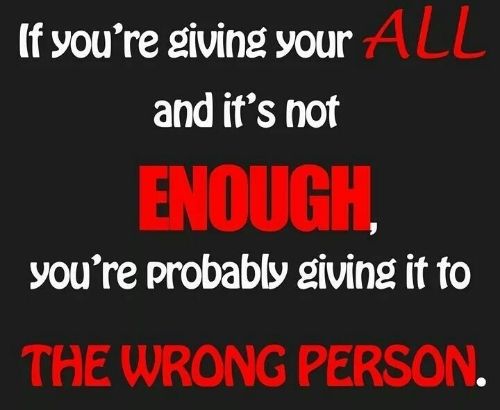 If
you're giving your all to someone and it's not enough you're probably giving it to the wrong person.
Sometimes we give our all to someone and we end up being hurt by this same person. When we experience a pain like this, it cuts very deep, and we start to question ourselves and whether we gave a good enough effort, and if we did everything right that we may have possibly been able to.
Read the rest of this article »
Relationship quotes with pictures
Love quotes with pictures
Heartbreak quotes with pictures
Moving On quotes with pictures
Moving Forward quotes with pictures
Letting Go quotes with pictures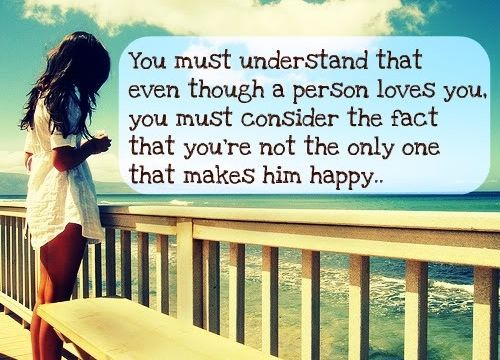 You
must understand that even though a person loves you, you must consider the fact that you're not the only one that makes him/her happy.
Sometimes when we go through a relationship and our love grows for someone, we feel as though their dedication of greater amounts of time, and energy means that we are the only people that make them happy. After a while if two people aren't given enough space from each other, they will start to irritate and even come close to annoying one another. In an attempt to avoid this we should make good attempts at being the person we truly are on the inside at all times.
Read the rest of this article »
Relationship quotes with pictures
Friendship quotes with pictures
Love quotes with pictures
Join Us on Facebook
Latest Picture Quotes