Popular Topics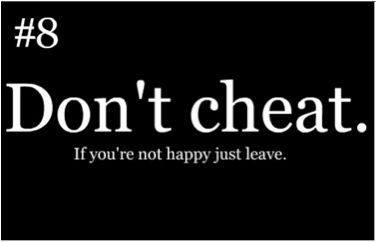 Don't
cheat. If you're not happy just leave.
Sometimes in relationships we feel that we owe the other person too much loyalty to just leave, and commit act of disloyalty such as cheating in order to try to fulfill ourselves in parts of our life in which we aren't getting fulfillment. Whatever the "excuse" is, whether we are unhappy, or if a relationship is leaving you unsatisfied, there is never any good reason to commit any acts of disloyalty, especially cheating.

First of all, the truth is no matter what we are going to be attracted to others that we are not in a relationship with, these desires are an instinctual portion of the human psyche, plain and simple, it is inevitable. The main point to remember is that the best way to show your lover that you aren't happy is not to cheat, but is instead to communicate to your love directly how you feel and why you feel the way you do. Be honest with your partner and if things can not be worked out, go your separate ways, instead of inflicting more emotion pain on them by being dishonest and unfaithful.
Related Quotes with Pictures about Relationship
To
find someone who will love you for no reason, and to shower that person with reasons, that is the ultimate happiness.
Relationship quotes with pictures
Love quotes with pictures
Valentines Day quotes with pictures
Real
love is knowing someone's weaknesses and not taking advantage of them. Knowing their flaws & accepting who they are.
Real love is about finding the person that will stick with you through the thick storms and the thin victories. Real love doesn't just take sacrifice, it is based on sacrifice. Real love is founded on the notion that sometimes you may have to give part of yourself to someone else in order for them to be able to make it through, with the understanding that this person will do the same thing for you in your toughest times.
Read the rest of this article »
Love quotes with pictures
Relationship quotes with pictures
Life Lesson quotes with pictures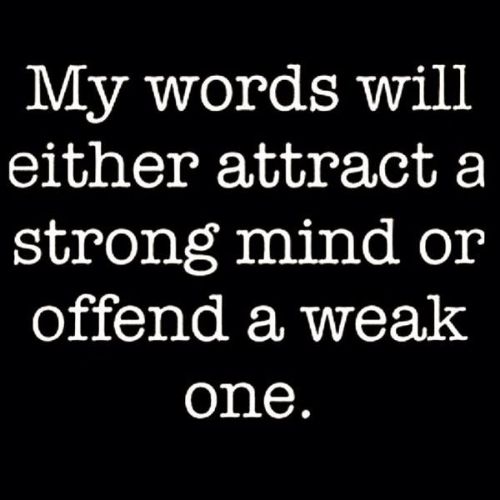 My
words will either attract a strong mind or offend a weak one.
When you are a person of strong morale and strong belief you may find yourself out of the good graces of people who arent as strong mentally more often than you will find these people in agreement with you.
Read the rest of this article »
Strength quotes with pictures
Character quotes with pictures
Morale quotes with pictures
Relationship quotes with pictures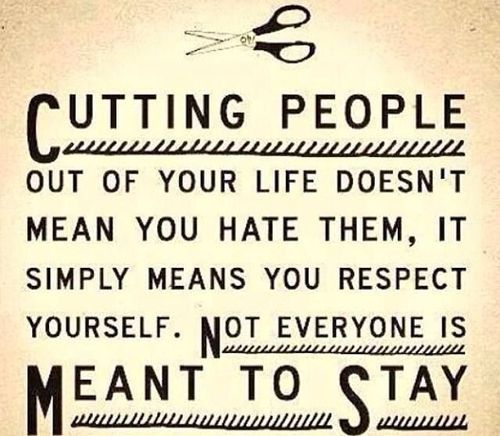 Cutting
people out of your life doesn't mean you hate them, it simply means you respect yourself. Not everyone is meant to stay.
Life Lesson quotes with pictures
Personal Growth quotes with pictures
Friendship quotes with pictures
Relationship quotes with pictures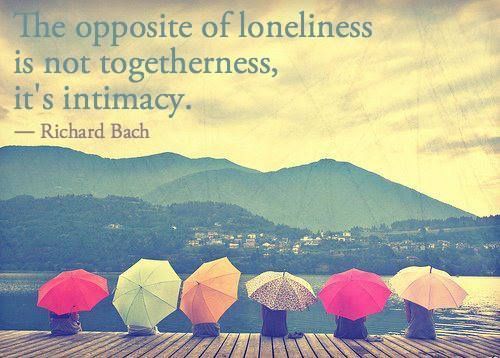 The
opposite of Loneliness is not Togetherness, Its Intimacy.
Two things that should never be confused are real love versus a love produced by convenience. Often times relationships that are rushed are these relationships that are produced by convenience, or a couple of people who are looking for love in the wrong places.
Read the rest of this article »
Relationship quotes with pictures
Love quotes with pictures
Life Lesson quotes with pictures
Join Us on Facebook
Latest Picture Quotes