Popular Topics
Imagination Is More Important Than Knowledge - Albert Einstein

By J. Johnson, picture courtesy of tumblr

Jan 12, 2011
Imagination
is more important than knowledge.
Without the ability to be creative we would have no thirst for knowledge, and we would still be stuck in a primitive mindset, only worrying about the basics of life, food and shelter. But because we have the ability to think freely and to be able to use this free imaginative thinking to create ideas from which we eventually gain knowledge. Imagination is the spark for when knowledge seems to be the flame.

Before their was ever an automobile being driven on a road, there was a person imagining how to create some kind of tool in order to get from two different places, in a faster amount of time than walking or horseback. Before Edison's version of the light bulb, there were other inventors imagining ways to create sources of light without having to use fire. Without any imagination, humanity would never ask the question stated simply, why? IT is important that we never lose our creativity and imaginations, even as we grow older, and are looked down upon by society for doing so, keep asking the age old question of "why"!
Related Quotes with Pictures about Imagination
Imagination
is more important than knowledge.
We all have something in us that we are destined to create and leave as our mark on this world. Out of billions of people across the planet, we all have our uniqueness. We are all different in some way.
Read the rest of this article »
Art quotes with pictures
Imagination quotes with pictures
Knowledge quotes with pictures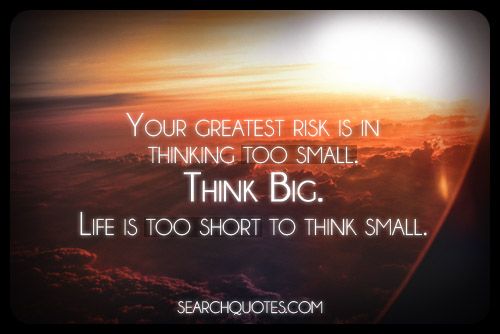 Your
greatest risk is in thinking too small. Think Big. Life is too short to think small.
In the times that you are supposed to rest you must rest. There is no good alternative to resting your body and mind daily. Most hardworking people compete with rest daily, hoping to supplement a little more work in order to be ahead of the curve but this isn't always what is best for us.
Read the rest of this article »
Life quotes with pictures
Self Empowerment quotes with pictures
Imagination quotes with pictures
Life Lesson quotes with pictures
Motivational quotes with pictures
Logic
will get you from A to B. Imagination will take you everywhere. -Albert Einstein
Imagination is what makes the world go around. Imagination can do things that our physical abilities can't do, like see a world that our eyes arent able to see, hear the world in a way that our ears arent able to hear, and feel a world that our hands arent able to feel.
Read the rest of this article »
Inspirational quotes with pictures
Motivational quotes with pictures
Encouragement quotes with pictures
Self Empowerment quotes with pictures
Personal Growth quotes with pictures
Ambition quotes with pictures
Life quotes with pictures
Imagination quotes with pictures
Join Us on Facebook
Latest Picture Quotes