Popular Topics
Let Perseverance Be Your Engines And Hope Be Your Fuel

By J. Johnson, picture courtesy of SearchQuotes

October 25, 2015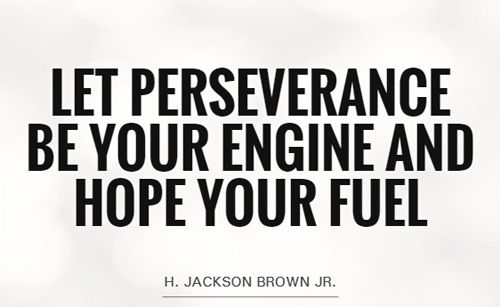 Let
perseverance be your engine and hope your fuel.
We are always going to be tested in life. There are always going to be obstacles in the way of our plans that force us to challenge everything that we think is special about ourselves.

The people who love life for what it really is, understand that it takes overcoming these obstacles to get better at what they do. People who hope to achieve great things seek to test their drive by being challenged on a continual basis.

No matter how many times something seems to defeat you, you must be willing to examine how to get past this challenge. When it feels like you aren't moving forward, you have to examine your practices, and yourself to make sure that you aren't missing out on any opportunities to grow.

When challenges crop up in your life, persevere through them until you win. Don't ever stop yourself from walking in your purpose! There is no other way.
Related Quotes with Pictures about perseverance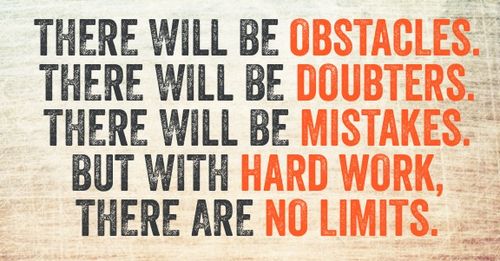 There
will be obstacles. There will be doubters. There will be mistakes. But with hard work, there are no limits.
In order to rise to the top a person must be willing to dedicate all of themselves. Hard work is something in our lives that is barely ever able to go unrecognized. Though a person's perseverance and hard work may not always give a person the victory or success in which they envisioned, it certainly will bring them close, way closer than they would if they didnt work as hard.
Read the rest of this article »
Inspirational quotes with pictures
Perseverance quotes with pictures
Hard Work quotes with pictures
Encouragement quotes with pictures
Success quotes with pictures
Mistakes quotes with pictures
Obstacles quotes with pictures
Obstacles
can't stop you, problems can't stop you, most of all, other people can't stop you. The only one who stops you is yourself.
The only person that can stop you from doing the things that you really want to do out of life is yourself. In life it is easy to make excuses of why you aren't where you really want to be, but really, the only excuse that makes sense is that you just haven't fought hard enough to get there yet. Excuses are a big reason of why people fail in life, because they are used only to give a person pity or justification for the things that they havent done already.
Read the rest of this article »
Inspirational quotes with pictures
Motivational quotes with pictures
Perseverance quotes with pictures
Self Empowerment quotes with pictures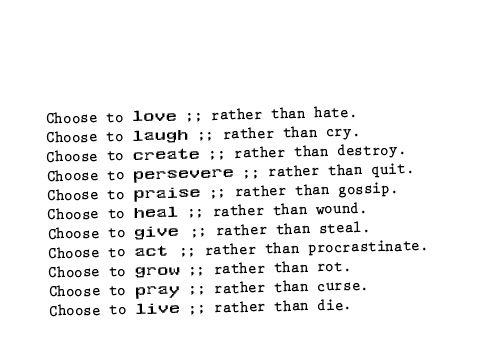 Choose
to love; rather than hate. Choose to laugh; rather than cry. Choose to create; rather than destroy. Choose to persevere; rather than quit. Choose to praise; rather than gossip. Choose to heal; rather than wound. Choose to give; rather than steal. Choose to act; rather than procrastinate. Choose to grow; rather than not. Choose to pray; rather than curse. Choose to live; rather than die.
Whether we realize it or not even the smallest choices we make throughout a day in time will effect our overall lifestyle and happiness. In times of difficulty we have a choice, we can let our difficult time bring our spirits down, and let it overcome us. Or we can make the best out of the situation, continue to think positive, and try our best to overcome it. Choosing to think and act positively in situations where it may be easier to just do what our flesh tells us to, is how we choose to live our lives instead of dying.
Read the rest of this article »
Love quotes with pictures
Life quotes with pictures
Laughter quotes with pictures
Perseverance quotes with pictures
Prayer quotes with pictures
Join Us on Facebook
Latest Picture Quotes