Popular Topics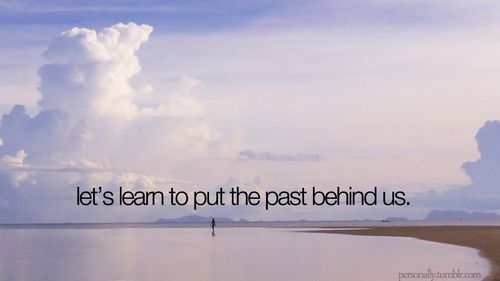 Let's
learn to put the past behind us.
To learn to put the past behind you, you have to be willing to accept what happened as something that is finished, and that can't be changed. Too many of us get stuck in the accomplishments in our younger days, and don't realize that those days are gone and are never going to be back. While others of us choose to review our mistakes over and over again thinking that doing so will help prevent us from committing them in the future, and not realizing that that continuing to think of these mistakes is preventing us from living the best life that we can in the present time.

Sure without our past we would never be where we are now, and we should definitely learn from it, but we mustn't over think our lives either. Live in the moment, do the things you love, and make wise decisions based on wisdom, not on paranoia, or the fear of committing the same mistake you made in the past!
Related Quotes with Pictures about Past
Don't
regret yesterday. It is the perfect compass guiding your journey today.
Never being able to get past your past is one of the heaviest attitudes a person can live with. If you continue to regret yesterday, all of the regret that you allow yourself to wallow in will do nothing but continue to bring you down, to the point that you are no longer above water.
Read the rest of this article »
Inspirational quotes with pictures
Positive Thinking quotes with pictures
Past quotes with pictures
Self Empowerment quotes with pictures
Encouagement quotes with pictures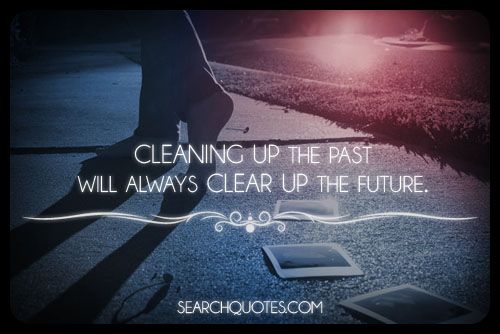 Cleaning
up the past will always clear up the future.
Sometimes we make messes so big, that no matter what we do, we just can't clean them up. This especially relates to the wrongs we have committed in our pasts that will inevitably force us to keep messing up in the present. Only God can make things right that we know will affect us for years to come. You have to remember that the person that you used to be doesn't have to be who you are today.
Read the rest of this article »
Past quotes with pictures
Future quotes with pictures
Inspirational quotes with pictures
Motivational quotes with pictures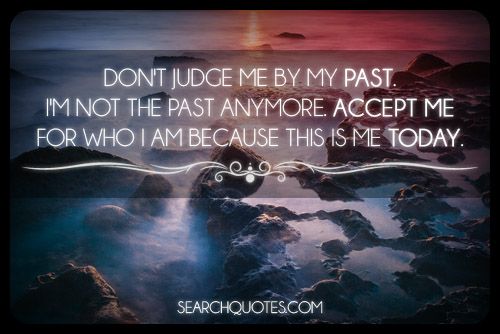 Don't
Judge me by my past. I'm not the past anymore. Accept me for who I am because this is me today.
We may all have a past, good thing we have also all have today! It is time for people to accept you for who you really are. Are you struggling in coming to terms with the past, and are you wishing that you had done things differently while you had the chance? Well we all have regrets. We all at certain points at least think about how things might have been if we would have done things a little bit differently.
Read the rest of this article »
Judgement quotes with pictures
Past quotes with pictures
Encouragement quotes with pictures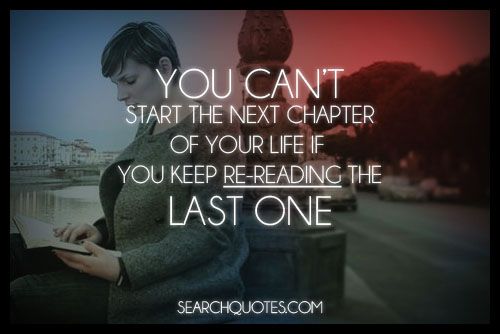 You
can't start the next chapter of your life if you keep re-reading the last one.
When you work too hard to hang on to what you have right now, and what you had in the past, you limit your future immensely. Simply stated, if you go out and try to drive your car today, by only staring in the rearview mirror the only thing that you will be able to do without wrecking, is pull out of your parking space?
Read the rest of this article »
Past quotes with pictures
Inspirational quotes with pictures
Personal Growth quotes with pictures
Moving Forward quotes with pictures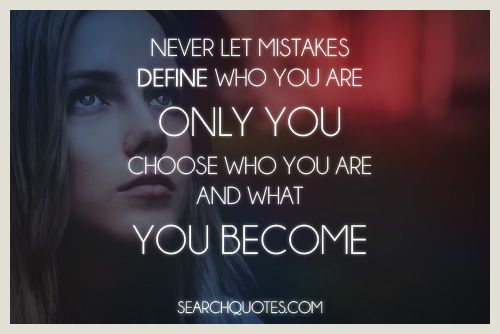 Never
let mistakes define who you are, only you choose who you are and what you are to become.
Wouldn't it be nice if we could never make a mistake? Actually, making mistakes is crucial to living a good life. There is no way to gauge if we have or if we are doing the right things in life, if we have never messed up in our lives. Mistakes are simply part of who we are and what we do as human beings. We have to be able to accept that we make mistakes, and we have to be willing to use every mistake that we have made, and turn it into a positive, instead of not learning from our mistakes, and committing the same ones time and time again.
Read the rest of this article »
Mistakes quotes with pictures
Life quotes with pictures
Inspirational quotes with pictures
Motivational quotes with pictures
Personal Growth quotes with pictures
Past quotes with pictures
Moving Forward quotes with pictures
Join Us on Facebook
Latest Picture Quotes