Popular Topics
Letting Go Of Someone You Love

By J. Johnson, picture courtesy of tumblr

Apr 12, 2011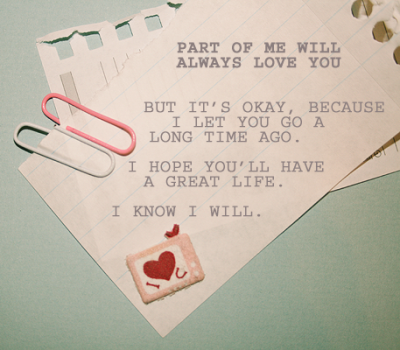 Part
of me will always love you. But it's okay, because I let you go a long time ago. I hope you'll have a great life. I know I will.
Not everyone has experienced losing the one that they thought they would be with forever but a lot of us have. It is very true that when you once love someone so much it is pretty much impossible to just let that person go completely from your heart. In order to do so, it is best that you completely cut this person off. Once you have talked to this person and come to a mutual agreement that you shouldn't see each other anymore, make it a point never to "see" this person again.

Delete anything out of your life including mutual friends, unfriend them and their friends on Facebook, throw away old movie ticket stubs, clothes and other keepsakes that will remind you of them, because it will be hard enough trying to get over them without seeing things to remind you of them. Also remember not to hold onto any hate or resentment towards them, and to wish them a blessed life every time that you may think of them. Love comes and goes sometimes, but remember that someday love will find you again, until then work on developing yourself into the person that you aspire to be.
Related Quotes with Pictures about Love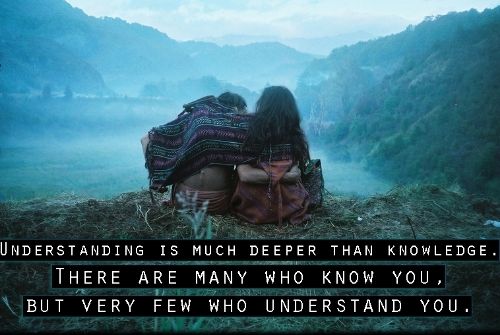 Understanding
is much deeper than knowledge. There are many who know you, but very few who understand you.
In true love every moment can be a moment of discovery. When we love someone we must further our knowledge of this person as much as possible in order to gain the best understanding of this person as possible. As we gain more and more understanding about the person we love, we are able to gauge their reactions to things before they come past, we are able to talk to them in a manner that will produce the most results in times of despair, and we are able to love them to the fullest extent that love will allow.
Read the rest of this article »
Love quotes with pictures
Relationship quotes with pictures
Friendship quotes with pictures
Personal Growth quotes with pictures
Knowledge quotes with pictures
Wisdom quotes with pictures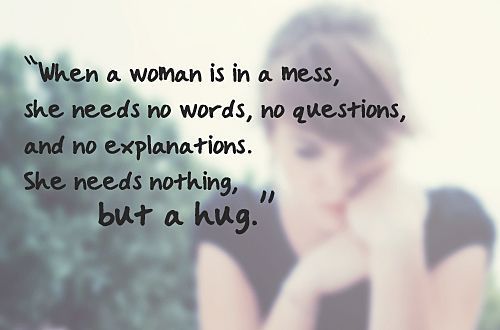 When
a woman is in a mess, she needs no words, no questions, and no explanations. She needs nothing, but a hug.
The physical love and affection we share sometimes can speak way more than a thousand words. When we show our loved ones affection we are showing them a multitude of things. We are showing them how much we care for them, and love them, and that we will protect them. We are also showing them that we will be there for them in times where they will need us the most, and at times that matter the most. Showing affection isn't just limited to holding someone.
Read the rest of this article »
Relationship quotes with pictures
Affection quotes with pictures
Love quotes with pictures
Stress quotes with pictures
Friendship quotes with pictures
Of
all the people in the world you are special to me, I love you and miss you.
Sometimes we meet someone that is just special to us, and we never want him or her to leave our sides. Just the smell, the smile, the way someone talks, or the way that they walk can weigh heavily on our mind. When we start thinking about nothing other than that person and our nights become nights with barely any sleep, because we are tossing and turning in bed all night wishing they were in bed with us, we start to realize how much we really care about this person.
Read the rest of this article »
Love quotes with pictures
Relationship quotes with pictures
Feelings quotes with pictures
Falling In Love quotes with pictures
If
you want something you've never had you have to do something you've never done.
If you are one of many of us in the world, and haven't found or ever been in what you may consider true love, do not worry because you are not alone. Sometimes when we are searching for a love that we have never had we have to try new things in order to find it. Though a lot of people may be against them, Internet dating sites, usually sites for serious interests have been statistically shown to produce high amounts of relationships and even marriages.
Read the rest of this article »
Love quotes with pictures
Relationship quotes with pictures
Encouragement quotes with pictures
Motivational quotes with pictures
One
of the best feelings in the world is when you hug the person you love, and they hug you tighter.
Many of us don't realize the power of a single hug. A simple hug can say a lot to a person when the use of words just won't suffice. A hug can relay the message that you love someone, that you are there for them in times of great need, and that you will always be there for them in times of great need.
Read the rest of this article »
Love quotes with pictures
Relationship quotes with pictures
Life quotes with pictures
Join Us on Facebook
Latest Picture Quotes