Popular Topics
Letting Go Of Someone You Love

By J. Johnson, picture courtesy of tumblr

Apr 12, 2011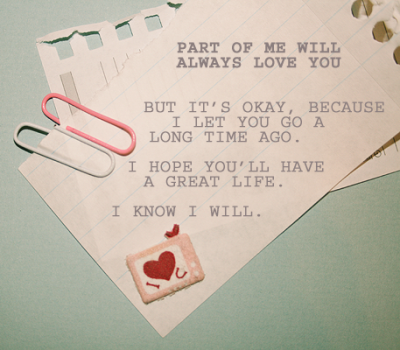 Part
of me will always love you. But it's okay, because I let you go a long time ago. I hope you'll have a great life. I know I will.
Not everyone has experienced losing the one that they thought they would be with forever but a lot of us have. It is very true that when you once love someone so much it is pretty much impossible to just let that person go completely from your heart. In order to do so, it is best that you completely cut this person off. Once you have talked to this person and come to a mutual agreement that you shouldn't see each other anymore, make it a point never to "see" this person again.

Delete anything out of your life including mutual friends, unfriend them and their friends on Facebook, throw away old movie ticket stubs, clothes and other keepsakes that will remind you of them, because it will be hard enough trying to get over them without seeing things to remind you of them. Also remember not to hold onto any hate or resentment towards them, and to wish them a blessed life every time that you may think of them. Love comes and goes sometimes, but remember that someday love will find you again, until then work on developing yourself into the person that you aspire to be.
Related Quotes with Pictures about Love
So
many times I thought I would never find someone to love me the way I needed to be loved. Then you came into my life and showed me what true love really is!
Love quotes with pictures
Valentines Day quotes with pictures
Romantic quotes with pictures
10
beautiful love quotes just in time for Valentines Day.
Love quotes with pictures
Valentines Day quotes with pictures
Romantic quotes with pictures
Love
yourself first and everything else falls into place.
Im sure we have all at some point felt as though no one in the world has our back, and that no one cares or loves us, but this should never be true, because at the end of the day, it is inevitable for us to love ourselves first, so that other people may be able to love us as well.
Read the rest of this article »
Positive Thinking quotes with pictures
Uplifting quotes with pictures
Love quotes with pictures
Self Empowerment quotes with pictures
Encouragement quotes with pictures
Its
really hard to decide when you're too tired to hold on, yet, you're too in love to let go.
Ever been in this position? A lot of us have and it is a very difficult position to be in. It is hard to hold on to something that you know is weighing you down, and preventing you from living a healthy positive life, but at the same time it is hard to just let go of someone that you hold so dearly to your heart. There is no right or wrong answer to this equation presented in many of our lives, and everyones situation though similar, is different and unique.
Read the rest of this article »
Letting Go quotes with pictures
Love quotes with pictures
Moving On quotes with pictures
Moving Forward quotes with pictures
Relationship quotes with pictures
Dear
you, I miss you. I miss how you cared for me, how you always make my day, how you used to cheer me up, and how you make me feel that you love me. I miss everything that used to be what happened? Love, me.
Have you ever had to take a step back and ask yourself who the person is that you have become? Some of us have and some of us are even on the road to becoming someone that we know we truly arent at our hearts level. Right now examine the things that you do most weekly.
Read the rest of this article »
Self Empowerment quotes with pictures
Self Love quotes with pictures
Positive Thinking quotes with pictures
Join Us on Facebook
Latest Picture Quotes