Popular Topics
Live,
Laugh, Love
Live. Let yourself live, don't always hold back and shelter yourself from taking risks. Be adventurous, be spontaneous, explore new worlds and new places that you would not otherwise see without taking the initiative to. Take advantage of the fact that you were able to wake up this morning, because not everyone else can say the same.

Love. Choose to love, but let love find you. Be proactive in searching for someone that you are compatible but don't rush to be in love. Love your family, and friends daily, by spending time with them, and treating them in a manner in which you want to be treated. Never run away from love, because no matter what, love conquers all.

Laugh. Spend time everyday doing things to make you laugh and smile. Catch a good comedy, watch a funny sitcom, or simply converse with some friends or family members that you know will give you a good laugh. A few laughs a day will keep the doctor away!
Related Quotes with Pictures about Life
Real
love is knowing someone's weaknesses and not taking advantage of them. Knowing their flaws & accepting who they are.
Real love is about finding the person that will stick with you through the thick storms and the thin victories. Real love doesn't just take sacrifice, it is based on sacrifice. Real love is founded on the notion that sometimes you may have to give part of yourself to someone else in order for them to be able to make it through, with the understanding that this person will do the same thing for you in your toughest times.
Read the rest of this article »
Love quotes with pictures
Relationship quotes with pictures
Life Lesson quotes with pictures
Do
what you love and love what you do.
If you don't care about what you really do when times get hard you have to have enough passion for your field to even want to carry on. When you pursue what you really love to do is much easier to stick with it, than it would be to continue in something that you don't really have a deep love for.
Read the rest of this article »
Life Lesson quotes with pictures
Self Development quotes with pictures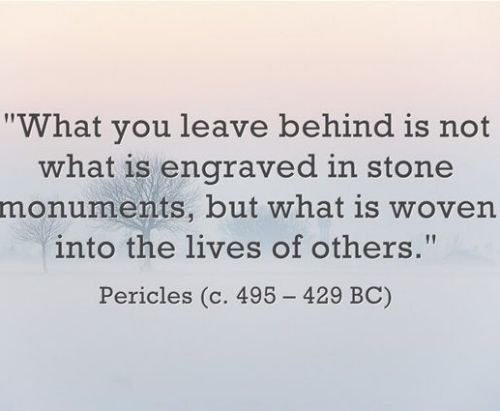 What
you leave behind is not what is engraved in stone monuments, but what is woven into the lives of others.
What kind of mark do you want to leave by the time you are gone? Is it one that will truly stand the test of time, or one that will be easily forgotten?
Read the rest of this article »
Life quotes with pictures
Motivational quotes with pictures
Encouragement quotes with pictures
How
people treat you is their karma; how you react is yours.
Life Lesson quotes with pictures
Personal Growth quotes with pictures
Positive Thinking quotes with pictures
Self Development quotes with pictures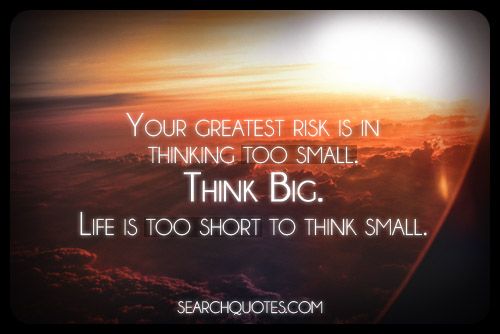 Your
greatest risk is in thinking too small. Think Big. Life is too short to think small.
In the times that you are supposed to rest you must rest. There is no good alternative to resting your body and mind daily. Most hardworking people compete with rest daily, hoping to supplement a little more work in order to be ahead of the curve but this isn't always what is best for us.
Read the rest of this article »
Life quotes with pictures
Self Empowerment quotes with pictures
Imagination quotes with pictures
Life Lesson quotes with pictures
Motivational quotes with pictures
Join Us on Facebook
Latest Picture Quotes