Popular Topics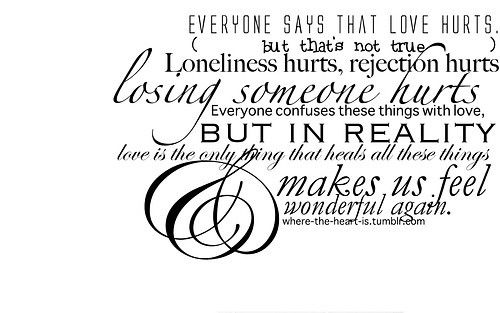 Everyone
says that love hurts, but that's not true. Loneliness hurts, rejection hurts and losing someone hurts. Everyone confuses these things with love, but in reality love is the only thing that heals all these things and makes us feel wonderful again.
Sometimes people may confuse love with the relationships that they are in at the time. Being with someone through substantial ups and downs makes people feel obligated to stay with a person even after stints of being abused, cheated on, and mistreated. Even though a person being abused emotionally or physically or a person who may have suffered a loss is probably the best candidate for a fresh dose of love they are usually the ones who resist it the most.

Not only are we resistant to change naturally as people, but we are inherently more resistant to change when it involves someone we love, or someone that we think we love. It is hard because we continue with relationships physically and mentally thinking that that someone or situation will change, and that the person that we originally loved for a good reason will return. In all actuality, for the most part we are better off giving someone else our love who will yield a return of equal or greater love, and make us feel as we should have been feeling all along.
Related Quotes with Pictures about Love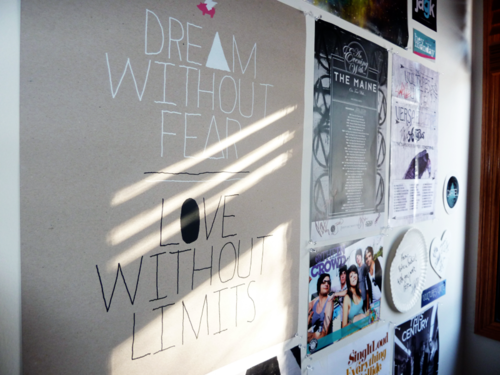 Dream
without fear, love without limits.
Have you ever noticed that in some of your dreams you have while sleeping you possess the superhuman qualities of a super hero while at the same time possessing the romantic qualities of the Worlds Most Interesting Man (or woman)! Even though these dreams do not seem realistic and seem so far from who we actually are at heart sometimes, doesnt mean that we cant at the least try to live up to their inferences to our lives.
Read the rest of this article »
Love quotes with pictures
Dreams quotes with pictures
Life quotes with pictures
Positive Thinking quotes with pictures
If
you aren't happy being single, you will never be happy in a relationship. Get your own life and love it first, then share it.
Just because you are single doesnt mean that your life is over. In fact as a newly found single person in this world, you are at a great point in your life, to let your hair down, and have some fun! Without being in a committed relationship, you are without commitment to anyone but yourself. So make some new commitments to yourself, sit down and set up a plan this year to do things like take trips out of town and visit places that you have never been to and want to see.
Read the rest of this article »
Relationship quotes with pictures
Love quotes with pictures
Being Single quotes with pictures
Love
isnt when you can name a million things you love about the person. Love is when you cant even find the words to describe how you feel about them.
Have you ever loved someone so much and wanted to tell them how they make you feel but just couldnt find the right words to tell them exactly how you feel? Plenty of us that have experienced love have experienced the same thing and trust me you arent alone.
Read the rest of this article »
Love quotes with pictures
Relationship quotes with pictures
Every
girl has three guys in her life. The one she loves, the one she haters and the one she can't live without. And in the end, they're all the same guy.
Trying to understand love is like trying to understand life as we know it, and is something that we will probably never truly all the way understand. What I have learned from my own personal relationships and from my elders who have been married or with the same person for at least ten years is that even though you may love your significant other, there are going to be differences in opinion, and arguments sometimes, there are going to be places you want to go that they might not want to and vice-versa, but at the end of the day there should be no one else you would rather be in bed with than your significant other.
Read the rest of this article »
Relationship quotes with pictures
Love quotes with pictures
Message
to my ex: we are both beautiful & great people who just happened to bring out the ugly in one another at times.
Sometimes in our lives we are confronted with a huge problem, after giving a considerable length of time after breaking up, just when we think we are over someone we find ourselves feeling as though we cant make it without our ex lover. We are faced with the huge decision of trying to renew a relationship with someone who may not necessarily be willing to do the same, or not trying at all and basically just cutting our losses.
Read the rest of this article »
Relationship quotes with pictures
Love quotes with pictures
Ex Girlfriend quotes with pictures
Ex Boyfriend quotes with pictures
Join Us on Facebook
Latest Picture Quotes