Popular Topics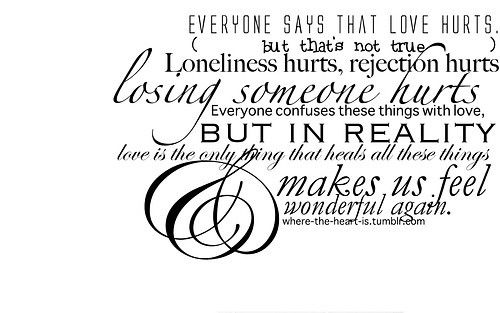 Everyone
says that love hurts, but that's not true. Loneliness hurts, rejection hurts and losing someone hurts. Everyone confuses these things with love, but in reality love is the only thing that heals all these things and makes us feel wonderful again.
Sometimes people may confuse love with the relationships that they are in at the time. Being with someone through substantial ups and downs makes people feel obligated to stay with a person even after stints of being abused, cheated on, and mistreated. Even though a person being abused emotionally or physically or a person who may have suffered a loss is probably the best candidate for a fresh dose of love they are usually the ones who resist it the most.

Not only are we resistant to change naturally as people, but we are inherently more resistant to change when it involves someone we love, or someone that we think we love. It is hard because we continue with relationships physically and mentally thinking that that someone or situation will change, and that the person that we originally loved for a good reason will return. In all actuality, for the most part we are better off giving someone else our love who will yield a return of equal or greater love, and make us feel as we should have been feeling all along.
Related Quotes with Pictures about Love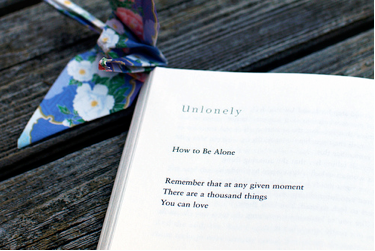 Remember
that at any given moment there are a thousand things you can love.
The earth is too full of beauty to not be able to love one thing in it. Even in the loneliest times of our lives we are never truly lonely. Not only do we have God with us at all times, but we have his creations as well. Including the beautiful animals like dogs, cats, horses, and so on, who are able to offer us a level of companionship that sometimes our own peers can't.
Read the rest of this article »
Love quotes with pictures
Self Development quotes with pictures
Personal Growth quotes with pictures
Positive Thinking quotes with pictures
Loneliness quotes with pictures
Every
man needs a woman when his life is a mess, because just like in a game of chess; the queen protects the king.
Being there for the people that you love is one of the most crucial things that you can do to show them that they are loved in their time of need. True love is about being there when it is necessary for you to do so, and not just when it is most convenient. The moments that you were there for someone in their time of need are the moments that they will hopefully remember most. Being a shoulder for a loved one to lean on and cry on may mean everything in the world to that person, and we must never take this for granted.
Read the rest of this article »
Relationship quotes with pictures
Love quotes with pictures
Inspirational quotes with pictures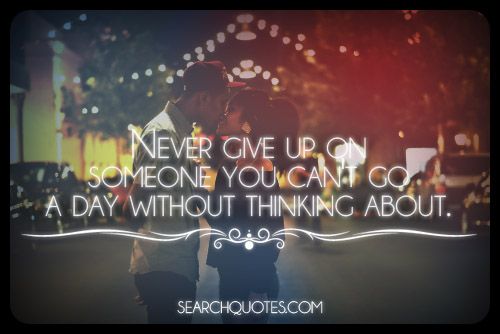 Never
give up on someone you can't go a day without thinking about.
Refusing to let go of a relationship that has experienced a lot of turmoil, whether it be emotional turmoil, spiritual turmoil, or emotional, takes great courage from both parties. It seems that in a day and age that people find a couple of reasons to split, finding someone including one's self who is willing to stick around after they have a million reasons to leave, is in a sense, finding a person who is one and a million in them selves.
Read the rest of this article »
Relationship quotes with pictures
Courage quotes with pictures
Love quotes with pictures
Letting Go quotes with pictures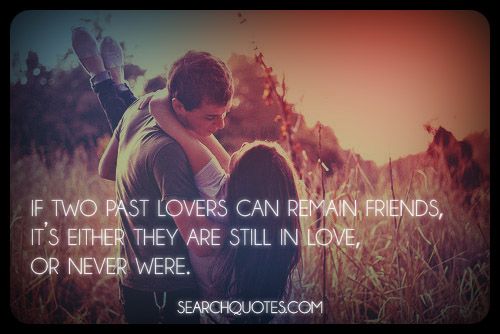 If
two past lovers can remain friends, it's either they are still in love, or never were.
One reason that we should always be careful who we love is because of the fact that everyone that we give a part of ourselves too is a person that we ultimately take a part of and fill our own spirit with as well. Whether or not the relationship we have with the people that we truly love is able to work out or not, the people that we give our love too will always be a part of us.
Read the rest of this article »
Love quotes with pictures
Heart Touching quotes with pictures
Relationship quotes with pictures
Love
is when you fight to be with your special someone even when everything and everybody is pulling you apart.
When we love someone it isn't always easy to see, but we have to be willing to fight hard for it. Love is something that many people are so cynical about, because they often don't understand the importance of being as willful as you can in a relationship. Love is something that you fight for, something that you act courageously for, and something that you will risk it all for.
Read the rest of this article »
Love quotes with pictures
Relationship quotes with pictures
Heart Touching quotes with pictures
Join Us on Facebook
Latest Picture Quotes