Popular Topics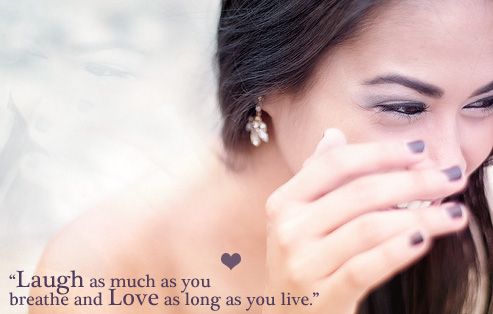 Laugh
as much as you breath and love as long as you live.
When we keep a positive outlook in our lives, life will tend to flow easier for us. Laughter is an essential stress reliever whether we realize it or not, just a few laughs a day prevents stress from building up in our lives. We don't usually realize it but laughter has many positive effects on our physical bodies as well. By decreasing our blood pressure levels, and giving increase to endorphins (signals of "feel good") to the brain, our levels of stress tend to decrease.

Love also has similar positive physical effects, and any good relationship is a relationship that will also increase your physical and mental health as well. This is why it is important to laugh and love as much as possible. Doing the alternatives to these will affect us negatively of course. We aren't made to sustain high levels of stress and negative energy, if we think about it, anything with too much weight or stress on it will eventually fold. Earth is filled with a huge population of people and it would be a shame for us not to laugh and love with them.
Related Quotes with Pictures about Love
Love
means that you accept a person with all their failures, stupidities, ugly points, and nonetheless, you see perfection in imperfection itself.
Giving someone your heart is very serious business, and isn't at all something that should be taken for granted. In life there is wisdom gained through experiences, and much of what we go through can be a lesson to us later in life. As many have already learned, choosing to love someone is choosing to love someone for everything that they are. Everyone has some good qualities, and everyone has some bad qualities. When we partake in a relationship with someone, we are choosing to accept not only the good that comes along with them, but the bad as well.
Read the rest of this article »
Love quotes with pictures
Life Lesson quotes with pictures
Wisdom quotes with pictures
Experience quotes with pictures
Personal Growth quotes with pictures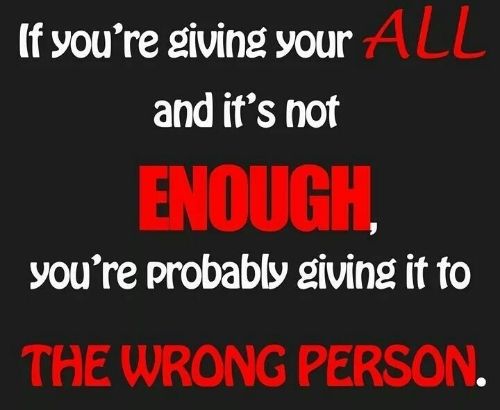 If
you're giving your all to someone and it's not enough you're probably giving it to the wrong person.
Sometimes we give our all to someone and we end up being hurt by this same person. When we experience a pain like this, it cuts very deep, and we start to question ourselves and whether we gave a good enough effort, and if we did everything right that we may have possibly been able to.
Read the rest of this article »
Relationship quotes with pictures
Love quotes with pictures
Heartbreak quotes with pictures
Moving On quotes with pictures
Moving Forward quotes with pictures
Letting Go quotes with pictures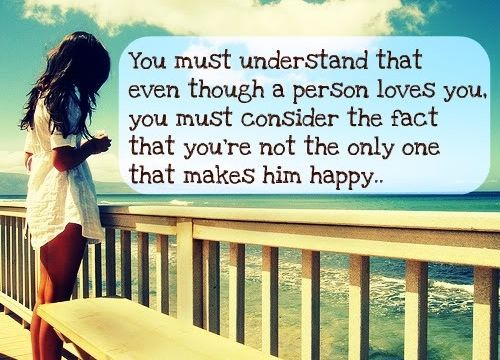 You
must understand that even though a person loves you, you must consider the fact that you're not the only one that makes him/her happy.
Sometimes when we go through a relationship and our love grows for someone, we feel as though their dedication of greater amounts of time, and energy means that we are the only people that make them happy. After a while if two people aren't given enough space from each other, they will start to irritate and even come close to annoying one another. In an attempt to avoid this we should make good attempts at being the person we truly are on the inside at all times.
Read the rest of this article »
Relationship quotes with pictures
Friendship quotes with pictures
Love quotes with pictures
Just
because someone doesn't love you the way you want them to doesn't mean they don't love you with everything they got.
As humans, it is inevitable that we will encounter relationships in our lives that we don't fully understand. The relationships that are formed with people, especially the relationships that we form with people when we are younger, give us the experiences we use later on in life to form the newer relationships. When we are older and have more experiences, and are just meeting people who are in the same boat, the way that we treat each other may not always be fully parallel or copacetic, as we may desire. This should not always be a deterrent to developing new relationships for it is in these times that great relationships can be formed.
Read the rest of this article »
Love quotes with pictures
Relationship quotes with pictures
Life Lesson quotes with pictures
Positive Thinking quotes with pictures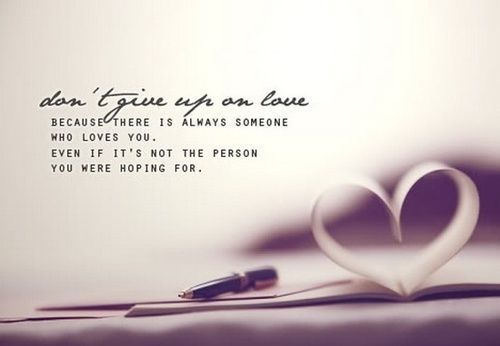 Don't
give up on love. Because there is always someone who loves you. Even if it's not the person you were hoping for.
Finding a perfect fit in love is a very difficult thing to do, mostly because none of us are perfect. Sure there are fairy tale scenarios we have all seen in movies, television and other media outlets, but the only fairy tales in life are those that we are willing to work towards.
Read the rest of this article »
Love quotes with pictures
Relationship quotes with pictures
Personal Growth quotes with pictures
Positive Thinking quotes with pictures
Join Us on Facebook
Latest Picture Quotes