Popular Topics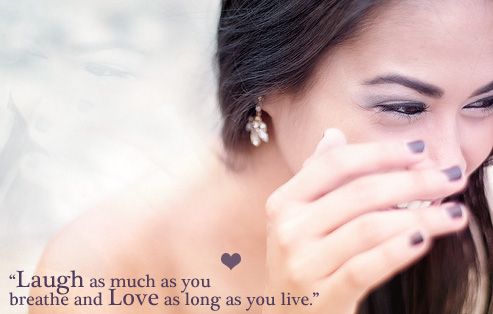 Laugh
as much as you breath and love as long as you live.
When we keep a positive outlook in our lives, life will tend to flow easier for us. Laughter is an essential stress reliever whether we realize it or not, just a few laughs a day prevents stress from building up in our lives. We don't usually realize it but laughter has many positive effects on our physical bodies as well. By decreasing our blood pressure levels, and giving increase to endorphins (signals of "feel good") to the brain, our levels of stress tend to decrease.

Love also has similar positive physical effects, and any good relationship is a relationship that will also increase your physical and mental health as well. This is why it is important to laugh and love as much as possible. Doing the alternatives to these will affect us negatively of course. We aren't made to sustain high levels of stress and negative energy, if we think about it, anything with too much weight or stress on it will eventually fold. Earth is filled with a huge population of people and it would be a shame for us not to laugh and love with them.
Related Quotes with Pictures about Love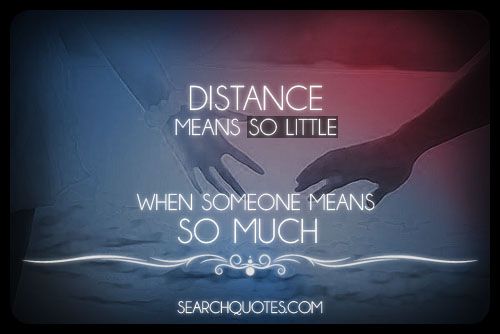 Distance
means so little when someone means so much.
Everyone is different, and though sometimes people are able to make it through extended periods of time without seeing each other, doesn't mean that all couples will last. When both parties in a relationship remain committed to long distance relationships equally with fire, the relationships usually tend to last, at least much longer than most long distance relationships seem to.
Read the rest of this article »
Love quotes with pictures
Relationship quotes with pictures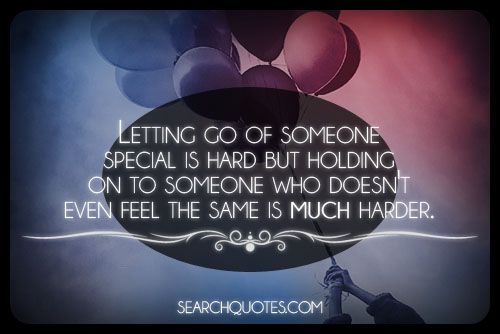 Letting
go of someone special is hard but holding on to someone who doesn't even feel the same is much harder.
Sometimes in our waking lives we are confronted with the decision of either making the best out of a relationship by hoping that the person that we want to really care for us, starts to really care for us, even though making someone love you after a while isn't always the easiest thing to do.
Read the rest of this article »
Letting Go quotes with pictures
Holding On quotes with pictures
Pain quotes with pictures
Love quotes with pictures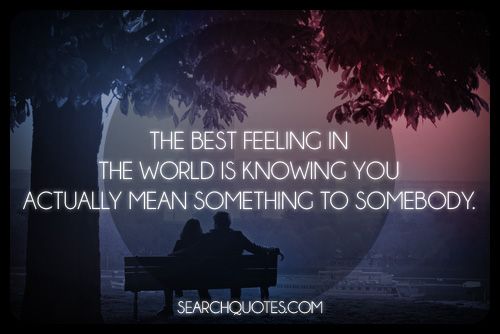 The
best feeling in the world is knowing you actually mean something to somebody.
As the quote says it feels good to be loved and for someone to show you how much that you mean to them on a regular basis. When you are special to someone you should feel that you are special to him or her. We should all be treated as the kings and queens that we are by those that we love. When somebody that we love is willing to show us how much they love us by even just doing the simple things such as drawing our baths, or giving us flowers, or taking us out to eat, we feel like we are appreciated.
Read the rest of this article »
Relationship quotes with pictures
Inspirational quotes with pictures
Feelings quotes with pictures
Love quotes with pictures
I'd
rather be the pain that you remember, rather than the love that you forget.
Refusing to be in a place with someone that you don't necessarily want to be with them in life can lead to hurting someone worse later on by doing the things that one is actually interested in doing, and being with the people that one is actually interested in being with. Remember that being the pain that someone remembers may not always work out best for you, and sometimes it is better for a couple to go their separate ways while they are still able to if they know in their hearts their isnt to be much of a future involved.
Read the rest of this article »
Love quotes with pictures
Pain quotes with pictures
Memories quotes with pictures
Emotions quotes with pictures
Sad quotes with pictures
Depressing quotes with pictures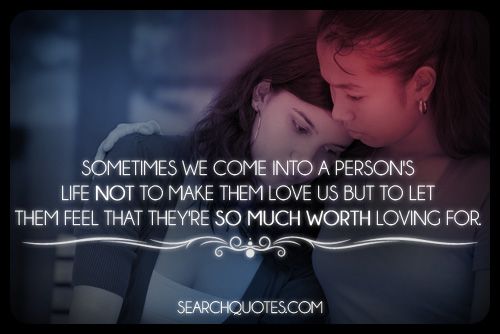 Sometimes
we come into a person's life not to make them love us but to let them feel that they're so much worth loving for.
Sometimes we are just put into a person's life to help build them up! In fact when we decide to enter into a persons life this should be our only motive! Why enter into somebody's life for any other reason? Too many of us have been beat down by life, and we just need someone to help us get back up on our feet so that we can continue to move forward again. If this makes a person love you because they get the opportunity to see how awesome of a person you are, then that is wonderful, but don't make that your number one motive.
Read the rest of this article »
Relationship quotes with pictures
Love quotes with pictures
Join Us on Facebook
Latest Picture Quotes