Popular Topics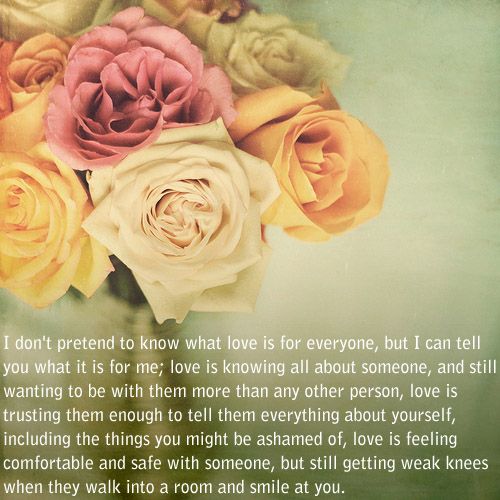 I
don't pretend to know what love is for everyone, but I can tell you what it is for me; love is knowing all about someone, and still wanting to be with them more than any other person, love is trusting them enough to tell them everything about yourself, including the things you might be ashamed of, love is feeling comfortable and safe with someone, but still getting weak knees when they walk into a room and smile at you.
Of course in this world no two people are exactly the same, and will have the same opinions about what love may be or mean to them. It is important not to force the person you love into believing your views on love, but instead to just let them love you for who you are. When seeking a general view on love I realize that I view love as it was explained to me in the bible since I was young.

1st Corinthians 13: 4-8 tells in a few choice words of what God feels love is, as explained by the Apostle Paul:

4 Love is patient, love is kind. It does not envy, it does not boast, it is not proud. 5 It does not dishonor others, it is not self-seeking, it is not easily angered, it keeps no record of wrongs. 6 Love does not delight in evil but rejoices with the truth. 7 It always protects, always trusts, always hopes, always perseveres.

8 Love never fails.

This deciphered basically says a few of love's requirements. Love requires patience, kindness, loyalty, forgetting past fights, not being jealous of someone else's love, not trying to make someone else jealous of your love, not disrespecting anyone, and a disregard for man's inherently selfish ways. It also requires that we use a lot of forgetfulness in regards to past tribulations, and shouldn't be used for evil. Love requires that you protect one another, trust one another, believe in one another, and hold fast to one another. With all of these requirements fulfilled, this love will not fail!
Related Quotes with Pictures about Love
Do
all things with love.
Everything that you do should be done out of love. If we choose to live our life controlled by negative feelings influenced by negative thoughts, negative words, and negative actions, then not only would be living a life without love, we would be living a life with no other meaning but to cause pain in destruction in other people's lives.
Read the rest of this article »
Love quotes with pictures
Passion quotes with pictures
Life quotes with pictures
Life Lesson quotes with pictures
Encouragement quotes with pictures
Motivational quotes with pictures
Love
knows no reasons, love knows no lies, love defies all reasons. Love has no eyes but love is not blind. Love sees but doesn't mind.
Love is such a powerful force that if it isn't suspended or stopped early in a relationship, its subsequent effects will be inevitable. We aren't always able to choose when we love, and who we love, a lot of times, life, and love, happen. Love is a binding agent between two souls and two hearts, connecting them in at least some ways, forever.
Read the rest of this article »
Love quotes with pictures
Relationship quotes with pictures
Life Lesson quotes with pictures
Wisdom quotes with pictures
The
minute I heard my first love story, I started looking for you, not knowing how blind that was. Lovers don't finally meet somewhere. They're in each other all along.
From the time we are young and learn about love, we develop our own perception of what love will be like when we are older. Many people learn how love is by hearing love stories, and watching couples in their lives growing up, especially their parents, or guardians. As society has changed so much, it is sort of uncommon for two people two have the exact same views of what they want their love to be when they obtain it, and many search for their idea of what love is for a very long time.
Read the rest of this article »
Love quotes with pictures
Relationship quotes with pictures
Life quotes with pictures
Maybe
one day, I'll be what you need. But don't wait too long.. Because the day you want me, may be the day I've finally given up.
Waiting too long to love somebody the way in which they deserved to be loved can sometimes cause dire consequences in the long run. Different people in life want different things, and some desire a loving relationship when they feel as though they have potentially met the right partner to engage in a loving relationship with.
Read the rest of this article »
Love quotes with pictures
Relationship quotes with pictures
Life Lesson quotes with pictures
Love
means that you accept a person with all their failures, stupidities, ugly points, and nonetheless, you see perfection in imperfection itself.
Giving someone your heart is very serious business, and isn't at all something that should be taken for granted. In life there is wisdom gained through experiences, and much of what we go through can be a lesson to us later in life. As many have already learned, choosing to love someone is choosing to love someone for everything that they are. Everyone has some good qualities, and everyone has some bad qualities. When we partake in a relationship with someone, we are choosing to accept not only the good that comes along with them, but the bad as well.
Read the rest of this article »
Love quotes with pictures
Life Lesson quotes with pictures
Wisdom quotes with pictures
Experience quotes with pictures
Personal Growth quotes with pictures
Join Us on Facebook
Latest Picture Quotes