Popular Topics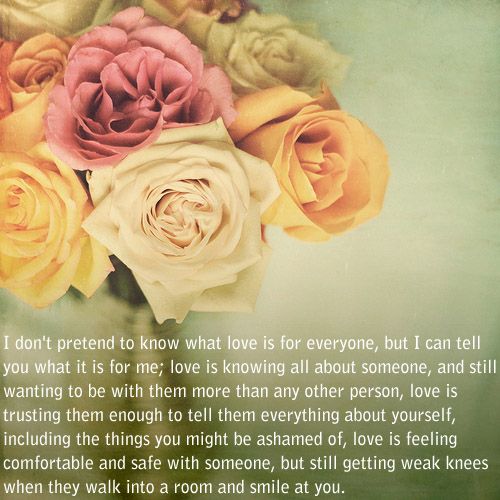 I
don't pretend to know what love is for everyone, but I can tell you what it is for me; love is knowing all about someone, and still wanting to be with them more than any other person, love is trusting them enough to tell them everything about yourself, including the things you might be ashamed of, love is feeling comfortable and safe with someone, but still getting weak knees when they walk into a room and smile at you.
Of course in this world no two people are exactly the same, and will have the same opinions about what love may be or mean to them. It is important not to force the person you love into believing your views on love, but instead to just let them love you for who you are. When seeking a general view on love I realize that I view love as it was explained to me in the bible since I was young.

1st Corinthians 13: 4-8 tells in a few choice words of what God feels love is, as explained by the Apostle Paul:

4 Love is patient, love is kind. It does not envy, it does not boast, it is not proud. 5 It does not dishonor others, it is not self-seeking, it is not easily angered, it keeps no record of wrongs. 6 Love does not delight in evil but rejoices with the truth. 7 It always protects, always trusts, always hopes, always perseveres.

8 Love never fails.

This deciphered basically says a few of love's requirements. Love requires patience, kindness, loyalty, forgetting past fights, not being jealous of someone else's love, not trying to make someone else jealous of your love, not disrespecting anyone, and a disregard for man's inherently selfish ways. It also requires that we use a lot of forgetfulness in regards to past tribulations, and shouldn't be used for evil. Love requires that you protect one another, trust one another, believe in one another, and hold fast to one another. With all of these requirements fulfilled, this love will not fail!
Related Quotes with Pictures about Love
The
greatest weakness of most humans is their hesitancy to tell others how they love them while they're alive.
Being able to tell someone how you feel is a very difficult challenge, especially when it is the first time telling them. Although it is not feasible for every moment of our life to be planned, sometimes planning your words, especially when you are relaying your feelings to someone is the best way to handle things. In order for you to tell someone that you love them, you cant be looking forward to telling them, seeking for them to say the same in return.
Read the rest of this article »
Love quotes with pictures
Life quotes with pictures
Positive Thinking quotes with pictures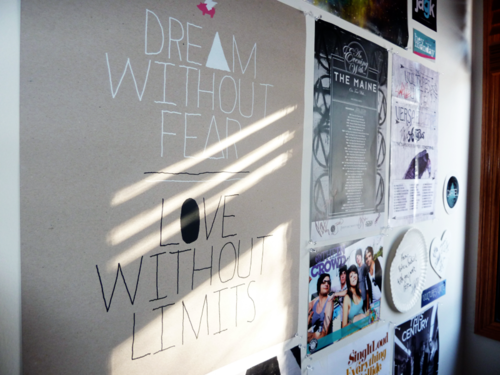 Dream
without fear, love without limits.
Have you ever noticed that in some of your dreams you have while sleeping you possess the superhuman qualities of a super hero while at the same time possessing the romantic qualities of the Worlds Most Interesting Man (or woman)! Even though these dreams do not seem realistic and seem so far from who we actually are at heart sometimes, doesnt mean that we cant at the least try to live up to their inferences to our lives.
Read the rest of this article »
Love quotes with pictures
Dreams quotes with pictures
Life quotes with pictures
Positive Thinking quotes with pictures
If
you aren't happy being single, you will never be happy in a relationship. Get your own life and love it first, then share it.
Just because you are single doesnt mean that your life is over. In fact as a newly found single person in this world, you are at a great point in your life, to let your hair down, and have some fun! Without being in a committed relationship, you are without commitment to anyone but yourself. So make some new commitments to yourself, sit down and set up a plan this year to do things like take trips out of town and visit places that you have never been to and want to see.
Read the rest of this article »
Relationship quotes with pictures
Love quotes with pictures
Being Single quotes with pictures
Love
isnt when you can name a million things you love about the person. Love is when you cant even find the words to describe how you feel about them.
Have you ever loved someone so much and wanted to tell them how they make you feel but just couldnt find the right words to tell them exactly how you feel? Plenty of us that have experienced love have experienced the same thing and trust me you arent alone.
Read the rest of this article »
Love quotes with pictures
Relationship quotes with pictures
Every
girl has three guys in her life. The one she loves, the one she haters and the one she can't live without. And in the end, they're all the same guy.
Trying to understand love is like trying to understand life as we know it, and is something that we will probably never truly all the way understand. What I have learned from my own personal relationships and from my elders who have been married or with the same person for at least ten years is that even though you may love your significant other, there are going to be differences in opinion, and arguments sometimes, there are going to be places you want to go that they might not want to and vice-versa, but at the end of the day there should be no one else you would rather be in bed with than your significant other.
Read the rest of this article »
Relationship quotes with pictures
Love quotes with pictures
Join Us on Facebook
Latest Picture Quotes