Popular Topics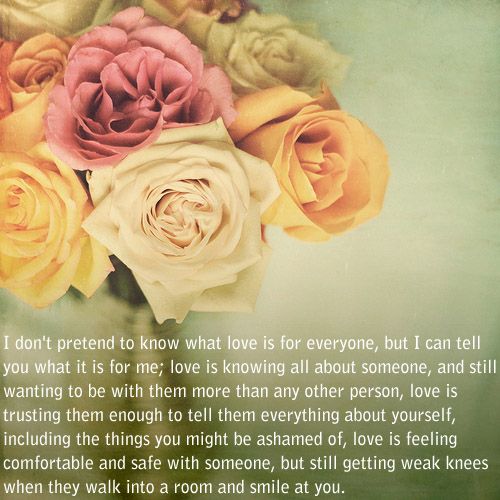 I
don't pretend to know what love is for everyone, but I can tell you what it is for me; love is knowing all about someone, and still wanting to be with them more than any other person, love is trusting them enough to tell them everything about yourself, including the things you might be ashamed of, love is feeling comfortable and safe with someone, but still getting weak knees when they walk into a room and smile at you.
Of course in this world no two people are exactly the same, and will have the same opinions about what love may be or mean to them. It is important not to force the person you love into believing your views on love, but instead to just let them love you for who you are. When seeking a general view on love I realize that I view love as it was explained to me in the bible since I was young.

1st Corinthians 13: 4-8 tells in a few choice words of what God feels love is, as explained by the Apostle Paul:

4 Love is patient, love is kind. It does not envy, it does not boast, it is not proud. 5 It does not dishonor others, it is not self-seeking, it is not easily angered, it keeps no record of wrongs. 6 Love does not delight in evil but rejoices with the truth. 7 It always protects, always trusts, always hopes, always perseveres.

8 Love never fails.

This deciphered basically says a few of love's requirements. Love requires patience, kindness, loyalty, forgetting past fights, not being jealous of someone else's love, not trying to make someone else jealous of your love, not disrespecting anyone, and a disregard for man's inherently selfish ways. It also requires that we use a lot of forgetfulness in regards to past tribulations, and shouldn't be used for evil. Love requires that you protect one another, trust one another, believe in one another, and hold fast to one another. With all of these requirements fulfilled, this love will not fail!
Related Quotes with Pictures about Love
If
you truly love someone, then they never leave your heart, only your side.
When someone is truly happy with a person they are involved with, the mere thought of their lover will give them a smile. It is such a great feeling to know that you are with someone who just lights up your world with one thought, and it is also important to note that having someone in your life as such is really a blessing that not everyone is able to say they have. When you have someone that makes you smile when you think of them, be sure to work hard in your relationship with them so that they will smile when they think of you as well.
Read the rest of this article »
Love quotes with pictures
Relationship quotes with pictures
Heart Touching quotes with pictures
Choose
your spouse carefully. Being single and feeling lonely is better than being married and feeling lonely.
This quote may be founded upon older principles but it is my belief that this is a truth that will help people for generations to come. Things these days are different in our society and it seems that marriage is just another form of life that people are instantly gratified of when it happens, but it is an institution that has lost importance in the minds and hearts of people because so many of them fail.
Read the rest of this article »
Marriage quotes with pictures
Love quotes with pictures
Relationship quotes with pictures
Personal Growth quotes with pictures
Self Development quotes with pictures
Decisions quotes with pictures
Life quotes with pictures
If
you love someone, tell them. For hearts are often broken by words left unspoken.
Every day that passes by on this Earth that we have life in, is simply a blessing. No one can predict the date and exact time that they will go to meet their maker, but we do know that death is inevitable. One of the most important things we can do in our lives is to make it a point to tell people what is on our hearts. There have been so many who regret not telling people how they really felt, or how much they cared for them before they passed.
Read the rest of this article »
Love quotes with pictures
Life Lesson quotes with pictures
Positive Thinking quotes with pictures
Personal Growth quotes with pictures
Relationship quotes with pictures
Sometimes
we need to know what love feels like when it's wrong before we can truly appreciate it, when it's right.
Life is full of crazy experiences, and this is true especially in our love life's if we take an honest look at them as well. Many times we don't end up with the person that we may have always thought we would end our lives with. Sometimes the first person we love isn't the right fit for us, but he or she is definitely a big teaching tool that we use to gauge our experiences for almost forever.
Read the rest of this article »
Love quotes with pictures
Relationship quotes with pictures
Letting Go quotes with pictures
Moving On quotes with pictures
Life Lesson quotes with pictures
When
a woman no longer get frustrated and upset with you, you can almost guarantee that she doesn't care anymore.
When one person in a relationship is tired of another, they will start to care less and less about things that could potentially make the relationship worse. For many women, and men as well, this is a mechanism that we internally flip when we have already received adequate damage to our hearts. After a person is heart it is harder for them to trust the person who hurt them, especially if the person continues to hurt them over and over again.
Read the rest of this article »
Relationship quotes with pictures
Letting Go quotes with pictures
Moving On quotes with pictures
Love quotes with pictures
Join Us on Facebook
Latest Picture Quotes