Popular Topics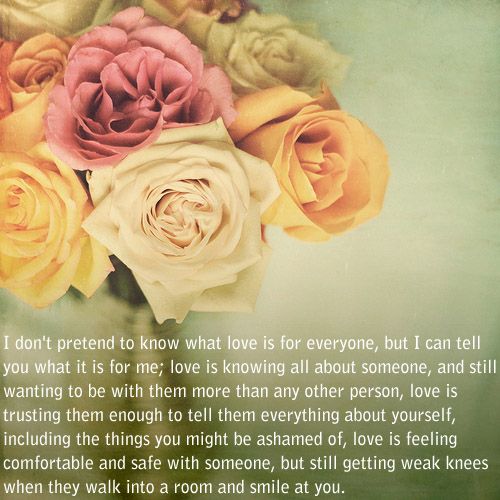 I
don't pretend to know what love is for everyone, but I can tell you what it is for me; love is knowing all about someone, and still wanting to be with them more than any other person, love is trusting them enough to tell them everything about yourself, including the things you might be ashamed of, love is feeling comfortable and safe with someone, but still getting weak knees when they walk into a room and smile at you.
Of course in this world no two people are exactly the same, and will have the same opinions about what love may be or mean to them. It is important not to force the person you love into believing your views on love, but instead to just let them love you for who you are. When seeking a general view on love I realize that I view love as it was explained to me in the bible since I was young.

1st Corinthians 13: 4-8 tells in a few choice words of what God feels love is, as explained by the Apostle Paul:

4 Love is patient, love is kind. It does not envy, it does not boast, it is not proud. 5 It does not dishonor others, it is not self-seeking, it is not easily angered, it keeps no record of wrongs. 6 Love does not delight in evil but rejoices with the truth. 7 It always protects, always trusts, always hopes, always perseveres.

8 Love never fails.

This deciphered basically says a few of love's requirements. Love requires patience, kindness, loyalty, forgetting past fights, not being jealous of someone else's love, not trying to make someone else jealous of your love, not disrespecting anyone, and a disregard for man's inherently selfish ways. It also requires that we use a lot of forgetfulness in regards to past tribulations, and shouldn't be used for evil. Love requires that you protect one another, trust one another, believe in one another, and hold fast to one another. With all of these requirements fulfilled, this love will not fail!
Related Quotes with Pictures about Love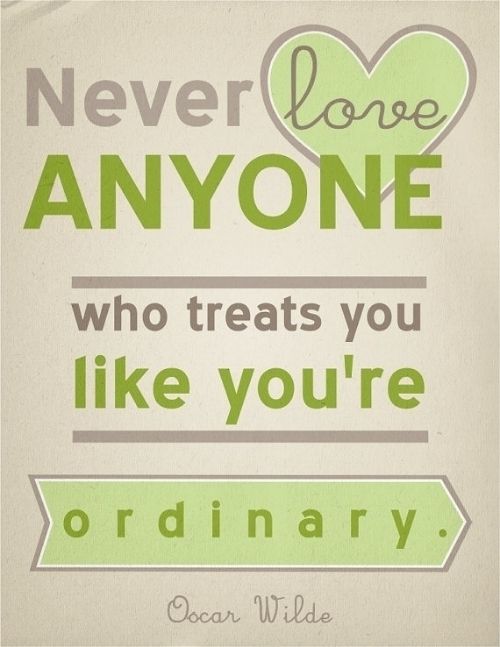 Never
love anyone who treats you like youre ordinary
Every single one of us has unique qualities that qualify us to be treated special when we enter into relationships. When we choose partners in our relationships we have to look at the things that they do habitually, and we should try to take time to get to know the real person we are interested in, not just the person who is only seeking to impress us.
Read the rest of this article »
Love quotes with pictures
Relationship quotes with pictures
Life Lesson quotes with pictures
If
you love someone, tell them. For hearts are often broken by words left unspoken.
Tell people that you love them, even if you have to say it in your own way. Love is the light that this world truly needs and unless we are willing to show each other that love still rules the world, the world will continue to become a darker place for us all.
Read the rest of this article »
Love quotes with pictures
Broken Heart quotes with pictures
Relationship quotes with pictures
True
love is rare, and it's the only thing that gives life real meaning.
True love isnt here to hold you back, and to make you feel like you arent good enough for this world alone. True love builds you up and actually helps you to believe quite the opposite.
Read the rest of this article »
Love quotes with pictures
Relationship quotes with pictures
Love
the people God gave you because one day he will need them back.
Cherish life, and everything that it entails. Especially the relationships that you have with others. Do this because the relationships that you have with others will be the strongest testament to your life when you are gone. When we pass on, the memory of us will be passed on by the people who loved us most.
Read the rest of this article »
Love quotes with pictures
God quotes with pictures
Relationship quotes with pictures
Friendship quotes with pictures
Personal Growth quotes with pictures
Self Empowerment quotes with pictures
You
can never be happy as someones other half unless you can be happy as a whole all on your own.
Before we enter into relationships with others it is important to have a full understanding of who we are at the deepest levels. Without an understanding of self, we will never know who or how to be in a relationship with someone else.
Read the rest of this article »
Relationship quotes with pictures
Happiness quotes with pictures
Personal Growth quotes with pictures
Life Lesson quotes with pictures
Love Yourself quotes with pictures
Join Us on Facebook
Latest Picture Quotes