Popular Topics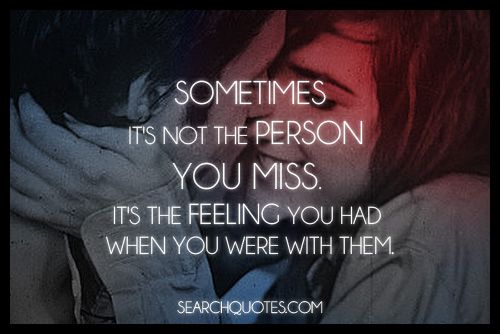 Sometimes,
it's not the person you miss. It's the feeling you had when you were with them.
Sometimes we have to get past missing the way that someone used to make us feel to be able to get over them. A lot of us fall in love with being in love, instead of actually worrying about love itself.

Love hurts, and sometimes we are forced to give up on it. There are many times that we allow ourselves to keep obsessing over feelings that are no longer relevant to our lives now, and that wont be until we allow them again.

Sure we should think the past so that we can finally learn from it, but that should be the only reason we do so. Don't continue to think of the past in hopes of trying to relive it, because once the time has passed, it is gone forever. Use your memories to make your new life better.
Related Quotes with Pictures about Missing Someone
It
takes a minute to like someone, an hour to love someone, but a lifetime to forget someone.
Trying to forget someone that you had a lot of love for in the past is something that is extremely difficult to do. Though some find it an easier task than others, the memories you make in your past are memories that are made for a reason, and are memories that will more than likely be with you until something inside of your head doesnt allow for you to remember them anymore.
Read the rest of this article »
Love quotes with pictures
Missing Someone quotes with pictures
I
wish I had the courage to tell you exactly how much I miss you.
Missing someone is one of the hardest feelings that a person has to overcome. Living life regretting the mistakes one made can lead a person to self-destruction of they choose to let it. Sure things might have worked out differently if certain things were done in different ways, but to be short, life happens. We all make mistakes, and though it may seem as though you can't live without someone now, in time your heart will heal if you let it.
Read the rest of this article »
Encouraging quotes with pictures
Uplifting quotes with pictures
Missing Someone quotes with pictures
Join Us on Facebook
Latest Picture Quotes