Popular Topics
Nothing
is really over until the moment you stop trying.
In order for a situation to come to an end, one must let it. Even in the midst of defeat one can pull out a victory as long as they never stop trying to succeed. Too many times many of us are guilty of the shameful act of not acting, giving up, and stopping to try. Instead of succumbing to what seems will be like what will be certain defeat we must keep trying until the end is really present.

As many in the sports world say, play hard, stay focused and stay determined until the final buzzer sounds. Note also that you must finish strong in everything that you do. Just because it may seem that you have the victory, letting up a small bit and losing focus can cause one to sustain defeat. Mainly follow your heart, be careful, use determination with supreme focus and most of all, and never stop trying!
Related Quotes with Pictures about motivational
Be
soft. Do not let the world make you hard. Do not let the pain make you hate. Do not let the bitterness steal your sweetness. Take pride. Even though the rest of the world may disagree you still believe it to be a beautiful place.
We all have experienced things in life that have given us a sort of thick skin, or as some may say pain that has caused up to put up a guard. Protecting ourselves is just part of our human nature, naturally no one wants to be hurt, and when we realize the things that hurt us we tend to stay away from them, or if we do go around the things that have made us hurt before, we go around them skeptically, sometimes with the intent to cause those things the pain that they may have caused us.
Read the rest of this article »
Motivational quotes with pictures
Positive Thinking quotes with pictures
Life Lesson quotes with pictures
I
am strong because Ive been weak. I am fearless because Ive been afraid. I am wise because Ive been foolish.
The only reason that you are where you are today is because of your development over time. It is important not to live in the past but we must also be aware that our experiences are part of who we are, and have helped to mold us, shape us, and grow us.
Read the rest of this article »
Inspirational quotes with pictures
Strength quotes with pictures
Motivational quotes with pictures
Fall
seven times, stand up eight.
The hardest time to recoup is when we are at the bottom. It is hard to get up again when we feel that we may have lost everything we have, or when we may have failed for what we thought was the last time. Remember that you arent the only person in the world that has fallen. We have all encountered major challenges, come worse than what you may even be going through right now. In times when you have fallen, remember what your motivation is.
Read the rest of this article »
Inspirational quotes with pictures
Encouragement quotes with pictures
Motivational quotes with pictures
Self Empowerment quotes with pictures
Dream
and reach for it.
One of the most beautiful structures in the World, was the realized dream of the an engineer in his mid 50s by the name of Alexandre-Gustave Eiffel. As the winner of a contest for a structure in France to commemorate 100 years of freedom, Eiffels dream met many obstacles including opposition from those who didnt want a structure of the Eiffel Tower to dominate the skyline and from those who doubted that this structure could even practically be built. Eiffel is a classic example of a dreamer who reached for his dreams and was able to accomplish them despite the obstacles that stood in his way.
Read the rest of this article »
Dreams quotes with pictures
Inspirational quotes with pictures
Motivational quotes with pictures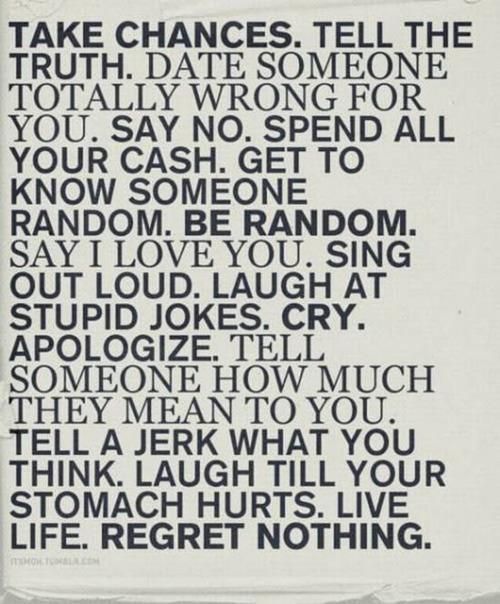 Live
life, regret nothing.
Take chances. Tell the truth. Date someone totally wrong for you. Say no. Spend all your cash. Get to know someone random. Be random. Say I love you.
Read the rest of this article »
Life quotes with pictures
Regret quotes with pictures
Life Lesson quotes with pictures
Motivational quotes with pictures
Encouragement quotes with pictures
Join Us on Facebook
Latest Picture Quotes