Popular Topics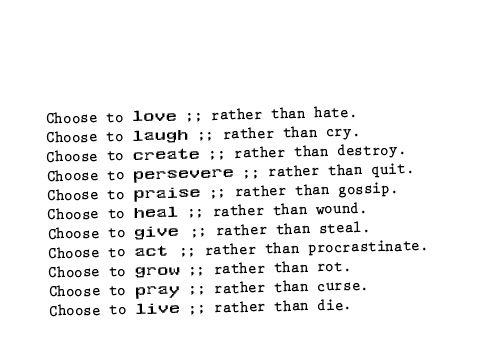 Choose
to love; rather than hate. Choose to laugh; rather than cry. Choose to create; rather than destroy. Choose to persevere; rather than quit. Choose to praise; rather than gossip. Choose to heal; rather than wound. Choose to give; rather than steal. Choose to act; rather than procrastinate. Choose to grow; rather than not. Choose to pray; rather than curse. Choose to live; rather than die.
Whether we realize it or not even the smallest choices we make throughout a day in time will effect our overall lifestyle and happiness. In times of difficulty we have a choice, we can let our difficult time bring our spirits down, and let it overcome us. Or we can make the best out of the situation, continue to think positive, and try our best to overcome it. Choosing to think and act positively in situations where it may be easier to just do what our flesh tells us to, is how we choose to live our lives instead of dying.

Many of us go through life beating ourselves up, and thinking negatively when conditions turns sour. Shutting down when times get hard, and not fighting our natural tendency to just give up, is a major part of actually living life. To avoid shutting down we must laugh instead of cry, love someone when it is very easy to hate, give to someone when you may feel like the only way you can make it is if you steal, not stopping your forward progress when it would be so much easier to just give up! There are many examples of taking the easy way out that we need to avoid in order to actually live our lives, instead of just waiting to die!
Related Quotes with Pictures about Love
So
many times I thought I would never find someone to love me the way I needed to be loved. Then you came into my life and showed me what true love really is!
Love quotes with pictures
Valentines Day quotes with pictures
Romantic quotes with pictures
10
beautiful love quotes just in time for Valentines Day.
Love quotes with pictures
Valentines Day quotes with pictures
Romantic quotes with pictures
Love
yourself first and everything else falls into place.
Im sure we have all at some point felt as though no one in the world has our back, and that no one cares or loves us, but this should never be true, because at the end of the day, it is inevitable for us to love ourselves first, so that other people may be able to love us as well.
Read the rest of this article »
Positive Thinking quotes with pictures
Uplifting quotes with pictures
Love quotes with pictures
Self Empowerment quotes with pictures
Encouragement quotes with pictures
Its
really hard to decide when you're too tired to hold on, yet, you're too in love to let go.
Ever been in this position? A lot of us have and it is a very difficult position to be in. It is hard to hold on to something that you know is weighing you down, and preventing you from living a healthy positive life, but at the same time it is hard to just let go of someone that you hold so dearly to your heart. There is no right or wrong answer to this equation presented in many of our lives, and everyones situation though similar, is different and unique.
Read the rest of this article »
Letting Go quotes with pictures
Love quotes with pictures
Moving On quotes with pictures
Moving Forward quotes with pictures
Relationship quotes with pictures
Dear
you, I miss you. I miss how you cared for me, how you always make my day, how you used to cheer me up, and how you make me feel that you love me. I miss everything that used to be what happened? Love, me.
Have you ever had to take a step back and ask yourself who the person is that you have become? Some of us have and some of us are even on the road to becoming someone that we know we truly arent at our hearts level. Right now examine the things that you do most weekly.
Read the rest of this article »
Self Empowerment quotes with pictures
Self Love quotes with pictures
Positive Thinking quotes with pictures
Join Us on Facebook
Latest Picture Quotes