Popular Topics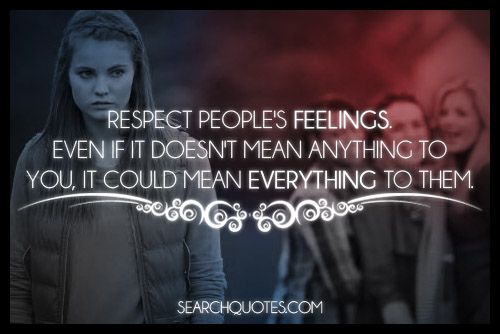 Respect
people's feelings. Even if it doesn't mean anything to you, it could mean everything to them.
Learning how to respect everyone is one of the most vital of lessons that we can all learn. Think before you say something, some people just need people to listen and understand where they are coming from before they are preached at.

Be there when someone asks you to be. Even when people make a situation seem unimportant, when a person asks you to be somewhere, they are asking you to be there because they truly want you there.

Just honor people in the same way that you want to feel honored. Though everyone has different standards and beliefs, we should often put ourselves in the shoes of others in situations so that we can best try to gather the ways that they may be feeling possibly.

Just because something doesn't mean that much to you, or just because it will have little to no impact on your life, doesn't mean that the same mutual feelings will be shared by everyone else you encounter.
Related Quotes with Pictures about Respect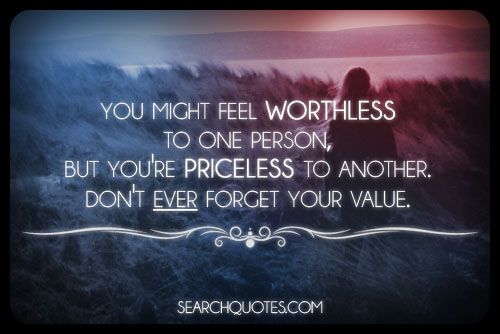 You
might feel worthless to one person, but you're priceless to another. Don't ever forget your value.
Never forget how much you really mean. If someone doesn't treat or value your friendship and takes your love for granted, then it may be time to either communicate the way you feel so that a change may be made, or it may be time to give them much less of yourself.
Read the rest of this article »
Uplifting quotes with pictures
Self Empowerment quotes with pictures
Self Respect quotes with pictures
Encouragement quotes with pictures
Value quotes with pictures
Friendship quotes with pictures
Worth quotes with pictures
Never
cry for that person who doesn't know the value of your tears.
A lot of times in our lives, the people that we share our lives with will not understand all of our emotions. It is the people who are willing to hold us up when we are down, that should receive the majority of our time. We have to keep in mind to shy away from giving our attention to the people who could really care less about us.
Read the rest of this article »
Self Respect quotes with pictures
Personal Growth quotes with pictures
Uplifting quotes with pictures
Strength quotes with pictures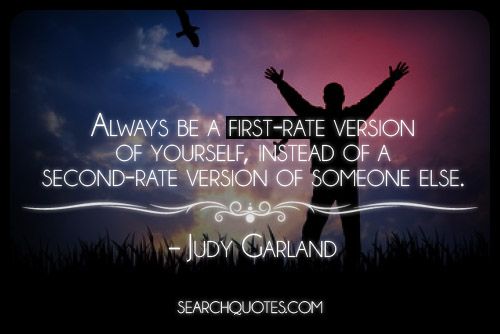 Always
be a first-rate version of yourself, instead of a second-rate version of someone else. Judy Garland
What do you want to be remembered as, and are you taking steps that match up your desires of who you want to be, and who you actually are in the moment. Sure, you have probably made a few changes when you saw yourself going in a direction that you totally wanted no parts of, but did you just steer yourself out of a ditch, or are you continuing to drive on the path of where you really want to go in life?
Read the rest of this article »
Self Empowerment quotes with pictures
Be Yourself quotes with pictures
Self Respect quotes with pictures
Inspirational quotes with pictures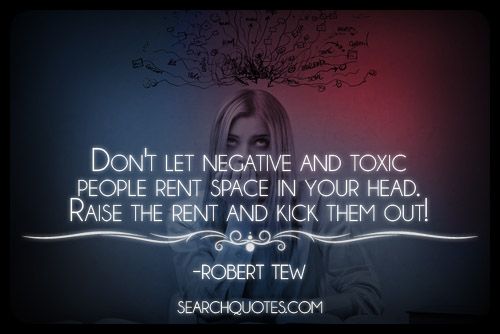 Don't
let negative and toxic people rent space in your head. Raise the rent and kick them out! Robert Tew
Many people go to their graves without accomplishing the things that they are passionate about, and many times this is because they aren't willing to let the negative people in their lives, out of their lives so that they can see the way to their goals and dreams without interference.
Read the rest of this article »
Personal Growth quotes with pictures
Letting Go quotes with pictures
Moving On quotes with pictures
Motivational quotes with pictures
Self Respect quotes with pictures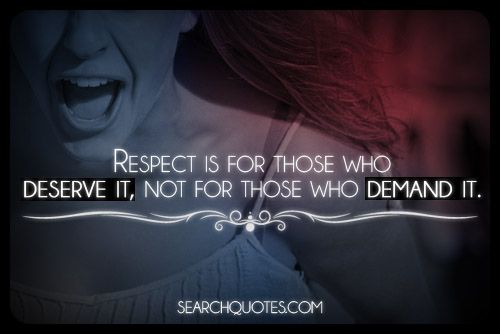 Respect
is for those who deserve it, not for those who demand it.
Everybody wants a little respect, but many don't realize that real respect is something that is earned, and something that should not be taken lightly. Nobody demands respect until they deserve it, and often times people who really deserve respect don't have to ask for it.
Read the rest of this article »
Respect quotes with pictures
Join Us on Facebook
Latest Picture Quotes