Popular Topics
Great
minds discuss ideas, average minds discuss events; small minds discuss people.
Life is much too short to be lived talking about people, gossiping, and stirring up trouble that has no substance, and that won't make anything better. If we strive to be more than average, and if we strive for the greatness that we all have inside of ourselves, we have to be willing to change the way that we think, and the way that we talk.to and about others.

Instead of focusing on the negative aspects of life, and speaking words that will only decrease hope, and cause discouragement and negativity, we must help push one another by speaking positively, and discussing ideas and dreams that we may have on the inside. There is no one in this world that can do the things that you do, in the way that you do them, and when two great minds come together to discuss and brainstorm, ideas that already had great substance, are formed and developed into great goals and dreams.
Related Quotes with Pictures about Life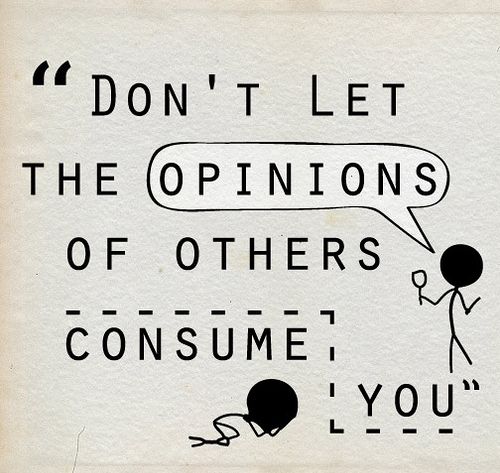 Do
not let the opinions of others consume you.
When we choose to let the opinions of others matter too much to us, then we are choosing to let their opinions consume us. Instead of living your life worried about what others may think or feel about what you are doing, live your life to the best of your ability, with the things that are in your heart and not someone else's heart.
Read the rest of this article »
Life Lesson quotes with pictures
Positive Thinking quotes with pictures
Haters quotes with pictures
The
mystery of life is not a problem to be solved but a reality to be experienced.
When it comes down to it, there are two types of people in this world. There are givers and there are takers. Givers are happy. Takers are miserable. What are you?
Read the rest of this article »
Life quotes with pictures
Life Lesson quotes with pictures
Whatever
happens, happens.
To a degree, in our lives as each moment passes and different circumstances come to past, we have to realize that after they happen, there is no way to change them. We must take life for what it is, a series of unpredictable events ultimately out of our control.
Read the rest of this article »
Life Lesson quotes with pictures
No
matter what I do I always forget to forget you.
Doesn't it seem as though we all have that special someone who may have left from our lives months to years ago but still seem to stay on our mind. If you don't have someone in your life as such right now, you more than likely will, and this is just a normal part of existence on this earth.
Read the rest of this article »
Relationship quotes with pictures
Advice quotes with pictures
Life Lesson quotes with pictures
Moving On quotes with pictures
If
you were waiting for a sign, this is it.
Waiting for things to happen is a downfall that prohibits the greatness of many people living in our population from shining bright. It is ok to believe, and it is very commendable and admirable to be a faithful person. But in doing so, one must also be willing to do everything possible that they are able to do alone in order to better their chances that the results desired will occur.
Read the rest of this article »
Encouragement quotes with pictures
Life Lesson quotes with pictures
Personal Growth quotes with pictures
Obstacle quotes with pictures
Join Us on Facebook
Latest Picture Quotes