Popular Topics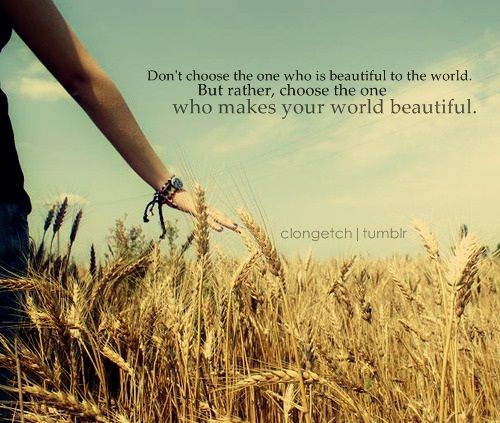 Don't
choose the one who is beautiful to the world. But rather, choose the one who makes your world beautiful.
A few of us may have heard the quote "Beauty is in the eye of the beholder". This is a deeper quote than most of us realize, because everyone has a unique opinion of almost everything in the world, whether we choose to concede to our feelings is simply our choice. It is easy to love someone that a majority of society will perceive as beautiful, the real dispute lies in choosing someone that you know in your heart you see as beautiful despite what society says.

Choosing the right person to be with is a process that takes a lot of heart, strength, and courageousness from both parties, because the person you may choose, or the person who chooses you may not be the most politically correct partner. When we are choosing a partner, it is important to choose a person for their heart, not their strapping good looks, or enormous bank account. As looks fade, and money comes and goes, a person's soul never leaves them, and at the end of a bad day or a good day, they will always be who they are at heart.
Related Quotes with Pictures about Relationship
Its
really hard to decide when you're too tired to hold on, yet, you're too in love to let go.
Ever been in this position? A lot of us have and it is a very difficult position to be in. It is hard to hold on to something that you know is weighing you down, and preventing you from living a healthy positive life, but at the same time it is hard to just let go of someone that you hold so dearly to your heart. There is no right or wrong answer to this equation presented in many of our lives, and everyones situation though similar, is different and unique.
Read the rest of this article »
Letting Go quotes with pictures
Love quotes with pictures
Moving On quotes with pictures
Moving Forward quotes with pictures
Relationship quotes with pictures
If
you aren't happy being single, you will never be happy in a relationship. Get your own life and love it first, then share it.
Just because you are single doesnt mean that your life is over. In fact as a newly found single person in this world, you are at a great point in your life, to let your hair down, and have some fun! Without being in a committed relationship, you are without commitment to anyone but yourself. So make some new commitments to yourself, sit down and set up a plan this year to do things like take trips out of town and visit places that you have never been to and want to see.
Read the rest of this article »
Relationship quotes with pictures
Love quotes with pictures
Being Single quotes with pictures
Love
isnt when you can name a million things you love about the person. Love is when you cant even find the words to describe how you feel about them.
Have you ever loved someone so much and wanted to tell them how they make you feel but just couldnt find the right words to tell them exactly how you feel? Plenty of us that have experienced love have experienced the same thing and trust me you arent alone.
Read the rest of this article »
Love quotes with pictures
Relationship quotes with pictures
Every
girl has three guys in her life. The one she loves, the one she haters and the one she can't live without. And in the end, they're all the same guy.
Trying to understand love is like trying to understand life as we know it, and is something that we will probably never truly all the way understand. What I have learned from my own personal relationships and from my elders who have been married or with the same person for at least ten years is that even though you may love your significant other, there are going to be differences in opinion, and arguments sometimes, there are going to be places you want to go that they might not want to and vice-versa, but at the end of the day there should be no one else you would rather be in bed with than your significant other.
Read the rest of this article »
Relationship quotes with pictures
Love quotes with pictures
Message
to my ex: we are both beautiful & great people who just happened to bring out the ugly in one another at times.
Sometimes in our lives we are confronted with a huge problem, after giving a considerable length of time after breaking up, just when we think we are over someone we find ourselves feeling as though we cant make it without our ex lover. We are faced with the huge decision of trying to renew a relationship with someone who may not necessarily be willing to do the same, or not trying at all and basically just cutting our losses.
Read the rest of this article »
Relationship quotes with pictures
Love quotes with pictures
Ex Girlfriend quotes with pictures
Ex Boyfriend quotes with pictures
Join Us on Facebook
Latest Picture Quotes