Popular Topics
The Perfect Relationship

By J. Johnson, picture courtesy of ibesho

February 9, 2012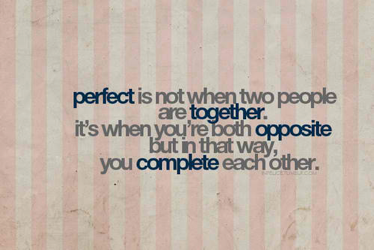 Perfect
is not when two people are together. It's when you're both opposite but in that way you complete each other.
No relationship between any two people is exactly the same except in one way, each relationship we have is imperfect in some way. When relationships last for long periods of time, it is not because the pieces two people bring together fit exactly together, but rather the pieces aren't the same so that they may be easily fused together.

So don't be too close minded as to only look for a perfect Mr. or Mrs. Right when you are seeking someone to love. Look for a person that you think would compliment you the most, meanwhile you do the same for them. Look for someone who is willing to love you for who you are with your flaws and all, and someone that you know in your heart that you could love despite what flaws they may have as well. Reach for love with only one expectation, finding it.
Related Quotes with Pictures about Relationship
No
matter what I do I always forget to forget you.
Doesn't it seem as though we all have that special someone who may have left from our lives months to years ago but still seem to stay on our mind. If you don't have someone in your life as such right now, you more than likely will, and this is just a normal part of existence on this earth.
Read the rest of this article »
Relationship quotes with pictures
Advice quotes with pictures
Life Lesson quotes with pictures
Moving On quotes with pictures
Don't
fall for words.
A lot of times it is best for us to judge the character of a person by their actions instead of just by their words and what they want you to believe. When we look at the actions of a person we look at the real heart of them, because usually the actions a person commits are the actions closest to their hearts.
Read the rest of this article »
Relationship quotes with pictures
Don't
let these walls stop you.
In different instances in our lives it is easy to stop pursuing a relationship that we know that if we put a tad bit more effort towards would blossom into a heavenly flower of infinite beauty, because of the walls that one or both parties is putting up. Sometimes people that have been hurt in the past or whom are afraid of giving someone a chance because they never want to be hurt, choose to put walls up in order to prevent this from happening.
Read the rest of this article »
Life Lesson quotes with pictures
Relationship quotes with pictures
Personal Growth quotes with pictures
You
were born because you are going to be important to someone.
Every one of us is going to be a special person to someone we meet in our lives. That doesnt necessarily mean that you are going to grow up and find your Mr or Mrs. Right at the perfect age of 25. It may mean that by following your dreams or goals that you set up for yourself in life that you inspire a nation to do the same. It may mean that as a single father or mother, the most important subject(s) of your life your children will look at you as a superhero.
Read the rest of this article »
Relationship quotes with pictures
Life quotes with pictures
Its
really hard to decide when you're too tired to hold on, yet, you're too in love to let go.
Ever been in this position? A lot of us have and it is a very difficult position to be in. It is hard to hold on to something that you know is weighing you down, and preventing you from living a healthy positive life, but at the same time it is hard to just let go of someone that you hold so dearly to your heart. There is no right or wrong answer to this equation presented in many of our lives, and everyones situation though similar, is different and unique.
Read the rest of this article »
Letting Go quotes with pictures
Love quotes with pictures
Moving On quotes with pictures
Moving Forward quotes with pictures
Relationship quotes with pictures
Join Us on Facebook
Latest Picture Quotes