Popular Topics
The Way You Treat Yourself Sets The Standard For Others

By J. Johnson, picture courtesy of SearchQuotes

October 22, 2012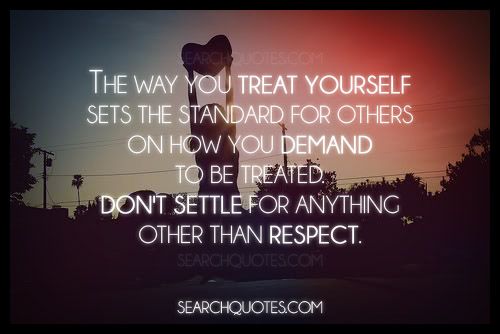 The
way you treat yourself sets the standard for others on how you demand to be treated. Don't settle for anything other than respect.
If you allow for subpar standards in your life, don't shrink or get aggravated when people treat you in a subpar manner. Many of us don't recognize exactly how much greatness that we actually have on the inside of ourselves, and too many times we get caught up in trying to please everyone by telling ourselves no, that we start to lose ourselves, and end up frustrated in the end.

Instead of treating yourself poorly, and not taking the care that you need to take in your life, including things like the continual education, and development of your spiritual and physical body, treat yourself like you want others to treat you!

You have to make sure that you love yourself first before you can give a real genuine love out to those whom you associate with, so always be mindful of this so that you may keep your own heart dear.
Related Quotes with Pictures about love yourself
Join Us on Facebook
Latest Picture Quotes