Popular Topics
There's A Difference Between Giving Up And Moving On

By J. Johnson, picture courtesy of SearchQuotes

July 3, 2012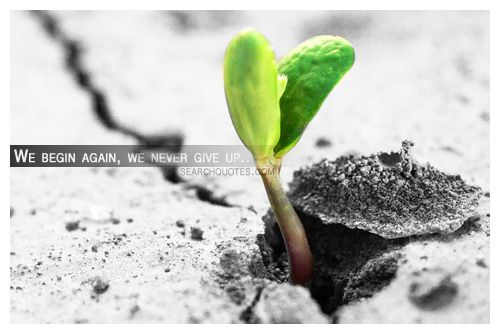 We
begin again, we never give up.
Realizing that there are huge differences between giving up and moving on is a huge part of becoming mature in life. A person with a considerable amount of wisdom is a person that knows when it is time to let something or someone go out of their lives. Not every one knows every single answer to every problem, and yes sometimes people make mistakes by leaving a situation to early, or staying in a bad situation for too long, but those who just seem to know the right time for a need in the change of scenery, are those who are willing to listen to their heart. It is important to think about our decisions in life and to weigh them against our past experiences and so forth, but there are times when we just have to be willing to listen to what is being said in the deepest part of our heart.
Related Quotes with Pictures about Giving Up
Don't
give up.
Thinking about giving up? There are many reasons why we should never take the easy way out and here are a few:
Giving up will never allow you to achieve your dream. As long as you are alive the potential to reach your dream is still out there, don't let your difficulties discourage you, use the negative energy to fuel your positive gain!
Read the rest of this article »
Motivational quotes with pictures
Giving Up quotes with pictures
Join Us on Facebook
Latest Picture Quotes