Popular Topics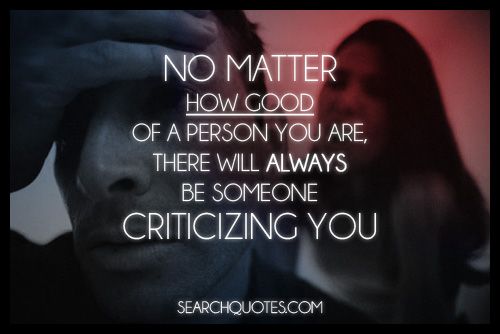 No
matter how good of a person you are, there will always be someone criticizing you.
What do you have to say to your critics, even when the critic is yourself? Do you allow what people say about your work, or your dreams affect you in a negative manner? Will you allow the doubts in your own mind to stop you from getting to the places that you truly have the ability to go.

Don't let your brain stop you by making things seem worse than they really are. When we receive criticism that isn't much more than hate, we have to realize that people will always talk about what we do, as long as we are doing something.

The only way that you won't be criticized is if you live a life without taking much action. We will always have people who come against us, even when we feel like we are doing what we can to help humanity. Just be you! Don't let anyone stop you from being who you really are at heart!
Related Quotes with Pictures about Criticism
Join Us on Facebook
Latest Picture Quotes