Popular Topics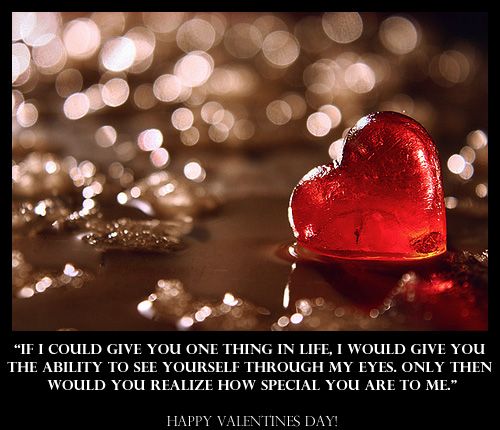 If
I could give you one thing in life, I would give you the ability to see yourself through my eyes. Only then would you realize how special you are to me.
Having a person in your life whom is truly special to you is a rare gift that not everyone in today's world has a chance to experience. It is not only important to make this person feel special on Valentine's Day, it is important that you make this special loved one feel as so, everyday! Treat everyday as it is Valentine's day, by telling your love how you feel about him/her as much as possible, and in as many innovative ways as possible. Showing your love can be indicated by not only purchasing materials things, but can also be easily shown and maybe even more appreciated by doing the small things.

For example, do something that you might not like doing so much that your lover would appreciate very dearly. Say, you aren't the neatest person, and your partner is. Try tidying up your home before they get a chance to, simply making up the bed can go a long way if it is something that you usually rely on your lover to do. Or maybe you aren't the most romantic person? Try surprising your girl at work with a nice bouquet of flowers to her liking. Or ladies, try "trading places" and take your guy out for dinner and a movie. We can't give our loved ones the ability to see through our eyes how much they mean to us, but by being as loving, caring, spontaneous, and determined to keep our relationships flowing as possible, it is probable that they will get a great idea daily of how we feel about them.
Related Quotes with Pictures about Valentines Day
So
many times I thought I would never find someone to love me the way I needed to be loved. Then you came into my life and showed me what true love really is!
Valentines Day quotes with pictures
Love quotes with pictures
Relationship quotes with pictures
Cute quotes with pictures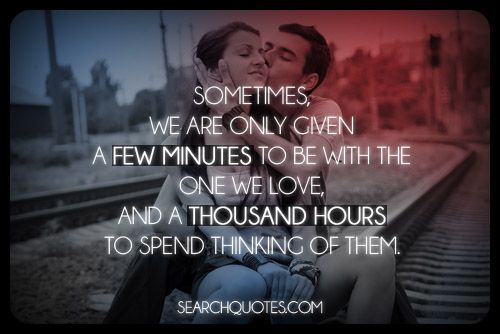 Sometimes,
we are only given a few minutes to be with the one we love, and a thousand hours to spend thinking of them.
We may never really know why things are happening the way they do, and why we aren't given the time we wish we had with the people we love. Sometimes we are only given a limited amount of time to be with the one we love, and are left to spend what seems like an eternity thinking about them.
Read the rest of this article »
Relationship quotes with pictures
Love quotes with pictures
Valentines Day quotes with pictures
The
best kinds of relationships begin unexpectedly. When you get the astonished feeling & everything happens so suddenly. That's why you don't look for love. It comes to you just at the right time; the time you never thought it would have.
The best kinds of relationships are the relationships that happen because they are unforced. Unforced relationships can be some of the best relationships because they come at the right time, even when we don't realize it.
Read the rest of this article »
Love quotes with pictures
Inspirational quotes with pictures
Valentines Day quotes with pictures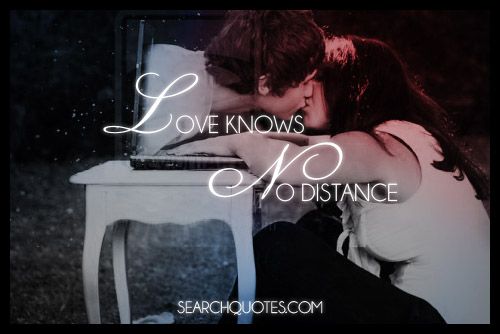 Love
knows no distance.
When you really love someone, there is no amount of distance between you two that can stop you from loving him or her. Real love doesn't just fade away or turn off like the switching on and off of a light, even though many of us would like for it to when things start to go wrong, or when the love you feel is causing you pain, but we must remember that there are always risks in giving someone your heart.
Read the rest of this article »
Love quotes with pictures
Valentines Day quotes with pictures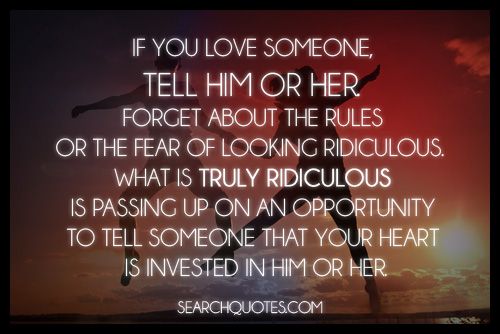 If
you love someone, tell him or her. Forget about the rules or the fear of looking ridiculous. What is truly ridiculous is passing up on an opportunity to tell someone that your heart is invested in him or her.
Life is full of opportunity, if we don't seize the ones that we know our hearts want us to, then what exactly are we doing? We have to let our pride and ego in many instances in life, especially when it relates to showing our feelings to someone that we care about. We never really know what a person may say when we tell them that we love them, but we can't let that hold us back.
Read the rest of this article »
Love quotes with pictures
Relationships quotes with pictures
Valentines Day quotes with pictures
Join Us on Facebook
Latest Picture Quotes