Popular Topics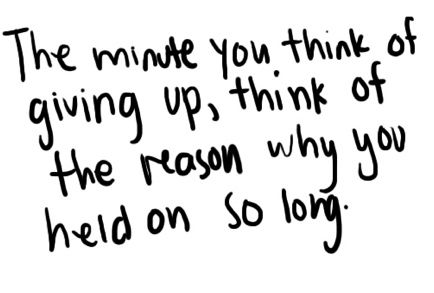 The
minute you think of giving up, think of the reason why you held on so long.
Sometimes when we want to give up on someone we don't think over the consequences of giving up on the relationship clearly. It is important to ask yourself before you plan on giving up on someone else, what you can do to help the situation, and also have you tried doing the things you feel were necessary for you to do in order to make things work. Were you patient and kind? Did you do all you could do in order to keep things operating smoothly? You have to deal with yourself first.

If you feel like you have done all that you can yourself, you must also think of the other person that you are about to give up on. Is ending the relationship the only thing you can do to make things work? Or can you work on things and stay together if you really wanted to. Only you know the answers to these questions, and only you know where you truly want to be. Make your decisions with a clear head and a clear heart, and never live life with regret!
Related Quotes with Pictures about Relationship
If
you want something you've never had you have to do something you've never done.
If you are one of many of us in the world, and haven't found or ever been in what you may consider true love, do not worry because you are not alone. Sometimes when we are searching for a love that we have never had we have to try new things in order to find it. Though a lot of people may be against them, Internet dating sites, usually sites for serious interests have been statistically shown to produce high amounts of relationships and even marriages.
Read the rest of this article »
Love quotes with pictures
Relationship quotes with pictures
Encouragement quotes with pictures
Motivational quotes with pictures
One
of the best feelings in the world is when you hug the person you love, and they hug you tighter.
Many of us don't realize the power of a single hug. A simple hug can say a lot to a person when the use of words just won't suffice. A hug can relay the message that you love someone, that you are there for them in times of great need, and that you will always be there for them in times of great need.
Read the rest of this article »
Love quotes with pictures
Relationship quotes with pictures
Life quotes with pictures
If
you miss someone it means that you're lucky, it means you had someone in your life worth missing.
Missing someone, especially someone that we love dearly but can't be with like we would like to, is a difficult part of life that we all have to deal with. Whether in the event of a loved ones death, or a bad break up, it is hard being without someone who was once there for us, and who we never thought in a million years wouldn't be there. Times like this we just have to be strong, and rely on the memories we shared with this person to help us grieve and to comfort us.
Read the rest of this article »
Heartbreak quotes with pictures
Broken Heart quotes with pictures
Relationship quotes with pictures
Friendship quotes with pictures
Love quotes with pictures
Pain quotes with pictures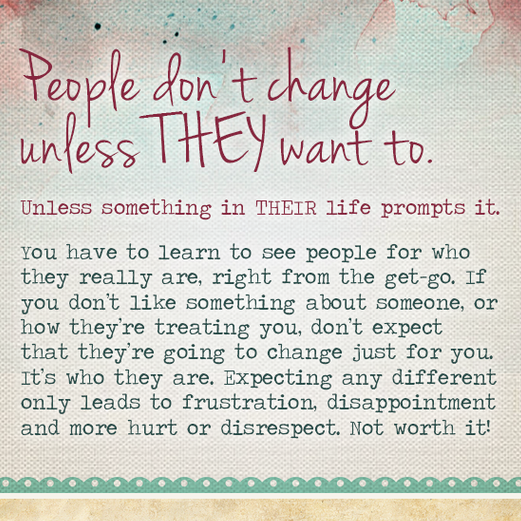 People
don't change unless they want to. Unless something in their life prompts it. You have to learn to see people for who they really are, right from the get-go. If you don't like something about someone, or how they're treating you, don't expect that they're going to change just for you. It's who they are. Expecting any different only leads to frustration, disappointment and more hurt or disrespect. Not worth it!
There aren't many things in life that aren't possible, but one of them is that people who don't want to change can't be helped to be changed by us. There are many in our lives that we know that seem to be willingly undertaken by life and its circumstances. We must all learn that though there are those in our lives who we feel aren't getting everything out of life that they possibly can, and are living nowhere near to where they may potentially be, there is nothing that we can do for these people if they don't want change within themselves.
Read the rest of this article »
Relationship quotes with pictures
Friendship quotes with pictures
Personal Growth quotes with pictures
Character quotes with pictures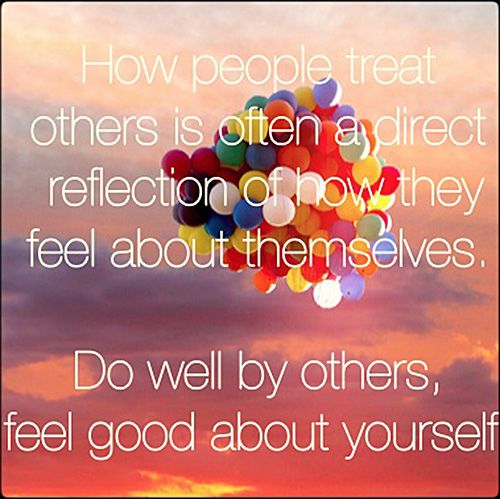 How
people treat other people is a direct reflection of themselves. Do well by others, feel good about yourself.
The more people that we deal with in our lifetime, the more that we will realize that not every one is the same, and that some people just have to be treated in different ways than others so that you may best connect with your friends.
Read the rest of this article »
Personal Growth quotes with pictures
Relationship quotes with pictures
Friendship quotes with pictures
Experience quotes with pictures
Join Us on Facebook
Latest Picture Quotes