Popular Topics
Be Yourself And Quit Trying To Be Everyone Else

By J. Johnson, picture courtesy of SearchQuotes

October 16, 2012
Be
yourself and quit trying to be everyone else.
One of the most intriguing quotes about a person's individualism is by the philosopher Lao Tzu who once stated, "He who is able to conquer others is powerful; he who is able to conquer himself, is more powerful."

You can't conquer life by trying to fit into the mold that everyone else wants you to fit in, you can only be a true conqueror if you are willing to grab life by the horns and be yourself in all aspects of it. Not only will you never find comfort in being someone who you really aren't, but you will also never really approve or be fulfilled with the person that you are living your life as.

When you can truly be yourself you can truly have the high self-esteem you need to conquer the life you truly want to live. Be an individual, instead of being a statistic, aim to be ONE of many.
Related Quotes with Pictures about Be Yourself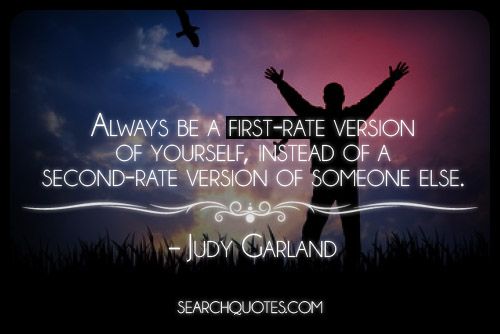 Always
be a first-rate version of yourself, instead of a second-rate version of someone else. Judy Garland
What do you want to be remembered as, and are you taking steps that match up your desires of who you want to be, and who you actually are in the moment. Sure, you have probably made a few changes when you saw yourself going in a direction that you totally wanted no parts of, but did you just steer yourself out of a ditch, or are you continuing to drive on the path of where you really want to go in life?
Read the rest of this article »
Self Empowerment quotes with pictures
Be Yourself quotes with pictures
Self Respect quotes with pictures
Inspirational quotes with pictures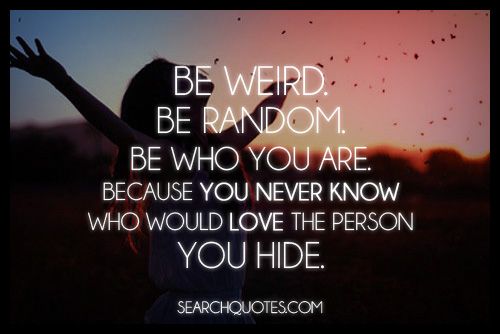 Be
weird. Be random. Be who you are. Because you never know who would love the person you hide.
The perception of who you are is something that we must always be aware of. Who are you? This is a question we should all ask ourselves on occasion? Give yourself a good answer, and be honest with yourself! Yes you have bad qualities, just as you have good qualities. You have strange qualities, just as you probably have some normal qualities as well.
Read the rest of this article »
Be Yourself quotes with pictures
Self Love quotes with pictures
Inspirational quotes with pictures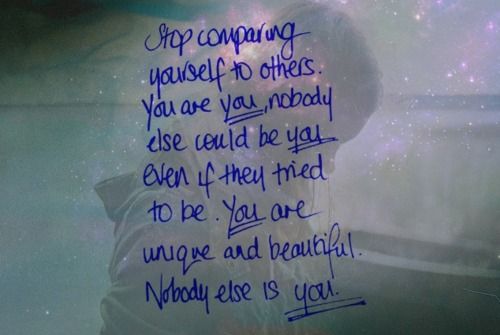 Stop
comparing yourself to others. You are you; nobody else could be you even if they tried to be. You are unique and beautiful. Nobody else is you.
Being you is an important part of the experience of truly living your life to the fullest extent. Sometimes it may take a while for a person to find out who they really are, but in reality it should never be hard for us to see how much we are different from everyone else. The simple fact that no one else in this world is like us should be evidence enough to show each and every one of us that we are beautiful.
Read the rest of this article »
Inspirational quotes with pictures
Be Yourself quotes with pictures
Self Esteem quotes with pictures
Join Us on Facebook
Latest Picture Quotes