Popular Topics
Latest Quotes & Sayings
Below are the latest quotes added by our users.
Saturday's Latest Quotes with Pictures
We
make a living by what we get, but we make a life by what we give. -Winston Churchill
One principle that many never learn by their life's end is the importance of giving and blessing others in the world besides themselves. When you give, you give not only what you are tangibly letting go of, but you also give a great example to the person with whom you are giving to, and to those around you that see you blessing someone else. Giving is a great teacher of love, self-worth, and selflessness all at the same time, especially in a day and age in which people seem to loathe giving to others because of pre-determined judgments they might have in their minds.
Read the rest of this article »
Life quotes with pictures
Life Lesson quotes with pictures
Inspirational quotes with pictures
Motivational quotes with pictures
Self Empowerment quotes with pictures
Catch
your dreams before they slip away.
If we are to ever catch our dreams before they slip away we must first be able to recognize them first. Life can be lived in a multitude of ways, but it is best suited for any individual when they choose to live as much as their life as they can, as their own very selves. Over time we encounter influences from society that help to shape our brains, our thought patterns, our goals, and our ultimate desires and dreams.
Read the rest of this article »
Dreams quotes with pictures
Courage quotes with pictures
Inspirational quotes with pictures
Encouragement quotes with pictures
Motivational quotes with pictures
Positive Thinking quotes with pictures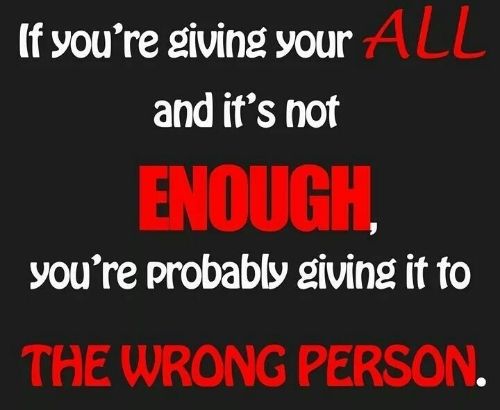 If
you're giving your all to someone and it's not enough you're probably giving it to the wrong person.
Sometimes we give our all to someone and we end up being hurt by this same person. When we experience a pain like this, it cuts very deep, and we start to question ourselves and whether we gave a good enough effort, and if we did everything right that we may have possibly been able to.
Read the rest of this article »
Relationship quotes with pictures
Love quotes with pictures
Heartbreak quotes with pictures
Moving On quotes with pictures
Moving Forward quotes with pictures
Letting Go quotes with pictures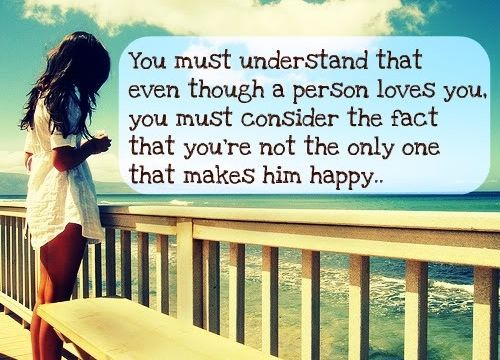 You
must understand that even though a person loves you, you must consider the fact that you're not the only one that makes him/her happy.
Sometimes when we go through a relationship and our love grows for someone, we feel as though their dedication of greater amounts of time, and energy means that we are the only people that make them happy. After a while if two people aren't given enough space from each other, they will start to irritate and even come close to annoying one another. In an attempt to avoid this we should make good attempts at being the person we truly are on the inside at all times.
Read the rest of this article »
Relationship quotes with pictures
Friendship quotes with pictures
Love quotes with pictures
1
2
3
Users Online
Upcoming Events
Holidays and Special Events
Today's most popular search phrases
Latest Questions
Picture Quotes